I have been using and enjoying these Organic Harvest Skincare products lately and today, I will be sharing my experience with Organic Harvest Daily Nourishing Night Cream.
I am always on the lookout for natural moisturizers to take care of my skin and avoid any harmful chemicals. There are a lot of Herbal Brands in India which offer natural skincare products. Organic Harvest is another awesome Natural skincare brand in India which makes skincare products using skin friendly natural ingredients.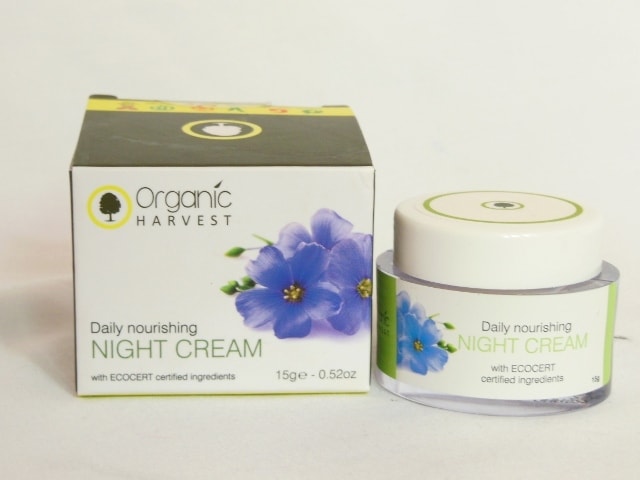 Product Claims: Put dullness to rest, wake up radiant & refreshed.
Now nature's famed night cream is newly fortified with a system of time-released resurfacers and natural nutrients Olive oil, Olive plant leaves extract and soybean that revitalizes and moisturizes your skin through out the night to have skin as fresh as morning dew.
100% natural & certified organic extract derived from olive leaves, acts as antioxidant, reduces skin damages caused by pollution and helps in anti ageing.
Natural plant derived active, with NMF (Natural Moisturizing Factors) helps in longer skin moisturization. So why face dull skin. Sleep it off tonight.
Key Ingredients: Aqua, Soybean, Olive plant leaves extract & Olive oil in Cream base. No Color Added
Directions for Use: In the pm-using fingertips, apply to freshly cleansed skin, starting at your throat and working your way up to your face.
Price: Rs 395 for 15g / Rs 945 for 50gms ( Buy here)
Packaging: Organic Harvest Daily Nourishing Night Cream comes in a thick translucent plastic jar with a screw lid. The packaging looks nice but it is unhygienic to use. I am used to using such jar packaging now, so I don't mind it at all but a tube packaging would have been better.
My Experience with Organic Harvest Daily Nourishing Night Cream:
Organic Harvest Daily Nourishing Night Cream is a translucent light creamy gel.
The texture feels very light and it instantly melts into the skin. It gives a very mild cooling sensation as the formula sinks into the skin. The cream takes a little time to get absorbed completely but it doesnt feel heavy or sticky on skin.
It is one of the most comfortable moisturizers I have tried. The cream beautifully moisturizes skin without clogging pores. The formula is enriched with awesome natural ingredients like Aqua, Soybean, Olive Oil which naturally nourishes skin. But the full ingredients list is missing.
Results:
The formula took good care of my dry skin and addressed its moistursing needs. The cream doesnt make any tall claims but just moisturising skin making it fresh and raidant and that's what it exactly does. I am happy the way it makes my skin smooth, soft with a radiant glow. Nothing  fancy just a good moisturiser. 
Recommendation: Organic Harvest Daily Nourishing Night Cream is a light weight moisturizer infused with natural ingredients like Aloe, Soybean and Olive Oil which naturally nourishes skin. The formula doesn't feel heavy or sticky and does a good job at providing the required nourishment to skin. I love to use this moisturizer when I just want to moisturize my skin. It helps restore skin's moisture making it smoother, softer and radiant. A beautiful moisturizer that does its job effectively. Recommended!
Rating: 4.5/5
Don't Miss me Checkout:
Have you tried Organic Harvest Daily Nourishing Night Cream? Which is your favorite Night Cream?
 PS: Product sent by brand for consideration but honest and unbiased review!