Organic Harvest Cleansing Milk Review
Hello Everyone,
It has been long at I have used any creamy cleanser or cleansing milk because my DIY Makeup remover was doing it all for me but one tend to get bored of monotony, so I added this organic cleansing milk in my skincare routine and my Makeup remover a miss. Lets see if Organic Harvest Cleansing Milk worked for me.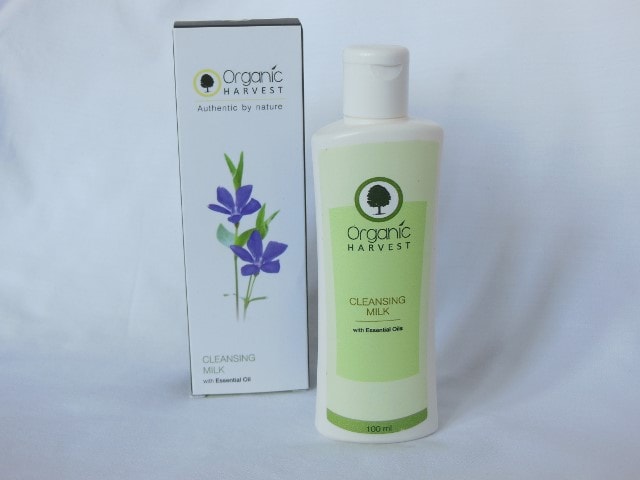 Price: Rs. 395 for 100ml
My experience with Organic Harvest Cleansing Milk
Organic Harvest Cleansing Milk is a white colored liquid with a medium thin consistency just like a body lotion. It has an organic fragrance somewhat similar to what I have smelled in L'Occitane Repairing Conditioner. I am not a fan of the fragrance but it is quite mild and fades away quick, so nothing to bother about "sensitive noses".
I pour a small amount on my palms and just massage it all over my face for 1-2 minute. The cleansing milk does a good job at cleansing the skin and removing oil and dirt. It does take off makeup quickly but not the water-proof one and you have to use a separate cleanser/remover to take off water-proof makeup.
Nowadays, as I stay at home only and barely use any makeup I love using it as a day/night time cleanser giving my face wash a miss. I don't feel the need of following with any moisturizer as it nourishes my skin pretty well. When I go out or wear good amount of makeup I follow with this cleanser after the face wash to remove any left over.
It is not meant to be on the eye area but just to test it I did used it to remove my Maybelline Colossal Liner and bingo.. it didn't burn my eyes! Now, I am sure the formula is gentle and won't irritate sensitive skin as well. It rinses quickly with tap water and doesn't leave any residue behind.
Don't Miss to Checkout:
It doesn't make any tall claims but just to cleanse the skin well with out making it dry or oily hence will work for both Oily and dry skin types. The formula is free from parabens, mineral oil with no added color or fragrance.
Recommendation: Organic Harvest Cleansing Milk is a mild organic cleanser which cleanses skin gently and takes off any makeup (non-waterproof) and oil from the surface. The formula is gentle enough to be used on eyes. It rinses quickly and doesn't leave behind any residue. It does what all it claims, I am quite satisfied with its performance on me. Though, it is not a must have a product but if you don't use much makeup and need a creamy cleanser to take care of the dry patches on your oily skin or just needs some hydration for your dry skin, give this a shot!
Rating: 4.5/5
Have you tried Organic Harvest Cleansing Milk? Do you like using Cleaning Milk over Makeup Removers?