Organic Harvest Anti Tan Scrub Review
Hey Gorgeous, are you trying to get rid of the tan? There are many who loves to get tanned in summers but maniacs like me, turn everything upside down to get the complexion back and get rid of the Tan. May be its because I get tanned super easily even after using good Sunscreens. And I don't look pretty with tanned complexion at all  :P. My skin starts looking dull, patchy and lifeless. I usually rely on home remedies to remove Tan but when I got no time I use the ready made Tan removal Scrubs. So, today I will be sharing if Organic Harvest Anti Tan Scrub does actually work.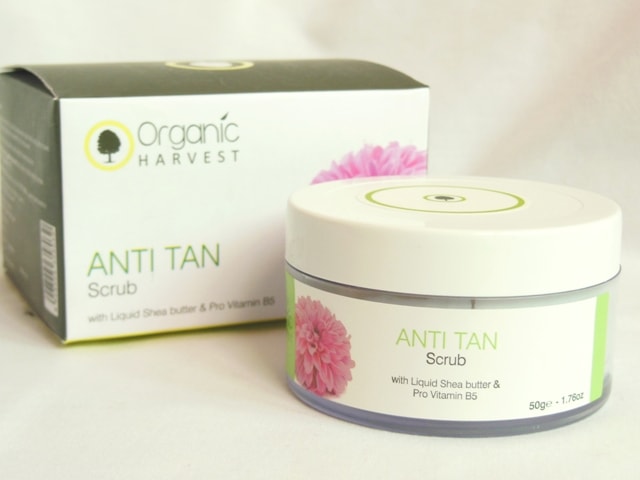 Product Description: Tired of the tanned skin? Here is nature's own solution. This Organic Harvest Anti Tan Scrub gently exfoliates, help unclog pores, and removes those dark and tanned cells, for a skin that is smoother, brighter, and more radiant. Say hello to squeaky clean and perfectly refreshed skin, in just one easy step.
Free of Parabens, Mineral Oil and Animal Ingredients
Ingredients: Liquid Shea butter, Pro Vitamin B5, Scrubbing beads and Olive oil in cream base. No Color Added.
How To Use Product: Massage onto wet skin for 2 minutes. Rinse with water or wipe off with a soft cotton or towel. Follow it up with appropriate tonic. Repeat this 2 to 3 times a week
Price: Rs 495 for 50gms (Buy from Nykaa)
Packaging: Organic Harvest Anti Tan Scrub comes in a clear plastic tub with white colored screw cap. There is a separator between the cap and product which keeps the jar clean. The jar is packed in a cardbox which carries all the essential information about the product like description ingredients, price and more. The packaging is easy to use but there are hygiene issues. A tube packaging would have been so much better.
My Experience with Organic Harvest Anti Tan Scrub:
Organic Harvest Anti-Tan Scrub is a white colored scrub with a pearly sheen. It looks like I have grinded pearls in the formula seeing its metallic white shine. The scrub has tiny exfoliating beads which feel like salt granules.
It looks like a cream based scrub but it doesn't feel greasy or heavy on skin. The cream base which is the liquid shea butter just binds the exfoliating beads together for a good exfoliation. The scrub has a mild exfoliating action as the granules don't feel coarse or harsh against the skin.
This Anti Tan scrub has a strong citrus scent which is quite refreshing for summers but it a bit overwhelming for me. Though it doesn't last long and fades quickly after wash.
Results:
Organic Harvest Anti Tan Scrub exfoliates skin effectively and gives a polishes look to the skin. Skin feels squeaky clean without getting dry or stretchy. It leaves skin feeling smoother, softer and radiant. It imparts an instant brightness to the complexion but it doesn't last long. The scrub will remove black heads and white heads which aren't too deep into the skin. It doesn't work on stubborn blackheads. Though, with regular use one can expect some difference.
Coming to the Tan removal, as the scrub clears up the skin really well I am sure it will work on removing the tan. I am not tanned now, so cant say for sure but will update on the same when I do.
Overall:
The scrub will work for all skin types as it isn't heavy or drying at all. Also, as it has fine scrubbing granules even the ones with sensitive skin can use it without an issue.
The scrub is slightly pricey but the formula is free from harmful chemicals. It doesn't contains Parabens, Mineral oil and animal ingredients which is rare to find in scrubs at this price. I also love that it contains liquid shea butter, Olive Oil and Pro Vitamin B5 but mentioning full ingredients list would have been better.
Recommendation: Organic Harvest Anti Tan Scrub is a gentle Tan removal facial scrub with fine granules. The granules are soft enough to prevent scratches on the skin. The fine scrubbing granules gently removes black heads, white heads and dead skin. It rejuvenates the dull and patchy skin making it smoother, even toned and brighter. The scrub is a bit pricey but it contains quality ingredients and is free from Skin damaging ones like parabens and Mineral oil. Good option to get that glowing complexion back.It is one of the Best Anti Tan Scrub In India. Recommended!
Rating: 4/5
Don't Miss to Checkout:
Have you tried Organic Harvest Anti-Tan Scrub? Which is your favourite detanning scrub?
PS: Product sent by brand for consideration but honest and unbiased opinion.