Organic Harvest Anti Tan Mask Review
Let's be honest, tanning is the major problem in summers. Even after applying layers of good sunscreen and wrapping cloth from head to toe, there are chances of getting tanned. Now, you have kitchen wonders like Lemon and tomato to help you with Tan Removal but what if you are too occupied to do the effort. Let's try something ready to use with similar results, Organic Harvest Anti Tan Mask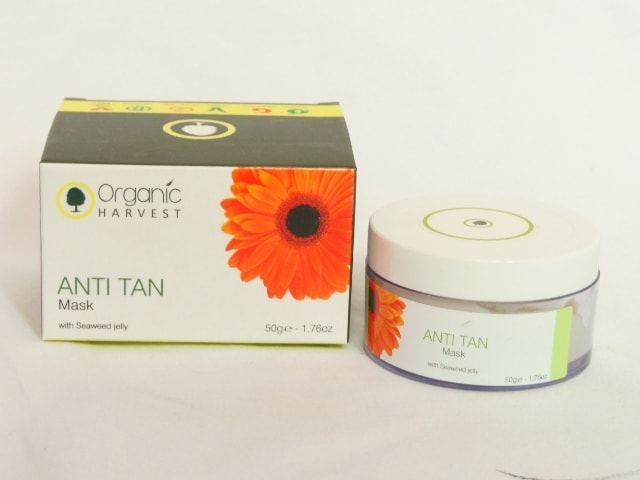 Product Description: Organic Harvest Anti Tan Mask
The mask with the goodness of Seaweed jelly helps removing the tan on the skin.
Olive oil gives the moisturization needed to maintain the skin balance.
Mulberry extract & Daisy flower extract provides the glow to the skin.
Key Ingredients: Seaweed jelly,Certified Organic Xanthum gum, Olive oil, Vitamin C, Mulberry extract & Daisy flower extract in cream base. No Color Added
Directions for Use:
Make a layer over clean face and neck.
Avoid eye area.
Leave it on for 10 minutes and than remove by massaging.
This mask will not become completely dry on usage.
Price: Rs 495 for 50gms (Buy from Amazon.in)
Packaging: Organic Harvest Anti Tan Mask comes in a simple clear plastic tub with white colored screw cap. There is a separator between the cap and product which keeps the jar clean. The jar is packed in a cardbox which carries all the essential information about the product like description ingredients, price and more. The packaging is easy to use but there are hygiene issues. A tube packaging would have been so much better.
My Experience with Organic Harvest Anti Tan Mask:
Organic Harvest Anti Tan Mask is a muddy white colored creamy gel mask. It has the perfect consistency which spreads easily on face.
I absolutely love the gorgeous fruity, floral scent of this face mask. It actually makes the mask experience more beautiful. I can relax and unwind myself while the mask in on and working on my skin.
Usage:
I scoop out the desired amount and apply a medium thick layer of the mask. The mask doesn't cause any tingling sensation which I adore. I absolutely detest the packs and masks that gives that irritating tingling feel on the skin especially after scrubbing. I leave it for around 15-20 min on skin and let it soak the goodness of product. As claimed it doesn't dry out completely on skin, another point to love it for my dry skin. I wash it off running water while gently massaging the product.
Results:
Organic Harvest Anti Tan Mask doesn't feel heavy or greasy on skin. Even though it is cream based it doesn't leave any residue behind. It adds a gorgeous glow to my skin and make it look healthy and radiant. It adds much needed hydration to the skin which makes it feel soft and supple.  But the glow doesn't last forever. I am not tanned right now but I am sure it will definitely do the job effectively. Seeing the results on me on a regular day, I am sure it will qualify for the best tan removal masks in India.
Overall:
The Mask is slightly pricey but the formula is free from harmful chemicals. It doesn't contains Parabens, Mineral oil and animal ingredients which is rare to find in masks at this price. I also love that it contains natural ingredients like Seaweed Jelly, Xanthum Gum, Vitamin C, Olive Oil and Mulberry extracts but mentioning full ingredients list would have been better.
Recommendation: Organic Harvest Anti Tan Mask is a cream based mask with the goodness of Seaweed Jelly and Vitamin C. The formula feels comfortable on skin and doesn't feel heavy or greasy. It nourishes skin while brightening up the complexion. However, the results don't last long and the glow is gone in a day, Also, I feel the quantity is slightly less for the price as I might finish up in 8-10 uses. But  the quality is good, as it contains natural ingredients and is free from Parabens, Mineral Oil and Animal Ingredients.

I am really impressed with Organic Harvest Products and is definitely one of my favourite Natural Indian Skincare brand. Organic Harvest Anti Tan Mask and Organic Harvest Anti Tan Scrub makes a perfect duo for summers to get a bright, glowing complexion. Recommended!
Rating: 3.5/5
Don't Miss to Checkout:
Have you tried Organic Harvest Anti Tan Mask? Which is your favourite detanning mask?
PS: Product sent by brand for consideration but honest and unbiased opinion.