Organic Harvest 3- in -1 Insta Fresh Face Wash Review
Today I am going to review, a herbal face wash, Organic Harvest 3- in -1 Insta Fresh Face Wash.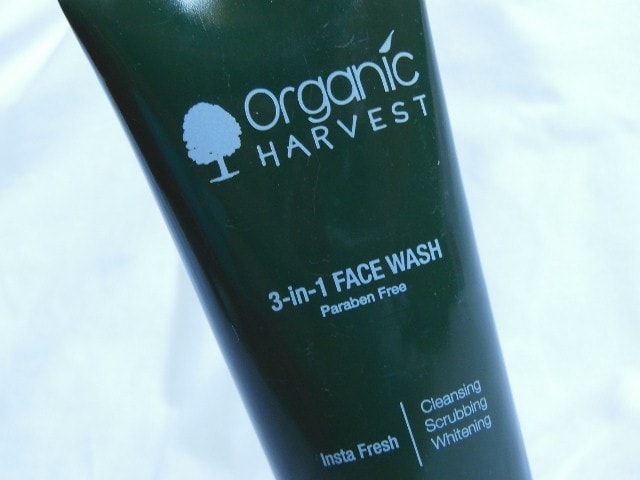 Product Claims: A Paraben free formula which cleanses, scrubs, and provides whitening to your skin. The active used in this face wash is pure Ribose, a natural pentose obtained by biotechnology from corn seed sugars. It restores energy to the skin for a global anti-aging action. It has irregular-shaped granules which are soft enough to prevent scratches on the skin.
Direction for Use:-Pour into palm and apply to thoroughly wet face. Work up lather. Rinse thoroughly.
Ingredients:-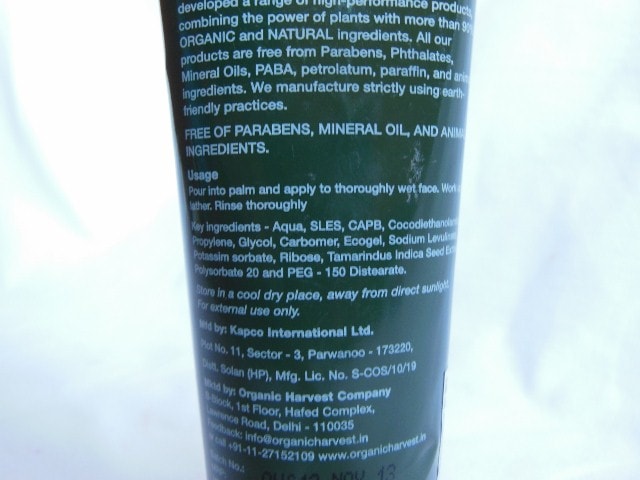 Price:- Rs.395 for 100ml
Shelf Life:-  2 years from the Mfg date.
Packaging:- The face wash comes in a dark olive green opaque plastic squeeze tube type packaging with a pearly white colored flip cap. The cap fits snugly with the base but  it isn't sturdy and it already got damaged at the joining end.
My experience with Organic Harvest 3- in -1 Insta Fresh Face Wash:-
3- in -1 Insta Fresh has slightly sticky gel like consistency which is on the thicker side but its spreads quite nicely. It is a light green colored gel filled with tiny dark green colored scrubbing granules that will exfoliate skin while you are working with the face wash. The smell is quite strong when sniffed directly from the tube but it doesn't comes out on application and can be easily ignored.
As directed I would advise to apply it wet face as on dry face the granules may feel a little harsh. Another way is to work it up in palms and then massage gently over the face for 1-2 minutes. I need a tiny pea sized amount for single application. It lathers well not much though. It cleanses well and takes away all the impurities, dirt and oil from skin leaving behind a visibly cleaner and brighter looking skin.
The skin feels soft and silky smooth but I feel the formula due to the presence of scrubbing granules is more suitable for weekly or alternative day usage than daily for dry skin. Oily skinned girls can use it daily especially in summers and get that clean and clear skin within minutes.
We have very few Paraben free skincare products in the market and I am happy that it is free from all such harmful chemicals and provides the complete list of ingredients.
Pros of Organic Harvest 3- in -1 Insta Fresh Face Wash:-
Contains tiny exfoliating particles
Small pea sized amount is enough for single application
Lather well
Cleanses skin gently
Leaves skin silky smooth
Doesn't strip skin's moisture
Paraben and Mineral oil free formula
Will suit all skin types
Cons of Organic Harvest 3- in -1 Insta Fresh Face Wash:-
Price is on the higher side
Contains SLES
Strong herbal fragrance but tones down on application
Filmsy packaging
Recommendation:- Organic Harvest 3- in -1 Insta Fresh Face Wash is an organic face wash, free from harmful chemicals. It stands true to its claims of cleansing and scrubbing though I don't understand the whitening but I will say it brightens up complexion instantly. It cleanses skin effectively which the scrubbing granules exfoliate skin and buff away dead skin cells which makes skin appear cleaner, smoother and brighter. Just be gentle while working up with the face wash. I will be using it for my weekly scrubbing sessions, but oily skinned girls can use it daily. It is an instant fix for a brighter looking skin, Recommended!
Rating:- 4/5
Have you tried Organic Harvest 3- in -1 Insta Fresh Face Wash? Do you like normal face wash or ones with scrubbing granules more?
 PS: I received it from Brand's PR but review is honest as always.