Omved Tired Foot Soak Review
Hello Everyone,
Today I am reviewing something great for your feet and not it's not any foot scrub or cream but a foot soak. We had this small get-together over my place which I thoroughly enjoyed but by the end of the day I was so tired that I could barely walk. My legs were screaming pain and then I planned to pamper my feet with hot water dip and Omved Tired Foot Soak.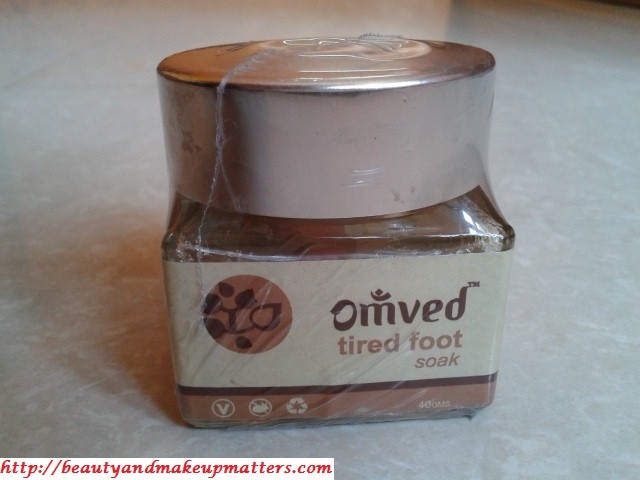 Product Claims Rejuvenate and refresh sore and tired muscles with this blissful pampering soak. therapeutic minerals and aromatic oils cleanse and condition while neutralizing odors.
Mineral-rich, Himalayan pink rock salt is a cleansing agent, drawing out impurities and toxins from the body and relaxing the tissues
Epsom Salts eases stress, relaxes stiff muscles and aching limbs and softens skin.
Clary Sage is an antibacterial muscle toner and eases soreness.
Cooling Peppermint relieves aching feet while de-odorising.
Lemon is a circulatory stimulant Relieve stress and revive hard-working feet.
This stimulating blend is also wonderful to stimulate cold hands. Dip into this luxurious soak and nourish your feet, relax your mind and heal your body.
Direction for Use:- Warm water in a pail (water level deep enough to reach your calves). Pour 2 tbsp of soak into warm water. Place both feet into pail. You may use some undissolved salt granules to gently scrub your feet. Be seated comfortably and soak feet for 15 minutes or until you start to perspire. Pat dry & moisturise. This can be done 2-3 times weekly. If suffering from sleeping dificulties, soak just before sleeping. Can also be used as a soak for hands.
Ingredients:- 100% natural. No synthetic agents. No parabens, sulfates, silicones, petrochemicals, glycols, phthalates, synthetic colours or perfumes.
100% pure therapeutic essential oils, blended in cold-pressed plant oils.
Contains only 100% herbal actives – pure botanical extracts combined with salts Himalayan pink salt, Epsom salt (magnesium sulfate) & essential oils of Peppermint (Mentha piperita) oil, Clary Sage (Salvia sclarea) oil and Lemon (Citrus limonum) oil. 100% biodegradable formula and easily recyclable packaging.
Price:- Rs.490 for 100gms
Packaging:- Omved tired foot soak comes in a heavy glass jar type packaging with a metallic screw lid. The packaging must not be carried along because it too heavy and is prone to breakage if dropped.
My experience with Omved Tired Foot Soak:-
Tired foot soak constitutes of solid chunks of salt crystals. These are basically natural salts infused with essential oils that will soothe and relax tired muscles and ease pain.
I add a little amount of these salts in my bucket of warm water before dipping my feet in it. The salts don't dissolve immediately but slowly and steadily over a span of 10-15 minutes releasing oils that will help in reducing stress and calming down the senses.
The foot soak has a strong peppermint fragrance which is overwhelming if smelled directly form the jar but as it meant for feet, the fragrance doesn't seem to bother me. Rather it turns milder; creating a soothing aroma which can make you fell asleep during your foot spa session
Results: This tired foot soak really works well in relaxing tired feet and reducing the pain. It can also be very useful for sweaty feet in summers as it will cleanse the skin while neutralizing the odor making feet feel clean and fresh. I follow with a scrub to remove dead skin cells and a moisturizer in the end to nourish dry skin. A 15-20 minutes soaking session takes away all the tiredness and you can sleep like a baby.
Don't Miss to Checkout:
Pros of Omved Tired Foot Soak:-
100% natural product
Relaxes tired muscles
Neutralize feet odor
Perfect for a home spa session for feet
No Parabens, Sulfates,Phthalates
Affordably priced
Cons of Omved Tired Foot Soak:-
Availability
Doesn't make the pain disappear completely
Recommendation:- Omved Tired Foot Soak is a great product to heal and relax tired feet, just soak your feet in warm water with a small amount of these salts for a nice pampering session at home. I am pretty lazy to do such home spa kind of things but when things get really out of control, I love to soak my feet for some relaxation.  It actually works in reducing pain and relieving sore feet. I don't have smelly feet issue but it will work well in reducing the odor, leaving you with refreshing clean feel. Overall, a good product to pamper tired feet at the luxury of home.
Rating:- 4/5
Have you tried Omved Tired Foot Soak? How do you pamper feet at home?