Omved Hydrating Shampoo and Nourishing Conditioner For Dry/Damaged Hair Review
I have been slowly shifting towards natural products to save my skin from the damage caused by harmful chemicals which are usually found in commercial products.  I have tried a few herbal shampoos in the past too and absolutely loved the results. So, this time when I was again itching to try something chemical free and filled with goodness of nature I got a chance to try Omved Hydrating Shampoo and Nourishing Conditioner made for Dry and Damaged Hair
Almost everything you put on your hair gets on your scalp and what gets on your scalp can get absorbed into your body! Warm water and open pores during a hair wash make it imperative to use natural hair care products. So let's see how this Natural Herbal shampoo and conditioner combo worked for me.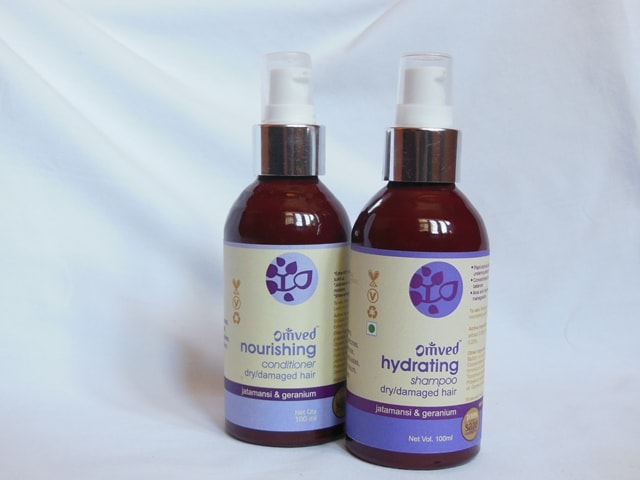 Product Claims:
Shampoo: Restore strength and moisture to undernourished hair with plant-derived botanicals as they cleanse without stripping and build-up.
This all-herbal shampoo deeply penetrates to hydrate, with its concentrated proteins and a blend of natural oils.
Jatamansi eases dry flakes and brittle hair ends. Geranium maintains the moisture balance of the scalp.
Aloe Vera and Vitamin E make hair soft and manageable. Amalika nourishes with Vitamin C.
The beneficial extracts are blended in a base of natural cleansers like Arishtak (Soap nut) known for their natural cleansing and conditioning properties from ancient times.
Coat and protect your every strand with extra moisture.
Conditioner:  Reawaken dry, undernourished hair with extra-rich, nourishing plant oils that restore moisture without build-up.
The Jatamansi and Geranium Conditioner, enriched with pro-vitamins and scalp-normalizing botanicals, improve circulation and restores health.
Jatamansi, a rare Himalayan plant, improves scalp condition and rebuilds hair strength.
Fragrant Geranium locks in moisture and promotes hair growth.
Shine-enhancing Babassu oil gives luster and life.
Plant proteins and Panthenol Vitamin B5 revitalize, repair and deeply condition, adding body and volume.
Aloe Vera gives thickness, elasticity and lustre to dull hair.
Say farewell to a dry, flaky and itchy scalp with the goodness of nature
Price: Rs 490 for 100 ml
Directions to Use:
Shampoo: Apply to wet hair, massage into a gentle lather. Rinse. For best results, follow with Nourishing Conditioner.
Conditioner: Massage into freshly clean hair, leave in for a minimum of 1-3 minutes or as long as desired to absorb moisture and lock in nourishment. Rinse.
Ingredients: 100% natural. No synthetic agents. No parabens, sulfates, silicones, petrochemicals, glycols, phthalates, synthetic colours or perfumes. 100% pure, therapeutic essential oils, blended in cold-pressed plant oils. Contains only herbal actives – pure botanical extracts in a natural skin- and Earth-friendly base
Shampoo:DM water, cetearyl alcohol, cetearyl glucoside, behenyl alcohol,arachidyl alcohol, guar gum, babassu oil, almond oil, jojoba oil, shea butter, glycerine, hydrolyzed wheat protein, behentrimonium methosulfate, aloevera extract, guar hydroxyl propyl trimonium chloride, Jatamansi extract, xylitylglucoside, arishtak extract, amla extract, shikakai extract, rice bran oil, panthanol.
Packaging: Omved Hydrating Shampoo and Nourishing Conditioner comes in a brown tinted metal bottles with a pump dispenser. It almost feels like a glass but thankfully they are metal so are easy to use and travel with. I love that everything is mentioned on the bottle but my only issue with the packaging is the Pump. I prefer pump packaging's but this one is quite tight and it's difficult to pump out products from the bottle specially shampoo.
My Experience with Omved Hydrating Shampoo and Nourishing Conditioner:
Omved is an all-natural herbal brand and the products are free from harmful chemicals like parabens, sulfates, silicones, petrochemicals, glycols, phthalates, synthetic colors and perfumes. The formulas are 100% biodegradable, that means you are being good to Mother Nature as well.
Apart from Shampoos and conditioners, Omved has an extensive range of skincare and bath & body products which are again made with natural ingredients and free from chemicals.
Omved Hydrating Shampoo: It is an all-natural herbal shampoo and free from chemicals. The shampoo is a pale yellow colored liquid with a medium-thin gel like texture. The shampoo is made for Dry and damaged hair so the formula is quite gentle and suitable for daily use too.
The formula is free from Sulfates but still it does give moderate lather. The shampoo cleanses the scalp thoroughly leaving hair soft, smooth and shiny.  My hair felt softer and bouncier with this shampoo. I also liked that the shampoo soothe my itchy scalp.  But owing to its mild formula, sometimes it couldn't remove oil completely from scalp especially if I have had a heavy oiling session the day before wash.
Omved shampoos are the result of diligent manufacturing, sound traditional Ayurvedic wisdom and rare and effective premium quality botanicals, rich in vital hair nutrients and natural hair conditioning agents that take utmost care of your hair in a very gentle way. Instead of mineral or petroleum-based oils.
So, if you are looking for a mild natural shampoo in India for daily use for your dry hair, this Omved Hydrating Shampoo is a good option. Pair it with a rich conditioner and you will enjoy long, smooth, soft and bouncy tresses.
Omved Nourishing Conditioner: Omved Nourishing Conditioner has a rich buttery texture. It almost feels like a Hair Butter rather than a conditioner.  The conditioner is formulated without Silicones so it doesn't impart that Silky smooth feeling on the tresses. But this also ensures no build up but naturally soft hair with a beautiful volume and shine. This is one of the best conditioners for Oily scalp as it doesn't weigh down hair. Though, you might like to have a more nourishing conditioner if you have super dry frizzy hair. One of the best Silicone free conditioner I have tried. And it doubles up as a hair Mask for dry hair too. The conditioner is formulated with lots of natural Oils which conditions hair without any damage.
Recommendation: Omved Hydrating Shampoo and Nourishing Conditioner is a nice combination of natural hair care products which will cleanse the scalp and nourish it with herbal oils without causing any chemical build up. The gentle formula of the shampoo makes it suitable for daily use. And the rich conditioner adds smoothness, volume and shine to the tresses. I just wish for a better pump aka packaging otherwise  I am really happy with the results.
Rating:
Shampoo: 4/5
Conditioner: 4.5/5
Don't Miss to Checkout:
Have you tried Omved hair care products? Which is your favorite Herbal Skincare Brand?
PS: Product sent by brand for consideration but honest and unbiased opinion!