Omved Eye Contour Rescue Gel
Hello Everyone,
I have been trying to include more and more of natural products in my skincare regime but as I have a dry skin I prefer creams over gel. Though, my myth about gels was broken by "Iraya Manjistha Under eye gel" which feels quite nice and doesn't have the greasiness that comes with cream formulation. I have started testing another gel formulation on my under eye cream to test its efficact and it's the Omved Eye Contour Rescue Gel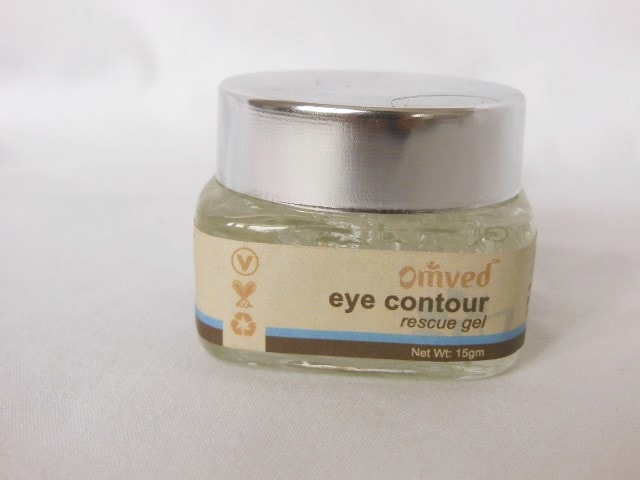 Product Description: An anti-oxidant rich, cooling natural firming eye gel for puffy, strained and tired eyes. It contains anti-inflammatory properties that helps reduce the appearance of fatigue marks, such as fine lines and dark circles, restores the sensitive skin around the eyes and protects it against environmental pollution.
Green tea is rich in antioxidants and helps to protect, restore skin and reduce fine lines
Hydrating Aloe Vera lightens skin, by fighting pigmentation. It also tightens and tones the skin.
Baheda rejuvenates skin and reduces eye puffiness
Soothing Lavender, Chamomille and Vetiver cool and tone.
Suitable for all skin types Age-proof your eyes with the purest most natural eye gel.
Ingredients: 100% natural. No synthetic, parabens, sulfates, silicones, petrochemicals, glycols, pthalates, synthetic colours or perfumes.
100% pure, therapeutic essential oils, blended in cold-pressed plant oils.
Contains only herbal actives- pure botanical extracts in a natural skin- and earth-friendly base, therapeutic-grade pure essential oil of Lavender, chamomile, vetiver, with healing extracts of harida, baheda, green tea and aloe vera, Glycerine from plants blended into a base of demineralised water, carbopol ultrez (rheology modifier), phenoxyethanol and sodium benzoate
Directions for Use: Take just a little bit of the Eye Contour Gel on your finger. Spot it around each eye. Very gently spread around the contours avoiding the eye, using gentle, tapping movements. This gentle pressure helps stimulate circulation and drain excess fluid. Smooth gel from the inner corner of your eye out wards (upper and lower eyelids). Use daily at night. Also great any time of the day – use it to refresh your eyes before or after a night out. Awaken the next morning and see the difference. 100% safe and gentle for daily use
Price: Rs 490 for 15 ml
Packaging: Omved Eye Contour Rescue Gel comes in a small square shaped glass tub with a silver metallic screw lid. The jar itself is quite heavy which feels nice but you ought to be careful with it. I wish it had a tube or pump packaging because I don't like to dip my fingers into the formula and also I feel the efficacy of the product reduces over time in such packagings. 
My Experience with Omved Eye Contour Rescue Gel:
Omved Eye Contour Rescue Gel is a clear gel with slightly thick consistency but it spreads nicely with fingers over the eye area. I need just a little bit of the gel for each application so I am sure the tub will last me for 2-3 months.
The gel gives a strong burning sensation on the under eye area post application which I have never experience before with any of the eye care products. I got so scared at first that it will trigger some allergic reaction but thankfully nothing of that sort. The sensation got easy after 10 days of use, quite a long period I would say.
The gel gets absorbed pretty quickly with few finger strokes. There is slight stickiness initially but it also disappears within minutes of application. The formula provides mild hydration and I have a feeling that it will work best for those who have eye bags and puffy eyes.
The gel is light weight and can be used both day and night so I guess it is best to use under makeup before going for any concealer application for keeping the eye area smooth and hydrated.
Don't Miss to Checkout:
Results: To check if it does make any difference, I have been using it on one eye but I will have to say that I haven't noticed any major difference in the dark circles situation but it gives a feel good factor that I am applying a herbal formulation. One have to use it continuously for many months for any substantial difference. 
Recommendation: Omved Eye Contour Rescue Gel is a light weight gel that sinks in quickly without leaving any residue and providing mild hydration but imparts a strong burning sensation which might not liked by everyone. The formula is free from all sort of chemicals and has only herbal ingredients but doesn't make much difference to the under eye area. The gel will work for puffy eyes but don't expect miraculous results. I loved that it is free from chemicals but wish it had been more effective in addressing the concerns like dark circles and fine lines.
Rating: 3/5
Have you tried Omved Eye Contour Rescue Gel? Which is your favorite under eye Gel?
PS: Product sent by brand for consideration