Olivia Herbal Bleach Review
Bleach creams normally constitutes loads of harmful chemicals but this one stands out among other with the "Herbal" tag. I have used Fem Bleach earlier but now I wanted this herbals bleach. It wasn't able to find it online so while asked my hubby to get this for me.
This huge box was result of my carelessness as I asked my husband to get this for me without telling him all the details. I mean I wanted the smaller one with a single tub but instead he picked up this pack, which was like getting a large family sized pizza when you expect a personal pan sized one. Anyhow, here is my review on Olivia Herbal Bleach.
Product Claims: The first gentle bleach for sensitive skin. This haldi, chandan, ale vera and nimbu combination makes your skin fairer & beautiful day by day. The ultimate herbal solution to the unwanted hair growth on tyour skin. Fades unwanted hair on face, arms and body
*For best results use every 15 days.
Direction for Use:-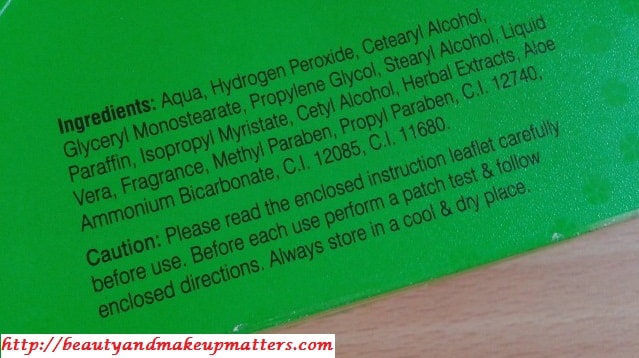 Ingredients
Cream :- Aqua, Hydrogen Peroxide, Cetearyl Alcohol, Glyceryl Monostereate, Propylene Glycol, Stearyl Glycol, Stearyl Alcohol, Liquid Paraffin, IsopropylMyristate, Cetyl Alcohol, Herbal Extracts, Aloe Vera Fragrance, Methy Paraben, Propyl Paraben, C.I.12740.
Activator:-Ammonium Bicarbonate, C.I. 12085, C.I. 11680
Price:- Rs.220 for 300 gm  (Available in smaller size too)
Shelf Life:- 2 years from the Mfg date.
Packaging:- The cream and the activator are placed nicely in a green cardboard packaging highlighting its claims to be an herbal product. The packaging is pretty decent as all the jars are fitted nicely in the cuts made for them to be kept in place. The package contains two big jars of Bleach cream and 3 sleek tubes filled with activator. It also comes with a mixing plate and a spatula to scoop the cream out of the tub. The cream jars and activator tubes have dual protection with separate plastic lids under the screw caps.
My experience with Olivia Herbal Bleach:-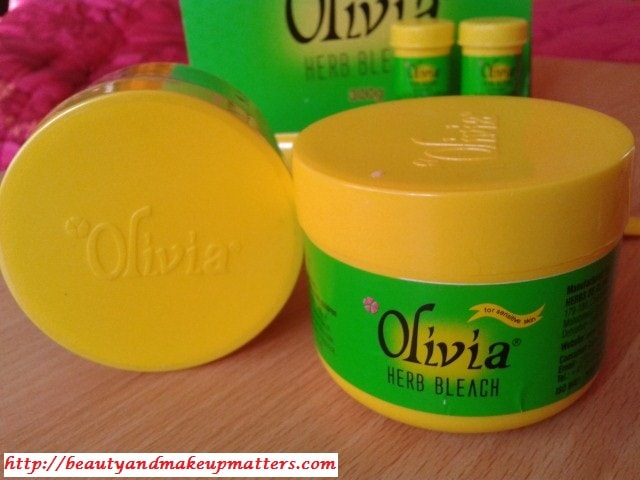 Olivia Bleach cream is turmeric yellow coloured cream with a rich buttery texture. Scoop out the required amount using the spatula to the mixing tray and sprinkle 2-3 pinches of the activator and mix them till powder is completely dissolved in the cream. The cream mixes well with the activator which no doubt has a strong activator kind's smell but with a herbal twist to it. the creamy mixture applies evenly on face. Leave the mixture for 20-25 minutes on face and then wipe out the cream with the same spatula before washing off with water.
Though like other bleach cream it also made me cry while it was on my face due to strong chemical fumes of activator but it doesn't irritated my skin. The cream worked like magic and without showing any signs of reaction, lightened my facial hair effectively. The bleach enhanced my complexion and my skin was beaming with a natural glow which made it look happy and healthy.
I couldn't really comment on harmful effects of bleaching in the long term with regular use as I do not bleach my face so often and use them once in 2-3 months. I have been using Bleach creams for more than 7 years now but didn't notice any damage being done to my skin.
The gorgeous ladies who are blessed with no or light facial hair can use this for tan removal as it lightens and brightens the skin tone but if you are really against using chemicals on face than refrain yourself from using this. Though the herbals ingredients are highlighted well on the packaging but they are listed rather at the end of the ingredient list which means that it contains at most just the traces of them.
Don't Miss to Checkout
Pros of Olivia Herbal Bleach:-
Effectively camouflages facial hair (even the darker ones)
Helps in removing sun tan too
Doesn't react or irritates delicate facial skin
Skin looks healthy and attains a glowing complexion
Has strong herbal(turmeric) scent which I like
Suitable for Sensitive skin too.
Full points for its smart and hygienic packaging
Claims to contain Haldi , Chandan, Aloe Vera and Nimbu
Reasonably priced
Doesn't test on animals
Cons of Olivia Herbal Bleach:-
Not easily available everywhere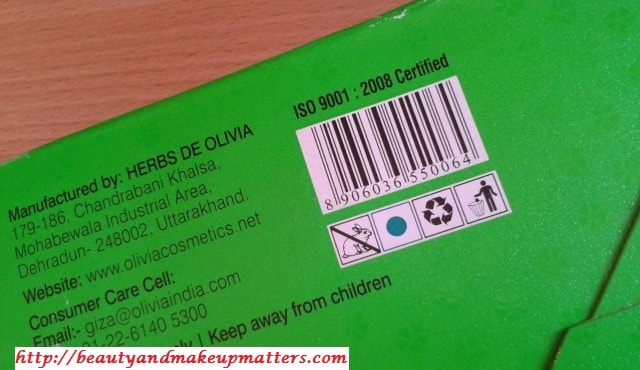 Recommendation:- Olivia Herbal Bleach did a wonderful job at camouflaging dark facial hair and also removes tan to some extent with its mild and effective formula. The gentle formula claims to be safe for sensitive skin too but I would suggest doing a patch test before to verify the same. The bleach works great for me and I love my radiant healthy looking skin post-bleach session. I have started bleaching with the very famous Fem Bleaches but was totally enticed by its "Herbal" tag.  The Herbals ingredients which are highlighted in the packaging are listed way below in the ingredients list but I don't think a milder formula or lesser chemicals will be able to deliver any results as bleaching action will happen with chemicals only.

I was shocked to see this huge box but it was my mistake to overlook the details. So, next time while asking out your BF or Hubby to get you something pay attention to the details, its better be alert than shocked later.
Points to Remember –
Always use bleach on clean and dry skin free from any cream or moisturizer for effective results
Avoid using any soaps or face wash the day you bleach your face.
Always do a patch test before applying it whole face
Rating:- 4.5/5
Have you tried Olivia Herbal Bleach? How often do you bleach your facial hair?