Olay Total Effects 7-In-1 Anti-Aging Cream Plus Serum Duo
Hello Girls,
Though I don't feel like ageing (still young at heart.. :P) but when i observe my skin closely I can detect some open pores and blemishes.. (screeaammm). I took the pledge to keep it happy like 20's till i die.. 😉 .. so currently I am obsessed with Anti – ageing moisturisers. Today I am going to review one latest addition to my skin care, Olay Total Effects 7-In-1 Anti-Aging Cream Plus Serum Duo which claims to fight 7 signs of ageing.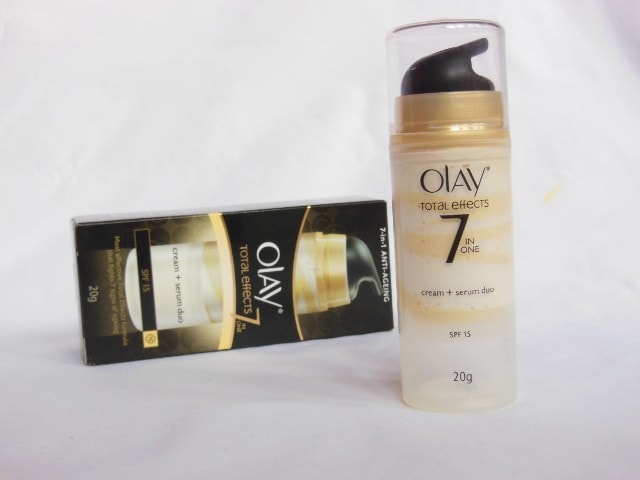 Ingredients: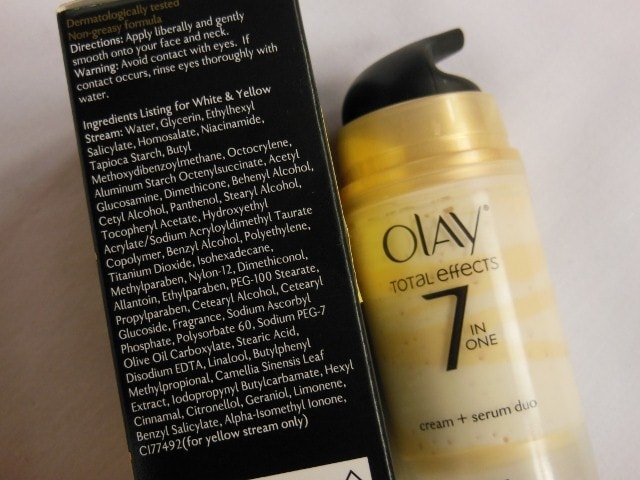 Price: Rs. 369 for 50ml
Packaging: The cream comes in a see-through plastic pump dispenser packaging with a cap to keep the product safe from dirt, The pump dispenser is not only extremely convenient to use but also hygienic as I don't need to dip my fingers in the cream for application. The transparent packaging also allows me to see the product remaining.
My Experience with Olay Total Effects 7-In-1 Anti-Aging :
Cream Plus Serum Duo is muddy beige colored cream with slightly thick creamy texture. The cream spreads nicely (not effortlessly though) but it takes time to blend completely into the skin.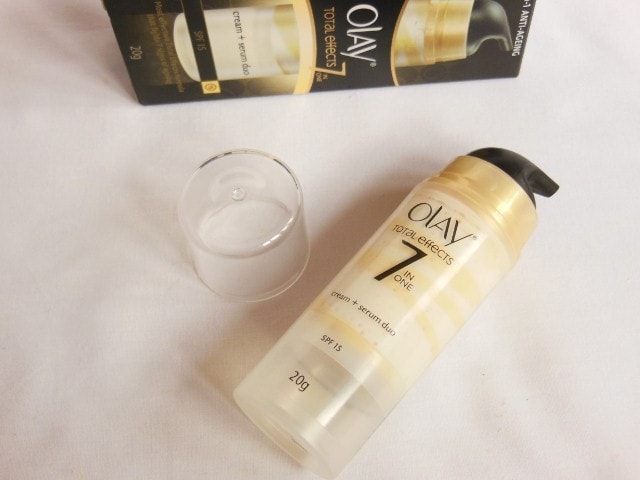 Initially, it creates a white cast on my face something similar to sunscreens and I have to rub it really hard to get rid of it. I am a bit lazy for rubbing in the moisturizers and have this bad habit of leaving the them on skin post-application with slight massage, waiting for them to sink in automatically but that proved to be a big mistake with this one. The cream doesn't work this way and leaves a ghastly white cast on the unblended spots and also come out in tiny white rolls when rubbed with fingers. I couldn't leave it on my face until each molecule of the serum duo is fully absorbed.
The formula might behave better on oily/combination skin as it gives a matte finish but for my dry skin it didn't provide enough nourishment and I missed adequate dose of moisturization. Also, I didn't noticed any improvement in my skin's health though I find it deteriorated slightly due to missing nourishment. I was expecting it to be a decent moisturizer that will disappear into the skin as it claims to have Serum combined in the formula but it wasn't enough to quench my skin thirst for moisture leave aside its claims for anti-ageing benefits. For me, it is a light sunscreen (SPF 15) for not so sunny days.
Pros of Olay Total Effects 7-In-1 Anti-Aging Cream Plus Serum Duo :
Will suit oily/combi skin better
One pump is enough for single application
Contains SPF 15
Pocket friendly price
Hygienic and easy to use packaging
Cons of Olay Total Effects 7-In-1 Anti-Aging Cream Plus Serum Duo:
No improvement in skin texture
Not enough moisturizing for dry skin
Creates a white cast on application
Needs to be blended completely
Wont last more than a month
Recommendation: Olay Total Effects 7-In-1 Anti-Aging Cream Plus Serum Duo has received raved reviews from many in the blogosphere but frankly speaking the formula failed to impress me. I had high hopes form this particular product but it was just not enough for my super-dry skin. I quite liked the packaging but was particularly disappointed to see the white cast it left on the face and the way it comes out in tiny white rolls when not rubbed in completely. I am in dire need of some magical moisturser who can bring back the luminosity and add suppleness to my skin. It may fare better on oily/Combi skin but definitely not for any dry to normal skin.
Rating: 2.5/5
Have you tried Olay Total Effects 7-In-1 Anti-Aging Cream Plus Serum Duo? Which is your favorite Day time moisturizer?