Oily Treat for Your Skin: Wikka Potions of Aromatherapy
Hello Everyone,
I have shared my love for the all natural Jasmine Body Freshener by Wikka in my last post and today I will be sharing some of the amazing oils from them to pamper your skin in a natural way, the Wikka Potions of Aromatherapy.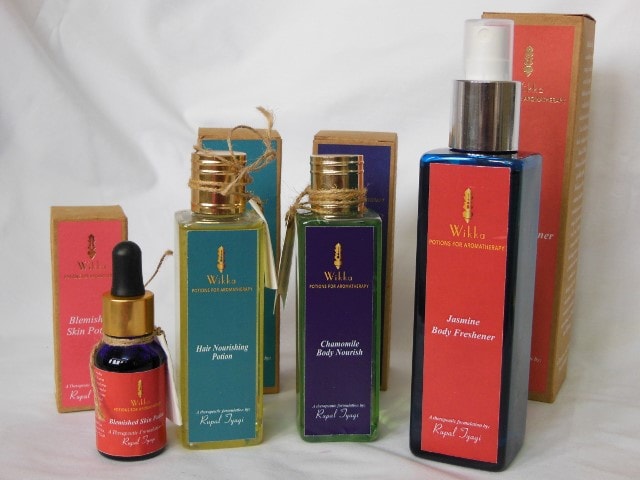 Shelf life: 24 months from the Mfg. Date
Wikka Chamomile Body Nourish
Product Claims: Your skin absorbs whatever you top it up with, so its only right to treat it right! WIKKAs Chamomile Body Nourish invigorates the skin with Almond oil and Wheat Germ oil that are rich sources of vitamin B6 and folic acid. Vitamin B keeps the skin supple and smooth. Lavender and Chamomile German are known for their relaxing effects on the body. Take in the fragrance that is not just calming but also relaxing and balancing – physically and emotionally. Its time to purify both the mind and the spirit with this magical nourish.
Price: Rs. 700 for 100ml
Key Ingredients: Almond Oil, Wheat germ Oil, Avocado Oil, Grape seed Oil.
Essential Oils: Lavender, Chamomile German and Geranium.
Directions for Use: Take about 30ml of Massage Oil in a bowl. Using long yet gentle movements, massage starting from the feet and going upwards. Massage till the oil gets absorbed completely.
IMP INSTRUCTIONS: Best effects of massage can be obtained if the massage is synchronized with the speed of the heartbeat and the strokes are towards the direction of the heart.
My Experience with Wikka Chamomile Body Nourish:
Wikka Chamomile Body Nourish comes in a rectangular shaped plastic bottle with a golden metallic cap and a plastic lid to seal the mouth of the bottle. I wish there was some sort of nozzle than this plastic lid because it is a little difficult to get oil out of bottle without spilling with such a wide opening,
Wikka Chamomile Body Nourish is again a mix of all the goody-good natural oils and essential oil with a dose of vitamin E. Going by the instructions, this seems to be a massage oil than the usual body oil but owing to my busy schedule I cant try it that way so I used it as a body oil post shower. The oil has a thin light weight consistency and it spreads so nicely without feeling greasy that I sometimes forget that I am using an oil. It sinks in quickly intothe skin and doesn't leave behind any shiny or oily feel. Although, It works nicely on my dry skin in this monsoon-summer season but still it would be best for dry winter days where heavy moisturizers starts feeling greasy. The body nourish has a strong scent which is a mix of chamomile and something. Out of all the three oils this has smells the best but still I feel the fragrance could have been better :P. ( I am sucker for nice smelling bath and body stuff!!)
Wikka Hair Nourishing Potion
Product Claims: Lustrous hair, glossy mane, shiny tresses are here to stay with WIKKAs Hair Nourishing Potion. With vitamins E, D, B1, B2, B6 and A, Almond oil takes care of your curls and helps you to grow strong, healthy hair strands. Rosemary stimulates dense hair growth while keeping the scalp healthy. Wheat germ oil along with Tea tree and Lavender reduce breakage and hair fall. This stimulating, refreshing and calming potion is sure to nourish your deep rooted beliefs!
Price: Rs. 700 for 100ml
Key Ingredients: Almond Oil, Grape seed Oil, Extra Virgin Olive Oil, Wheat germ Oil.
Essential Oils: Rosemary, Peppermint, Eucalyptus Globulus, Carrot seed, Lavender, Tea Tree.
Directions for Use:Take about 2 teaspoons of Hair Nourishing Potion. Apply gently to the scalp. Massage the scalp lightly in circular motion. Cover the hair with a shower cap for about 20 minutes for best results. Rinse hair with a mild shampoo.
IMP INSTRUCTIONS: A hot towel treatment after the oil application will help absorb the goodness of oils better.
My Experience with Wikka Hair Nourishing Potion:
Wikka Hair Nourishing Potion comes in a similar packaging as the Body Potion. Though the Hair Potion is mustard yellow in color while the body nourish is a light green but I get so confused between these two that I have to read the labels every time I use them, just to be sure I am using the right one.
The first thing I notice in Wikka Hair Nourishing Potion is its strong fragrance. The oil has a strong peppermint fragrance which is quite overwhelming may be due to the presence of peppermint oil in the formula but there so many other oils in it and I could smell just the peppermint :P. This Hair nourishing potion again has a similar thin consistency which is easy to work with but compared to the rest I feel it is a little bit oily and greasy, not too much though.
When it comes to hair oils I am kind of person who oil hair a night before the head wash but when I read the instructions, it is said to be used just 20 min before head wash. So, I feel it is more of a kind of hair mask which nourishes hair from deep within and to amplify the results is advised to use steam on the oiled hair which will let the oil penetrate into the roots.
Hair Nourishing Potion is a good option to replace your chemical hair masks with this all natural oil formula.
Recommendation: Wikka Potions of Aromatherapy are a wonderful blend of natural and essential oils that will nourish your skin with al the goodness of nature. Best thing about these oils is that none of them are oily or greasy like the usual oils and that's what make them so unique and easy to use. My only complaint with these potions is they don't smell as good as I have expected them to be but all in the name of good ingredients :P. If you want to give the chemical laden products a break and want some thin with no silicones, parabens or other harmful stuff, give these Wikka Potions a try!
Rating:
Wikka Chamomile Body Nourish: 3.5/5
Wikka Hair Nourishing Potion: 3.5/5
Have you tried Wikka Nourishing skin Potions? Do you prefer skin oils over natural moisturizers?
PS: Product sent by brand for consideration