Oil or No Oil: Garnier Fructis Oil in Cream
Hello Everyone,
I guess there is a major trend going on of replacing the usual hair oil with something fancy.. I still remember those Dove Elixirs that were launched last year but way too much of chemicals and that nobody knows where they went missing. Now, Garnier came up with something similar with its new Garnier Fructis Oil in Cream Oil replacement cream but lets see if it did convince me for the same!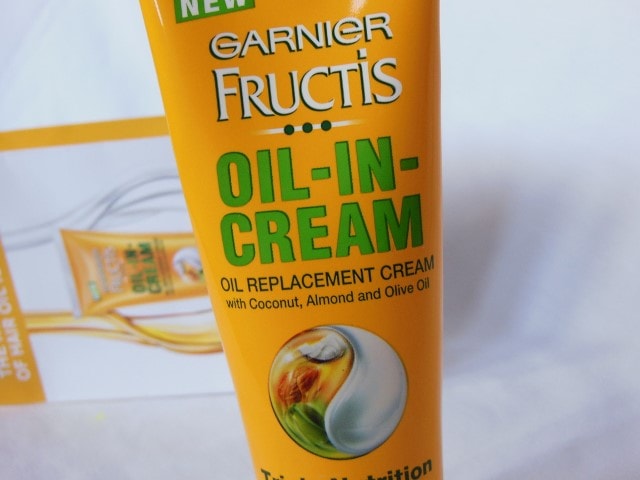 Price: Rs.60 for 100gms
Shelf Life: 3 years from the Mfg date.
My experience with Garnier Fructis Oil in Cream:-
Garnier Fructis Oil in Cream comes in a bright yellow colored tube packaging with a flip cap which good and hygienic to use. It is a white colored cream with medium-thin consistency which isn't too runny or thick giving an easy application.
The cream indeed has a gorgeous fragrance, mix of sweet fruity-floral thing which I like a lot and keep smelling the tube every now and then ;). The smell does last longer when it is used as a mask or overnight before wash but it doesn't stay for more than 3-4 hours post wash.
The cream can be used in 3 ways as mentioned on the packaging:
Before Wash: I usually don't apply anything before head wash but I gave it a shot. Though my hair felt a bit softer and manageable but nothing over the top
After wash: This is the best way to get the most of this Oil-in-Cream formula. Use it as a conditioner or a rinse through hair mask and you will love your tresses after that. No frizz, or flyways just a healthy nourished, beautiful looking hair
Overnight: I am big time Oil freak and I have to oil my hair a night before wash but just to give it a try as a real oil I used it all over my scalp and along the length of my hair. I did feel good about the light weight formula and no sweaty face as I do get with Oil but no major difference post wash.
Don't Miss to Checkout:
The formula is infused with the goodness of three oils Coconut, Almond and Olive but looking at the ingredients list I got a bit scared as Mineral Oil is a major ingredient along with lot many chemicals. I am not comfortable using so many chemicals on scalp instead of oil for nourishment and just non-stickiness.
It works well for adding softness and shine to my tresses but won't replace oil for me, because Oil massage is a must for me for that intense nourishment without any harmful chemicals!
Recommendation:- Garnier Fructis Oil in Cream is a more or less like a conditioner  to me with slightly better formula. It contains natural oils but it does also have a fair amount of chemicals like any other conditioner. I can deal with the stickiness of oil but cant imagine myself slathering chemicals onto scalp. On the other side, it does have a lovely fragrance and light weight formula which works nicely to control any frizz especially in monsoon and tame all the flyways without weighing down my hair. It is a decent conditioner cum hair mask but with a fancy name.
Rating:- 3/5
Have you tried Garnier Fructis Oil in Cream? Would you replace your Hair Oil for such Creams?
PS: Product sent by brand for consideration