NYKAA Paintstix Lipstick Collection
I have been obsessed with NYKAA So Matte Nude Necessities collection. They have such a lovely assortment of Nude lipsticks in the range. I got 3 lipsticks from the NYKAA Nude Lipstick collection and have been loving them totally since then. But now NYKAA has come up with another range of Lipsticks as NYKAA Paintstix. NYKAA Paintstix Lipstick Collection contains 12 new lipsticks shades ranging from nudes, corals, pink to dark burgundy and vampy purple. I got a chance to play with these shades at the recently held #NykaaPaintStix Delhi Meetup and take these home too to try. So, lets see what I feel about these NYKAA Paintstix Lipsticks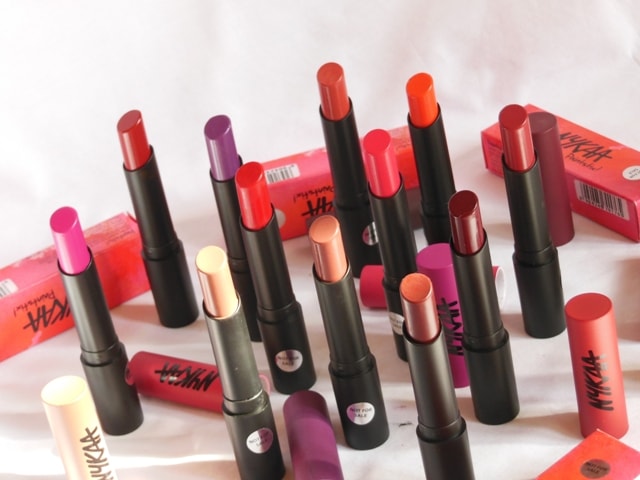 Video is now live:
Product Claims:  Nykaa Paintstix Collection
Go big on color and big on glamour! Nykaa's Paintstix boasts a remarkable formula that pushes the boundaries of color intensity with its rich and intense pigment. This supreme formula glides on your lips effortlessly, providing you with, undeniable saturated color in one stroke. It s time to go bold with Nykaa!
Extreme color intensity
Soft matte finish
One stroke application
Long-wearing
Consists Vitamin E and nutrient-infused butter
Glides on effortlessly
Bold range of shades
Why Should You Make It Yours :
These cute, lipsticks are all you need to make your look little more fun, little more glamorous! This cruelty-free, and high-pigment formula gives you a soft, cushiony matte finish. The unique formulation ensures that your lips stay comfortable, colored up and matte-smooth all day long. Another bonus: These vivid, full-coverage hues are hand-selected and named by our In-house Nykaa Panel, just in time for the most-trendiest season. The best part, these fun hues won t break the bank! Go ahead, stock em all!
Price: Rs.425 each
Packaging: NYKAA Paintstix comes in the signature pink box with a color coded cap and black body for the lipsticks. The look of the lipsticks is good but comparing to the NYKAA So Matte! Packaging I feel the Paintstix are a little filmsy as the lipsticks vobble inside it. The magnetic enclosures are much more safe and sturdy to use!
My experience with NYKAA Paintstix Lipsticks:
NYKAA Paintstix Lipsticks have a round shaped bullet which makes it difficult to get the precise application. It's easier to move outside the lip boundaries with this one.
Formula: Formula-wise these lipsticks are super creamy and glide on easily on lips. These are immensely pigmented and in one swipe they give almost opaque coverage. Owing to the creamy texture, they feel slightly moisturizing and comfortable on lips.
They have quite a creamy finish but they leave a strong stain behind. With food and drinks they easily last for 5-6 hours after which the stain will takeover. Darker the color, richer the stain and longer the stay!
I have a feeling that these might melt in summers and feel cakey if swiped more.. will see!
Colors: The shade selection is good covering almost all the colors with nudes, pinks, plums and Reds. So, I tried to divide them in groups of color family. To give a better idea of the shades that might be similar. Have a look..!
1. Nude/ Browns:
01 Nude Spice: A soft neutral brown, one of my favorite nude!
02 Cool Girl Nude: Slightly deeper and a bit browner than Nude spice with cool undertones
12 Grunge Brown: A vampy chocolate brown shade, super dark and intense
09 Bombshell Berry: A rich burgundy red with warm brown undertones.
2. Orange / Coral:
03 No Chill Orange – Super Bright Orange
Pinks/ Purples
07 Rock N Roll Pink- Bright Blue Toned Pink
08 Purple Monster- Rich Violet shade
11 Hearts N Kisses – A warm red with orange undertones
05 Tender Rose – A rosy pink shade with coral undertones
Reds/ Pinks
06 Chick Flick Pink – A rich pinkish brown shade.
Overall, I feel it's a beautiful shade range at affordable price tag!
Few of my favorites here are Nude spice, Peaches N Cream, Rebellious Red and chick flick pink. There are so many everyday wearable neutral shades which will work for most of the skintones like Nude spice, Cool Girl Nude, Peaches N Cream and Chick Flick Pink.
Rating: 4/5
Have you tried NYKAA Paintstix Lipsticks? Which one is your favorite?
Don't Miss to Checkout:
PS: Product received as gift from brand but honest and unbiased review