NOTD: Quick Car Nail Art
Hello Busy Bees..
I don't know whether its me only or you guys also face a war like situation in the morning. Waking up on time is next to impossible in such chilly winter mornings.I hit the snooze button at least 10 times before I could come to my senses and manage to get myself out of quilt and then finally bed. I am already running late and then this facebook addiction adds on to it and keeps me hooked until I check all the notifications and messages. Then begins the hustle bustle in the kitchen to prepare breakfast and lunch and once out of kitchen I don't even have a single second to waste.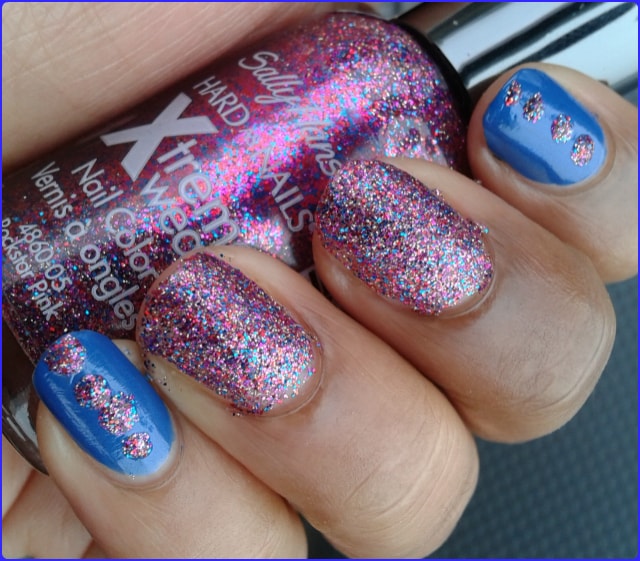 If I get ready on time in spite of all these I have definitely won war for the day.
I like to prettify myself with makeup in office only 😀 😀 and leaves home with absolutely no makeup, just perfectly moisturized skin to let it breathe in the fresh air. ;). In all this hush-hush, it is quite next to impossible to take out some time to decorate nails and if you to attend a wedding in evening just after the office… I gotta find some way out… 😛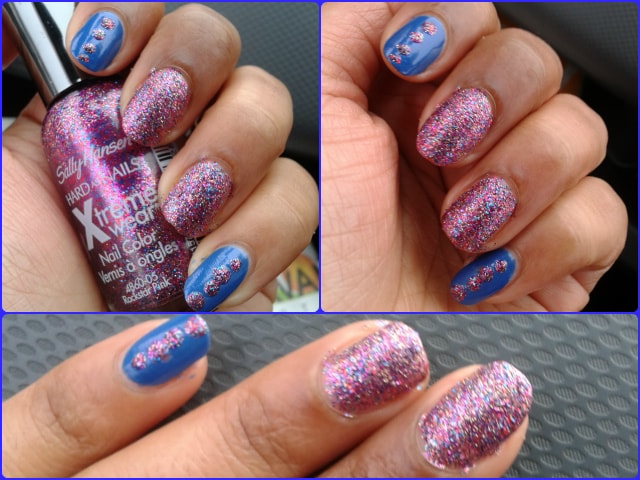 So, today I am sharing that Nail Art.. if you insist .. that I did on my way to office.
I picked up the nail paints that I wanted to use for the day. Usually, I paint my nails with a single color but I was n the mood of playing with glitters so picked this Stunning Rockstar pink nail polish to add a glittery accent to hands. To complement the shimmery nails added my favorite creamy blue on the rest of the finger nails.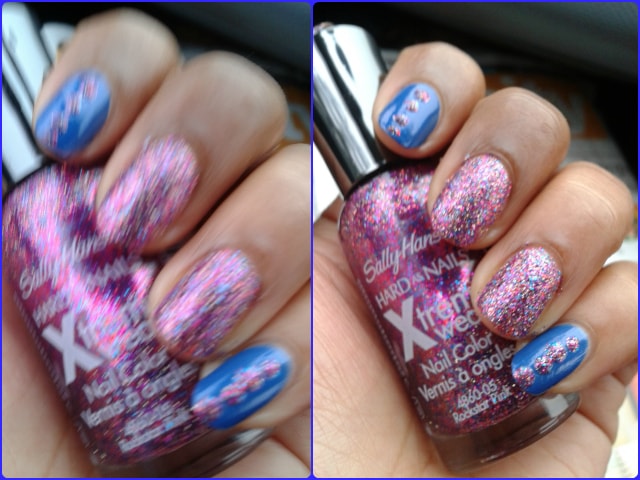 Drew these shimmery dots using the back of tooth pick. With bumpy Indian roads it was tough to get the nail painted without splattering the brush onto the cuticles but than to the amazing formulas and easy to use brush applicators, I managed without all this.
Couldn't think of better utilization of travel time.I think I will paint my nails more frequently in the car.. ;). Its not me who is getting late but would blame smart phone for keeping me busy with all the updates 😛 :P..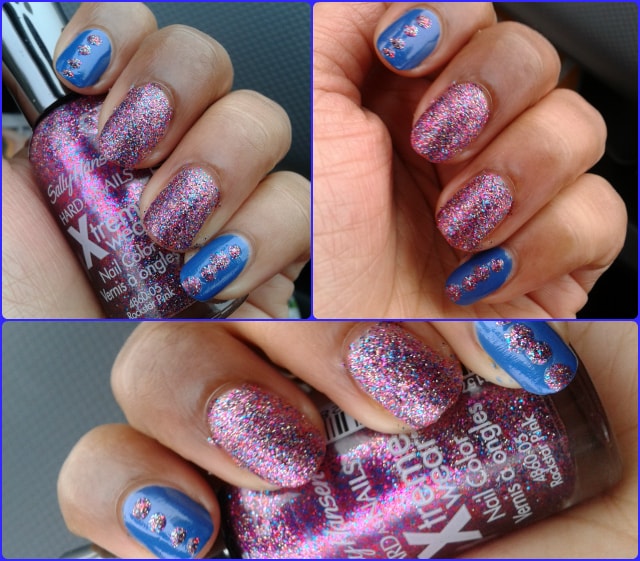 **Please excuse the picture quality as they were taken in the moving car and with mobile camera.
What about you girls.. how are your usual morning .. is it a war or peace? Have you ever done Nails in moving car?