Not For Me! Maybelline New York the Magnum Barbie Mascara 
Hey Beautiful,
I have hoarded some of the Newly Launched Makeup from Maybelline and this Maybelline New York the Magnum Barbie Mascara is a part of that haul. I didn't actually needed a mascara buy Maybelline Mascara are my favourite and when I saw this newbie from them I couldn't control and bought it. So, let's see if I love this Maybelline New York the Magnum Barbie Mascara as much as I do their other mascaras.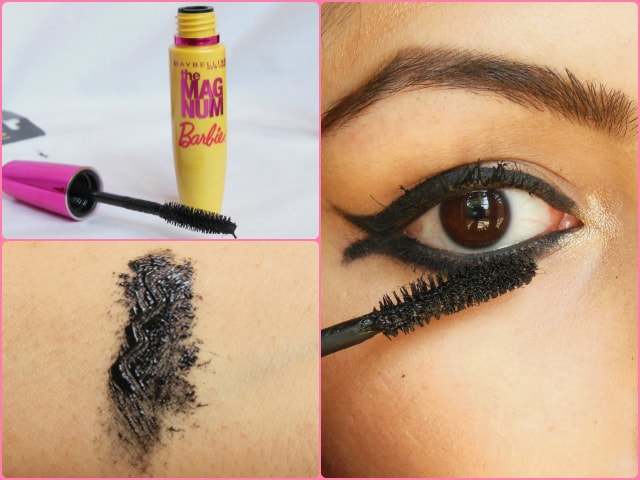 Product Claims: Eyes that dance and prance around, with the innocence and charm of the Barbie dolls that we adored. Fluttering lashes giving your eye makeup boost of life and the trust of a brand that makes you beautiful with revolutionary products. Maybelline New York Magnum Barbie Mascara:
Comes with a doll-up brush that fits the curves of eyes perfectly to give you gorgeous lashes.
Is sweat proof, waterproof, and smudgeproof, so your eye makeup remains intact, all day long.
Is great for even contact lens wearers.
Maybelline meets Barbie, to give you mascara that just takes you back, when beauty was pure, serene, and devoid of artifice. Get the look, with this product, from the trusted brand of Maybelline.
Price: Rs 399 for 9.2ml ( Buy from Nykaa)
Packaging: Maybelline New York the Magnum Barbie Mascara comes in an eye catching yellow-pink metallic packaging. The bright fuchsia pink metallic cap adds so much charm to the bottle and the perfect "Barbie" feel.
My experience with Maybelline New York the Magnum Barbie Mascara:
Maybelline New York the Magnum Barbie Mascara has a curved wand which reminds me of my current favourite Maybelline Falsies Mascara.
Wand: Mascara wand is curvy and had tiny plastic bristles grouped together and then distributed in a spiral manner all over the want. Though there are bristles who have mind of their own and are going here and there. The wand doesn't look as neat and precise as Maybelline Falsies.
Formula: The formula is intense black which coats lashes with the perfect black color but I feel it is quite heavy and thicker than any other mascara I have tried earlier.
The mascara dries out super quick because of its thick texture which leads to clumping if you try to coat lashes once it is dry. Also, I did experience some flaking during mascara application.. tiny black bits falling over my face which was quite weird.
Finish:The mascara does get applied easily but I didn't experience any lengthening of the lashes. It does add a good amount of mascara to the lashed but all of that just adds volume and thickness to them. Also, it doesn't curl my lashes like Maybelline Falsies did inspite of all the effort to curl them with the wand instead my lashes look straighter than ever and I guess the thick formula is the culprit here.
Longetivity: It is water-proof mascara ( I didn't knew earlier) so it does last whole day on eyes and wont move even a bit. I have tested it for 12 hours and it stayed intact. But removing a water proof mascara is a pain.. I soaked my lashes in a creamy cleanser for good 2-3 minutes and washed my face off with a facewash. Everything came out except the mascara. It stuck to lashes like a glue which can be pulled off.. stretched .. you know what I mean! You need a good oil based cleaner to get it off the lashes.
Recommendation: Maybelline New York the Magnum Barbie Mascara is a pretty water-proof mascara which comes in chic-girly packaging. The curved wand applies the mascara nicely to the lashes but those stray bristles are a bummer. The formula is on the thicker and drier side which might be a pro for some but I find too clumsy. Also, I didn't like how it made my eye lashes look spidery and heavy. If you have longer lashes and just want a good volumizing mascara in a water-proof finish you can try this out, otherwise skip it. Nahh!! 😛
Rating: 2/5
Have you tried Maybelline New York the Magnum Barbie Mascara? Do you prefer Water-proof Mascaras?