Nivea UV Protect Body Lotion Review
By now, all of you must be aware about my lust for Body lotions. Body lotions are the most essential part of my daily skin care routine. I love to slather them on my skin especially post shower which eases the absorption process and leaves you with soft and smooth skin.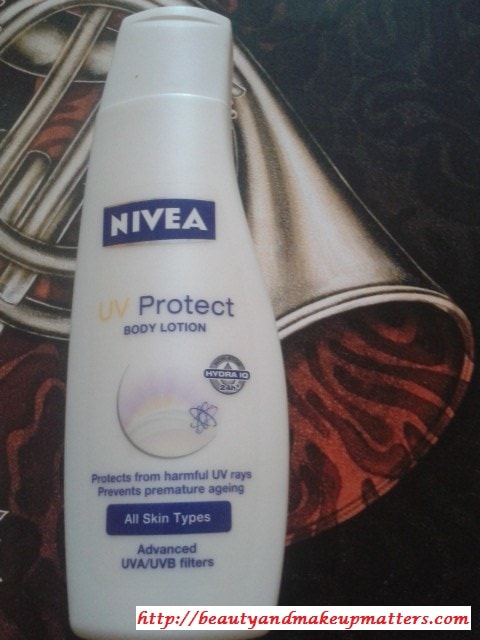 Considering our busy schedules, who has all the time to follow the two-step process of follwing up with a sunscreen after body lotion? Most of the times, I end up skipping the sunscreen part (do you?). If the lotion provides sun-protection, then what else you can ask for.
After my not so good experience with Lotus Almond Nourish Body SPF 20 Body Lotion which feels oily and take ages to absorb completely, I wanted to get a better and fast absorbing lotion. This is when I saw this Nivea Sun Protect Body Lotion on an online website which provides sun-protection along with moisturisation. I don't know why it took me so long to get to these lotions, but its better late than never.
Product Claims: Nivea UV Protect Body Lotion protects your skin from harmful UV rays & prevents pre-mature ageing.
It is a daily protection moisturizer especially developed to maintain your skin's healthy radiance. Advanced UVA/UVB filters protect your skin o the surface from sun exposure while Vitamin E actively works deep within the skin, repairing the damage caused by free-radicals layer by layer. The skin's own protection system is reinforced, preventing pre-mature skin aging. As a result your skin is nourished to fight damaging stress factors and sports a healthy radiance.
Suitable for all skin-types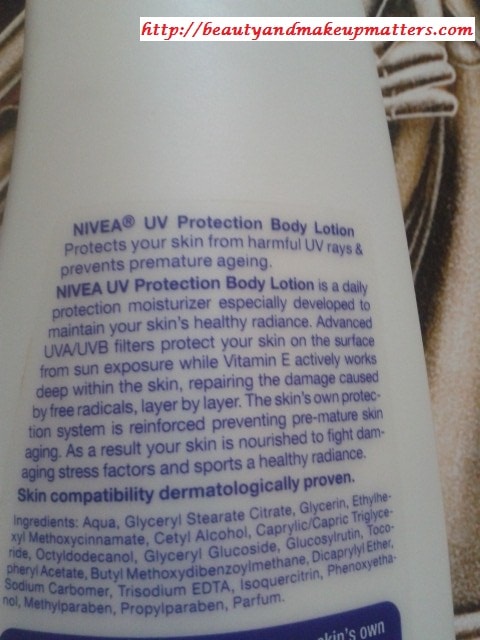 Ingredients:- Aqua, Glyceryl Stearate, Citrate, Glycerin, Ethylhexyl Methoxycinnamate, Cetyl Alcohol, Caprylic/Capric Triglyceride, Octyldodecanol, Glyceryl Glucoside, Tocopheryl Acetate, Butyl methoxydibenzoylmethane, Dicaprylyl Ether, Sodium Carbomer, Trisodium EDTA, Isoquercitrin, Phenoxyethanol, Methylparaben, PropylParaben, Parfum.
Price:- Rs.198 for 250ml bottle
Shelf Life:- 30 months from the Mfg date.
Packaging:- Lotion comes in an opaque white plastic bottle with slight wavy/curvy shape on one side.
The bottle has a squarish flip flop cap which shuts tight with a click sound and won't let the lotion spoil your purse while travelling.
My experience with Nivea UV Protect Body Lotion:-
Nivea UV Protect Body Lotion is creamy yellowish white in color and goes sheer when spread. It is extremely runny and matches the consistency of melted Vanila Icecream (Ohh I so want to have one :mouthwatering:). It is light-weight lotion which gets absorbed quickly into the skin. It soaks into my skin within seconds with minimum rubbing without leaving any oil/residue behind.
Sometimes, I feel too lazy to rub the lotion against my skin to make it absorb completely. I just spread the lotion evenly on my skin and leave it for 30-40 seconds (or even less). The lotion gets automatically absorbed without leaving any traces. (woohhoo.. I just love it for this <3). It has a mild sweet fruity scent, typical Nivea kinds. I enjoy the refreshing, pleasant scent but it doesn't linger on. 🙁
Swatches:-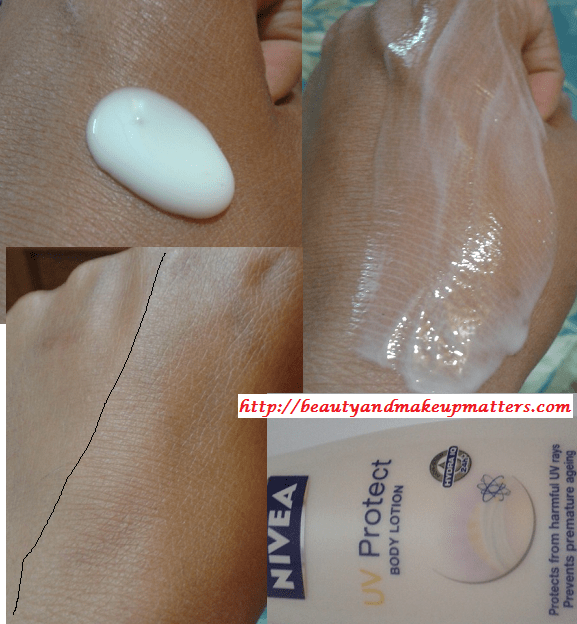 From the SPF perspective, Nivea UV Protect Body Lotion doesn't mention any SPF factor as such on the bottle but only claims to have UVA-UVB filter to protect skin from sun- damage. I feel I still need to have a separate sunscreen to get the adequate sun-protection and the lotion on its own will not be able to give any significant protection.
The lotion doesn't feel heavy which makes it best suited for summers and for oily/combi skin. I don't feel the need of re-application in summers but for winters it might not provide adequate moisturisation for extremely dry skin.
Don't Miss to Checkout:
Pros of Nivea UV Protect Body Lotion:-
Light-weight formula which spreads easily and doesn't feel heavy.
Doesn't leave any whitish cast unlike normal sun-screens.
Mild pleasant scent
Soaks quickly into the skin leaving no traces behind
Gives a soft and hydrated look to my skin
Keeps skin moisturized for whole day.
Hygienic Packaging
Reasonably priced
Claims to contain Vit-E and UV filter to protect the skin from pre-mature ageing.
Cons of Nivea UV Protect Body Lotion:-
Make tall claims of preventing pre-mature ageing.
The lotion doesn't have any natural ingredient in its list other than Glycerin. Contains Parabens along with other chemicals.
The scent doesn't stay for long
Will finish up the bottle soon as I go crazy about this lotion. No matter, how much I pour the lotion, it gets absorbed within seconds of application without leaving any traces.(Not sure if is a con)
Recommendation:- The light and non-sticky texture with added UV protection makes Nivea UV Protect Body Lotion a good lotion. It is next best fastest absorbing lotion after Garnier Cocoon Body lotion. The sun-protection is not significant and if you spend time outdoors usually I will suggest going for an extra layer of sunscreen over it. Overall, I like this lotion and recommend it!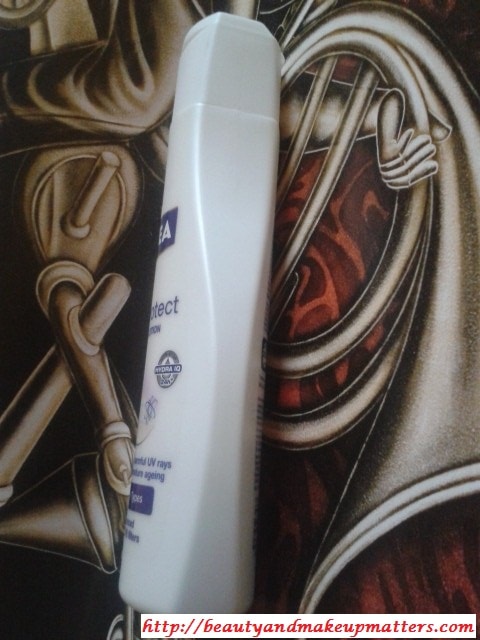 Rating:- 4/5
Have you tried Nivea UV Protect Body Lotion? Which is your favorite SPF based Body lotion?