#NikkieRevolution: Nivea After Shave Balm as Primer
Hello Dolls,
I am most excited about sharing this review today with you guys because this is the first time ever a Men's grooming product has made it to the women's Makeup world. Usually, it's always Men who peek into women's stash, basically skincare so that they can find something useful for them (not the fairness creams though) but thanks to Nikkietutorials who changed the rules and gave us a reason to start hunting into the unexplored men's grooming section. She came up with this revolutionary idea of using Men's After shave as primer.. sounds weird!! I know.. But let's see if it actually works or not, Nivea After Shave Balm as Primer.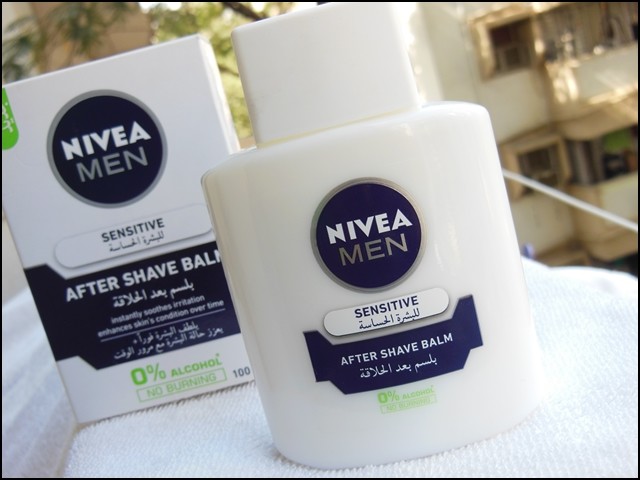 Product Claims: This isn't important as we are anyways not going to use it for its designated purpose but just for the sake of it..
No Drying Alcohol
Immediately Helps to Calm the Skin
Helps Prevent Shaving Irritation
Helps to soothe and improve skin's defense over time.
Extra gentle alcohol and dye free formula that is quickly absorbed to help.
Alleviate Dry Skin with Moisturizers after Shaving
Promotes Healthy & Smooth Looking Skin
Helps Skin Feel Relaxed & Moisturized Long after Application
For men with sensitive skin who want immediate skin relief and protection against irritation.
Skin Compatibility Dermatologically Tested on Men with Sensitive Skin.
Contains no CFC's which deplete the ozone layer.
Ingredients: Water, Glycerin, Isopropyl Palmitate, Chamomilla Recuitita (Matricaria) Flower Extract, Tocopheryl Acetate, Tapioca Starch, Triceteareth-4 Phosphate, Maltodextrin, Carbomer, Sodium Hydroxide, Phenoxyethanol, Methylisothiazolinone, Piroctone Olamine, Fragrance
Price: Rs.450 for 100ml
Packaging: Nivea After Shave Balm comes in a beautiful thick white colored glasss bittle with a plastic screw cap. The packaging of the bottle definitely has a luxurious feel to it but it's a glass so you better be careful while dealing with it.
My experience with Nivea After Shave Balm as Primer:
It's not about any After shave because most of them have alcohol but this NIvea After Shave Balm which has 0% alcohol and contains Glycerin which will help makeup to adhere to the skin better.
Formula: Nivea After Shave Balm is a white colored thin liquid with watery runny consistency. It spreads on really nicely and with light finger taps for 30-40 seconds it gets absorbed into the skin. I feel light cooling sensation on application but it isn't strong or bothersome. It has a strong musky scent but it fades quite fast so not an issue for me.
Application: I pour a small amount of this After Shave Balm and start tapping it into the skin with fingers until it starts getting a little sticky after which it disappears into nothing and I know, it's time to follow with foundation.
Results: I usually moisturize my face with a light gel based moisturizer before makeup as I have a dry skin but still sometimes the foundations or primers sticks to my dry patches and fills in the pores I have around my nose. So, I will share the important aspects of a primer for me and how it fares on each of them:
Makeup Application: It does help in making my foundation glide much smoother. It doesn't have any silicones so you might not get that super slippery feel but it does this job beautifully
Pore Appearance: I am more than happy to say that it does help in minimizing the pores appearance. It doesn't make them vanish completely but they look more than 50% reduced so yayy!!
Makeup Longetivity: I tested it for 8-9 hour on me and it did fare pretty well on me. I usually don't wear primers so with this it my makeup does look fresh and intact till late. It was slightly hydrating to my dry skin so there were no dry patches peeking through.
Oil Control:I don't have any oily areas but i do get a bit sweaty around the mouth, nose and forehead where tiny droplets gets formed lifting the foundation but with this primer underneath there is no such thing. I can't comment much on its oil controlling abilities but I am hoping it will do a good job there too.
Recommendation: Nivea After Shave Balm has done a fantabulous job as a primer. It has a runny texture which applies nicely and with few seconds of blending and patting it gets into the skin preparing it for the next step. I love how it hydrated my dry skin and made my foundation glide ever so beautifully. It surprised me by minimizing the appearance of pores and making my makeup last longer. The formula is free from Alcohol and Silicones so it doesn't clog pores like some of the silicon based primers do. I can't say for sure for its oil controlling abilities as I have dry skin. Overall, I am in love with this Primer aka After shave as it is a staple in my makeup routine from now on. At an affordable price and with all the good ingredients .. it makes an excellent primer. Highly Recommended!
Rating: 4.5/5
Have you tried Nivea After Shave Balm as Primer? What do you think of this revolutionary idea?