Newest Box in Town: "Sugarbox"
Hello Everyone,
We all have heard of beauty boxes and even subscribed to few like FAB bag and My Envy box but the latest buzz is the boxes filled with random stuff. Today I have one such amazing box to share with you that is called "Sugarbox".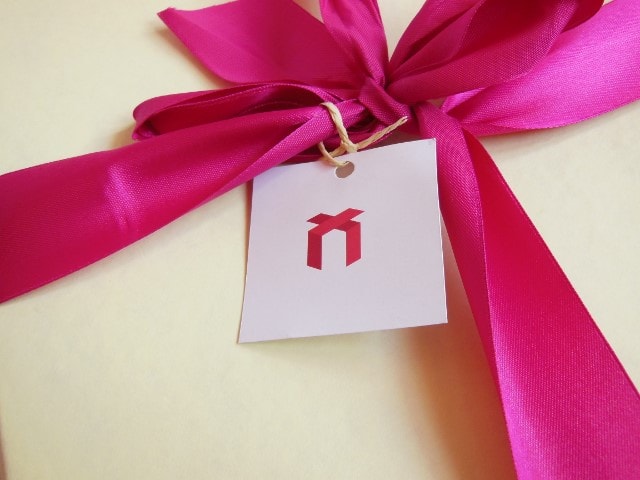 What is Sugarbox: Sugarbox is a curated box full of exclusive goodies which are hand picked by our team of in-house stylists and epicureans just for you. By subscribing to Sugarbox, you will receive the latest international offerings in fashion, beauty, lifestyle and gourmet products at your doorstep, every month. Not to mention the first bragging rights that come with it!
Because samples are passe and you deserve a box of happiness filled with full size branded goodies!
So what are you waiting for? Go ahead and spoil yourself silly!
Prices:
For 1 month plan – 1,499/-
For 3 months plan – INR 4,197/- (You save Rs.300/-)
For 6 months plan – INR 7,794/- (You save Rs.1200/-)
For 12 months plan – INR 14,388/- (You save Rs.3600/-)
I got the Spring Edition of "Sugarbox", before this there are three more editions of this box "Valentine" , "Christmas" and "Highstreet" which can also be bought from their stores but lest checkout what's inside my spring Sugarbox.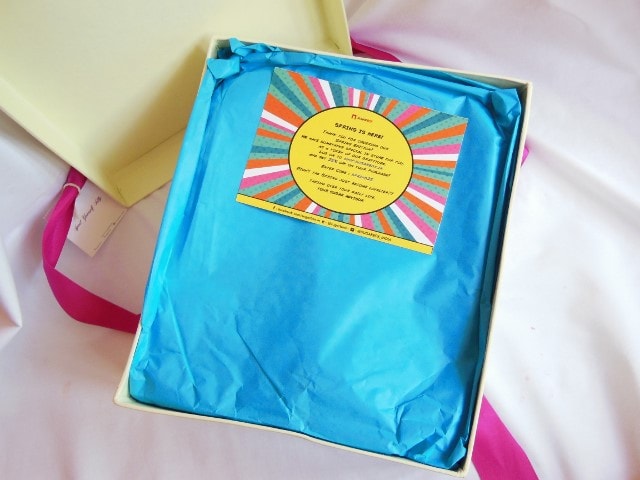 What's in my Spring Edition Sugarbox!!
It is huge box filled with some amazing goodies. The box comes wrapped in a ribbon like you just being pampered by a loved one with a gift!  Because I had to click pictures of unboxing the Sugarbox, I had to control my urge to rip open the box and see what I got. There are absolutely no samples in the box, just the full sized products so a big yayyy!!. The products were nicely wrapped and placed in the box in a thin blue paper. The first thing that I saw was a discount coupon voucher of 25% off on Sugarbox shop.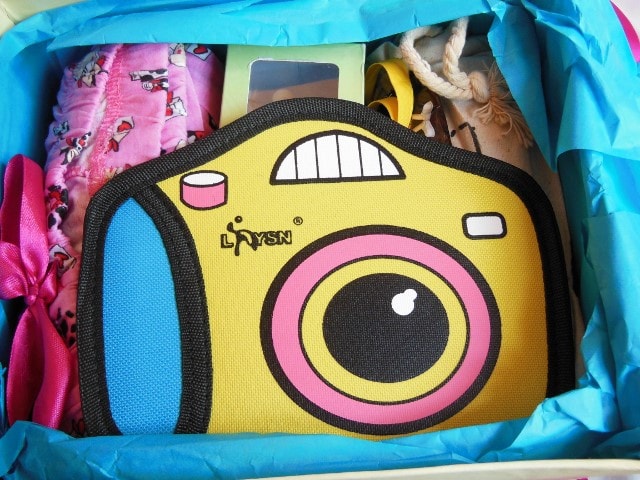 Here the products I got in Spring Sugarbox:
Pjs – For those super lazy weekends – Rs. 650
3D comic purse – A quirky little thing to keep your tiny possessions – Rs. 499
Necklace – style it with a shirt as a collar necklace or even over a dress!! – Rs. 899
Bubblegum flavoured lip balm – Don't blame us if you want to eat it up – Rs. 150
M&Ms pack of 45g – Need we say more? – Rs. 100
My Bottle Tumbler – We are making sure what is yours stays yours :D– Rs. 550
La Vie Parfaite reed diffuser – Put it in your bathroom or your room for a lovely fragrance. Nevermind how pretty it is!! – Rs. 450
Sugar store discount coupon –  25% discount on shop.sugarbox.in for purchases over Rs. 500 – Priceless 😛
More details of these goodies:
Love Struck Cow Pjs : Cant tell how hard it is for me to find some cute printed pyjamas and when I received this funky pink colored Pj's in my box I was like Ohh my Gossh!! These are perfect 😉 . The fabric looks great for summers and they are long enough to fit even the tallest of you. Though I have to get them altered as I am on the shorter side. :P. I can see myself roaming in these Pajama's over weekends when all I want to do is laze around in a comfortable pair of PJs.
3d Comic Coin/phone Purse: It  is a Super funky camera printed coin/phone purse. There is tiny pocket at the back but that would just be enough to store coins as I don't thing the bigger smart phones could fit into it.
Classic Statement necklace : My another rmost favorite piece from the box, a pretty Gold-toned, Crystal embellished necklace with adjustable chain. I cant wait to show it off in my next makeup look. The piece would go really well with LBD's as well as collared Shirts!
Bubble Gum Lip Balm: We can never say no to another lip balm isn't it! So, yes pretty pink tub of lip balm of Nyassa actually has a super sweet Bubble Gum scent which makes it hard not to lick it ;). It is made with Natural Ingredients and essential oil which is excellent cure for chapped lips
M&Ms Dark chocolate pack -Yummy Chocolate candies from M&Ms. I have already gulped down the whole packet. Yumm.. <3
My bottle' Tumbler: If there is one thing I can't live without throughout the year (other than makeup) is a bottle full of water. So, this My Bottle tumbler is going to partner me in scorching summers plus that "Don't Touch This Is My Bottle" is super-cool.
La Vie Parfaite Reed Diffuser:  I have wanting to have these reed diffusers but everytime I came back home empty handed but I am glad that finally I got this beautiful aromatic Reed Diffuser in my Sugarbox. It comes with pretty flower reed sticks. I got it in "Rose and Germanium" fragrance and have already fixed it my room. It diffuses a subtle rosy aroma and makes my room smell amazing all day!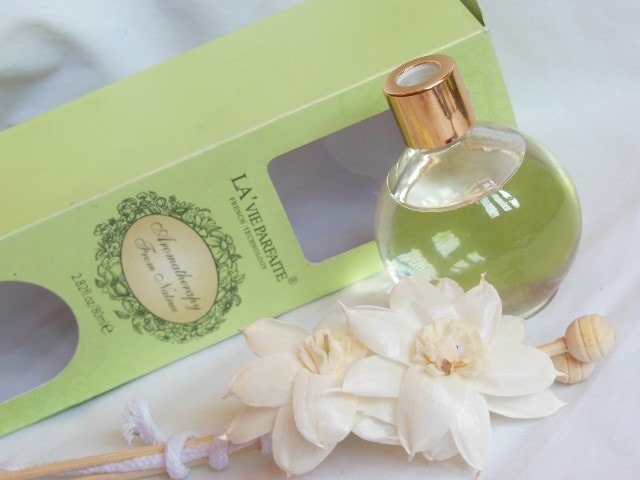 Don't Miss to Checkout:
Overall, I feel "Sugarbox" is a great way to pamper yourself or your lovely friends with a number of great products each month. The box is not only about beauty, makeup or samples as it contains full sized products including accessories, gourmet treats, lifestyle products and much more. It is actually a box full of surprise and you won't know what you will be receiving in your box! This month's theme was "Spring" and all the products in the box revolved around it. Great value for money.. I planning to get my subscription done for next 3 boxes what say! 😉
Have you tried "Sugarbox"? Do you prefer such mixed content boxes over beauty boxes?
PS: Box sent by brand for consideration