New Sugar Cosmetics Matte As Hell Lip Crayon: Review + Swatches 
I am here with another new launch and it's again Sugar Cosmetics. With every new launch, I feel I am falling in love with the brand more and more. I have tried their Old Matte As Hell Lip crayons which were nice. The Sugar Mascara from their last year collection which definitely does a good job to volumize lashes. And after their super amazing launch of Matte Liquid Lipsticks and Tip Tac Toe Nail Lacquer Collection. They are ready to burn the floor with new shades and formula in their much loved  Matte As Hell Lip Crayon range. So, let's see how these new Sugar Cosmetics Matte As Hell Lip Crayons in India perform, Sugar Cosmetics Matte As Hell Lip Crayons – Princess Peach, Elle Woods, Viola, Jackie Brown, Coraline Jones, Cherry Darling and Poison Ivy (reformulated)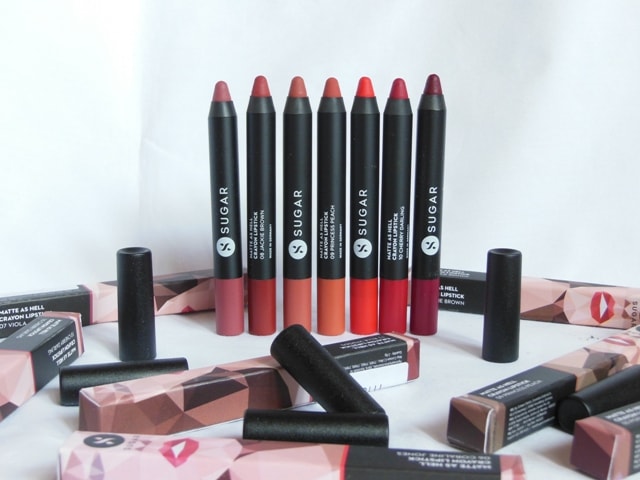 Check Review and Lip Swatches:
Product Description: If excellent coverage and high colour pay-off is what gets you going, you will absolutely love our SUGAR Matte As Hell Crayon Lipstick that is available in 5 gorgeous shades to suit your taste & your ever-changing mood! Super long-lasting and highly pigmented so you don't have to worry about constant re-application, this must-have crayon lipstick has a soft texture with a silky matte finish.
A classic shade that can instantly add a touch of mystery to your entire look, Poison Ivy is hot on the runway and a must-try shade for those who love to experiment
Bonus: Every Matte As Hell Crayon Lipstick comes with its specially designed high quality sharpener that is carefully crafted to help you make the most of your purchase. For more details about the Matte As Hell Crayon Lipstick Sharpener.
How to Apply: Exfoliate your lips & apply the Crayon Lipstick just the way you would with any other lipstick. Blot & reapply.
Benefits: The SUGAR Matte As Hell Crayon Lipstick has a creamy consistency that eventually settles in to a matte finish. With stunning shades that don't fail to impress, it provides maximum coverage with the right amount of color. This power product is dermatologically tested & approved and 100% safe for your skin.
Price: Rs.799 each
Available in 6 New Shades:
Princess Peach
Elle Woods
Viola
Jackie Brown
Coraline Jones
Cherry Darling
Packaging: This Sugar Cosmetics Matte As Hell Lip crayons comes in a chubby sharpenable pencil form with a matte black body an colored bottom. The lip crayons come with a sharpener so it's easy to sharpen them.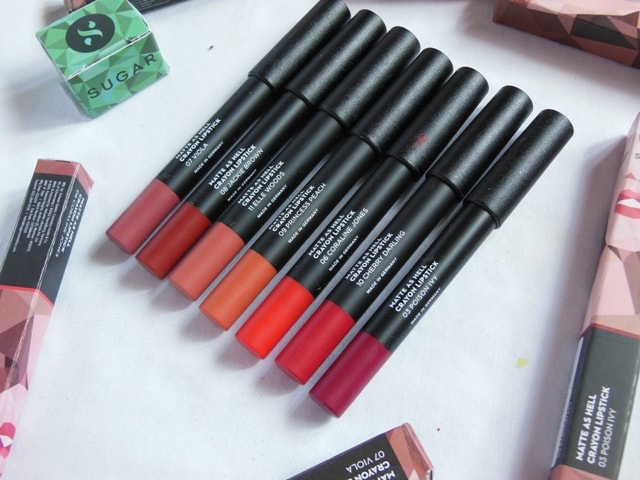 My Experience with Sugar Cosmetics Matte As Hell Lip Crayons:
Texture: These new Sugar Cosmetics Matte As Hell Lip crayons have a super thin creamy texture. They glide on beautiful onto lips without feeling too slippery or too clingy. They have smooth and even coverage, hiding all the lip imperfections and making them look smoother. The application is absolutely flawless with no patchiness.
Formula: The formula feels absolutely light –weight on the lips. The lipsticks have barely any sheen to them and within few minutes they set to a soft matte finish. I loved that they don't feel dry or stretchy on lips. And wear comfortable even after 8 hours of application. The formula is not completely transfer-proof but they don't budge easily even with food and snacks.
Pigmentation: These Sugar Lip Crayons are immensely pigmented and I just need 2-3 swipes to get a smooth, even and opaque coverage. The lip crayons sets to a semi matte finish within few minutes.
Longevity: These crayon lipsticks have totally surprised me with their long lasting power. Usually, lip crayons fade faster than lipsticks unless they are staining. But these lasted for almost 12-14 hours me with minimal fading in the inner center lips after a full lunch and dinner. They were absolutely no flaking or settling in fine lines issue. They looked pretty good even after a whole day of wear. There is very slight fading after that long so in short, the Lip Crayons are here to stay!
Removal of these liquid Crayons is also very easy, they come off easily with any creamy cleanser. So, now I don't have to bear the pain of a drying liquid lipstick when these perform so much better.
Recommendation: Sugar Cosmetics Matte As Hell Lip Crayons have totally rocked my world with their amazing formulation. Formula wise I feel these are one of the best Matte Lipsticks I have ever tried. They can easily give any luxurious High-end lipsticks a run for their money. I loved they have a mix of neutrals and bright shades which can be worn in summers easily. If you have dry lips and looking for a non –drying matte lipstick which can make your lips look softer and smoother. Go ahead and buy these. You wont be disappointed!

I absolutely love all the shades from the collection but I have to choose just 2 I will go for Elle Woods and Princess Peach and Poison Ivy too.
Don't Miss to Checkout:
Rating: 4.5/5
What do you think about these new Sugar Cosmetics Matte As Hell Lip Crayons? Which is your favorite shade ?
PS: Product sent by brand for consideration but honest and unbiased opinion!