*New* Sugar Arrested for Overstay Waterproof EyeLiner
Let's admit we all struggle with winged eyeliners.. even after being into makeup for like years now, there are days when I can't get that wing perfectly. And the solution to all of these winged liner issues is a Felt Tip Liner. I have tried a few in the past, Maybelline Colossal and Loreal Superliner and the newest addition to Felt-tip Eyeliner in India is from Sugar Cosmetics, Sugar Arrested for Overstay Waterproof EyeLiner 01 I'll Be Black which is launching today. So, let's check out how it performs and if it's any better than these.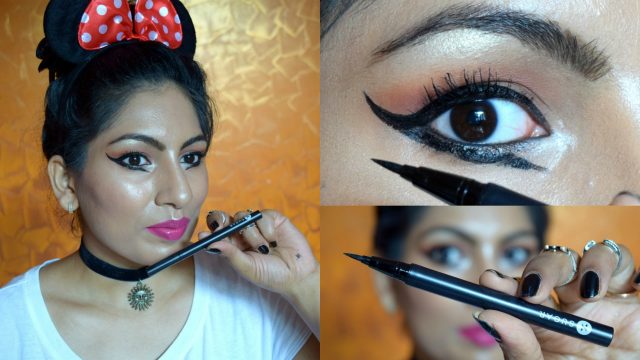 Check out my Video with this Eye Liner:
Price: Rs 699
My Experience with Sugar Arrested for Overstay Waterproof EyeLiner:
Packaging: Sugar Arrested for Overstay Waterproof EyeLiner comes in a single shade only and that's Black. It comes in classic Sugar Cosmetics packaging with a graphic image on the box and a matte black liner body. The best part is there is a little cushion inside the cap to keep the tip dry and prevent it from drying. So, full points on packaging for this one.
Formula: It is a felt Tip liner with a thin tip and it really helps to have that precise application. The formula is immensely pigmented and in just one swipe it gives a rich black color. I have faced pigmentation issues with other drugstore felt tip eyeliner as they lose out on the color as they dry but this one doesn't. Also, the formula is claimed to be waterproof which I was missing so much as there were no waterproof felt tip eyeliners easily available in India (as far as I know). And that's the reason I was keeping away from felt tip eyeliner as they were not that intense and moves away from inner corners super fast.
Finish: The liner dries quickly and sets to a shiny black finish.
Pigmentation: I am highly impressed with the long lasting power of this liner as it doesn't move whole day until you rub vigorously. But keep in mind not to apply it on lower lash line as with watery eyes and crinkly skin it's difficult to get a smooth application. Also, it best to powder the eyes before applying this to avoid the liner to get in touch with skin oil. It will further enhance the longevity of the liner. I tried it for 8-10 hours and the liner was intact.
Recommendation: Sugar Arrested for Overstay Waterproof EyeLiner is definitely my favorite and my go to eyeliner for now. The super-pigmented formula with a waterproof, long-lasting finish is a total yes for me. Though at 699 it may be on the pricier side but the quality speaks for itself. It doesn't smudge on lids but flakes a bit after hours of wear if touched. But otherwise, it is a pretty budge-proof liner. Highly Recommended!
Rating: 4.5/5
Don't Miss to Checkout:
Have you tried Sugar Arrested for Overstay Waterproof EyeLiner? Would you like to switch to Felt Tip Eye Liners?
PS: The liner was sent by brand for consideration but honest and unbiased opinion!