New Maybelline X GIGI Hadid Lipstick Collection: Review, Price, Swatches
2018 is going to be the year of new launches I guess. There are so many new launches happening around that its getting hard to keep a track on these. But lets talk about what we have today and that the much raved about collaboration of Maybelline with Gigi Hadid. So, Maybelline has launched a whole range of makeup in collaboration with GIGI Hadid. And I got my hands on the lipsticks from this range . So, let's see how these new Maybelline X GIGI Hadid Lipstick Collection looks like.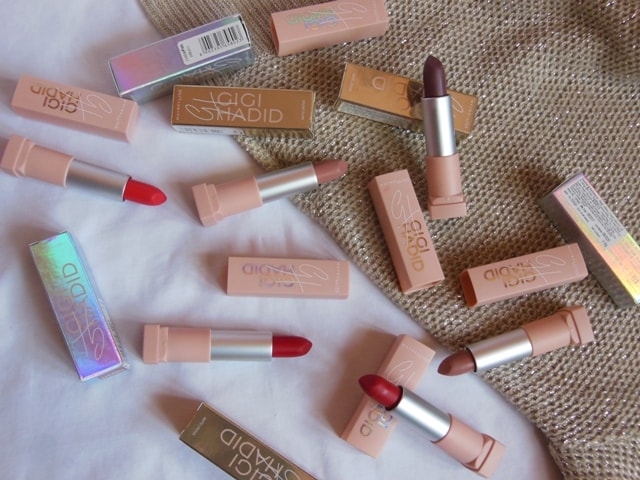 Here is the Review + Lipswatch video:
Product claims: The matte lip look goes bold! A burst of statement-making color meets a surge of creamy texture
Gigi Hadid Matte Lipstick. Achieve beautiful-looking lips in just moments with our creamy matte-finish lip makeup.
Available in a limited edition collection of neutral shades, these specially curated matte lipsticks glide on for an effortless look.
These Maybelline Gigi Hadid Matte Lipsticks feature neutral, beige, and golden brown shades that are natural lip colors perfected.
How to Use/ Apply:
Step 1. Apply lipstick in the center of your upper lip and follow the contours of your mouth.
Step 2. Glide the lipstick across the entire bottom lip.
Price: Rs.550 each (Buy here )
Shades Available:
East Coast: (Buy here )
Mccall
Taura
Erin
West Coast: ( Buy Here )
Austyn
Lani
Khair
Packaging: Maybelline GIGI Hadid Lipstick has one of the most gorgeous packaging from Maybelline. It comes in a peachy nude plastic casing with GIGI signature engraved in holo. Also, the holographic cardboard box takes the packaging to another level. The packaging is indeed one of the best parts of these Gigi Hadid lipsticks.
My experience with Maybelline X GIGI Hadid Lipsticks:
Maybelline X GIGI Hadid Lipsticks is a limited edition collection with an extra special packaging. The collection is divided into 2 parts the EAST COAST and the WEST COAST.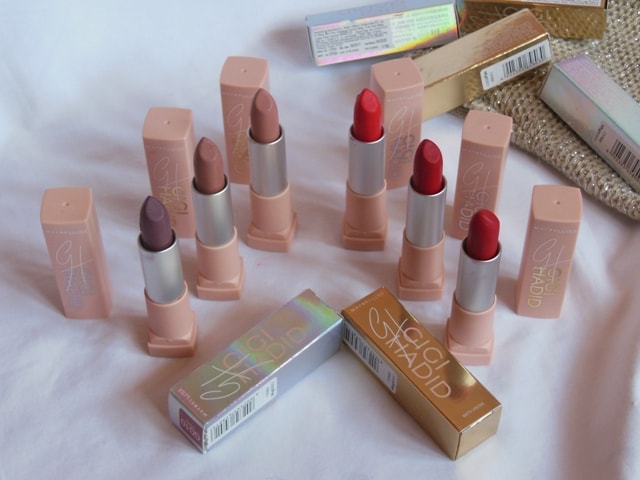 EAST COAST comprises of all the nudes while the WEST COAST is for the red lovers as it has just the RED lipsticks.
These are claimed to be matte lipsticks but all of these Maybelline GIGI lipsticks have a lightweight creamy texture which slips nicely on lips without any tugging or pulling. They don't feel anywhere near a matte lipstick and have a nice hydrating formula which feels comfortable on the lips.
The formula is beautifully pigmented especially for the WEST COAST Reds. The EAST COAST nudes have more of a sheer texture and color needs to be built up. The lipsticks give an almost even coverage except for a few lighter shades like Mccall and Taura which can look a little patchy because of the sheer color payoff.
Coming to the longevity of the lipsticks, they are not super duper long lasting lipstick and will stay for around 7-8 hours on the lips after which they will fade away. While the lighter shades will go earlier, like usually it does. The formula is transferable and all with the eating and drinking, they will not last for even 2 hours. But that's the case with Maybelline lipsticks in general
Shade Details:
Gigi Hadid Matte Lipsticks – East Coast Glam
Mccall : It is a pale Pinky Nude. Will washout Indian Skin Tones)
Taura : It is a peachy brownish nude, Still very light for warm Indian Skin tones.
Erin: It is a purply mauvey shade. Probably one of the darkest in this range
Gigi Hadid Matte Lipsticks – West Coast Glam
Austyn: A true Bright RED!
Lani: A bright Orangey Red
Khair: A bit deeper and a bit warmer Red compared to Austyn. But still a Gorgeous. RED!
Recommendation: Overall, Maybelline X GIGI Hadid Lipstick collection is for all those who adore a beautiful packaging and Red Lips. The east coast is completely skippable as the shades are way too light for Indian Skin tones but the WEST coast is mind blowing with the stunning Reds. I just wish for the formula to be on the matte side as that would have made these perfect and a little long lasting. Keeping these lipsticks majorly for their unique packaging. Recommended shades are the West coast ones!
Rating: 4/5
Don't Miss to Checkout:
Have you tried the new Maybelline X Gigi Hadid Lipsticks? Which is your favorite shade from the collection?
PS: Products bought by me with my own money! )