New Maybelline SuperStay Matte INK Lipsticks: Best Liquid Lipsticks INDIA 2018
I am back with another lip product review from Maybelline but this time it's LIQUID LIPSTICKS. Liquid lipsticks have been a rage because of their intense color finish but at the same time they are criticized for being drying on lips and cracking after few hours. But what if you can still enjoy the super long lasting liquid lipstick formula but with a comfortable non drying finish.. sounds interesting right. So, here are the most raved about Liquid lipsticks from the Drugstore Brand Maybelline, Maybelline SuperStay Matte INK Lipsticks. Lets see how these Maybelline SuperStay Matte INK Lipsticks perform on me and if they are worth the hype.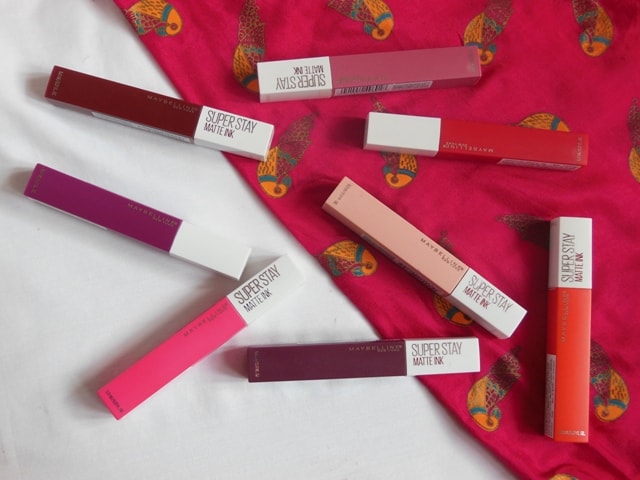 Watch the swatches on my Youtube Channel:
Product claims: NEW MATTE INK: Maybelline introduces SuperStay Matte Ink, an intense ink colour concentration, ultra-chic matte finish and flawless, 12 hour wear.
WHAT IT IS: Maybelline introduces SuperStay Matte Ink, an intense ink colour concentration, ultra-chic matte finish and flawless, 12 hour wear. 
Benefits: Ink your lips in up to 16 hours of saturated liquid matte lip color. SuperStay Matte Ink™ liquid lipstick features a unique arrow applicator for precise delivery
How to Use/ Apply:
Step 1: Apply lipstick in the center of your upper lip and follow the contours of your mouth.
Step 2: Glide the lipstick across the entire bottom lip
Step 3: Allow product to dry
Price: £9.99/ $9.49 /Rs.650 each (Buy HERE)
Shades Available:
Loyalist
Dreamer
Lover
Romantic
Heroine
Pioneer
Creator
Believer
Escapist
Voyager
Packaging: Maybelline SuperStay 24hr Matte INK Lipsticks comes in a luxurious color coded matte finish tube with a white applicator. The wand applicator is also very interesting with an arrow shape which does the job of applying the lipstick beautifully. I am in love with the packaging of these lipsticks which exude such a luxe feel but also easy to identify because of their color coded packaging.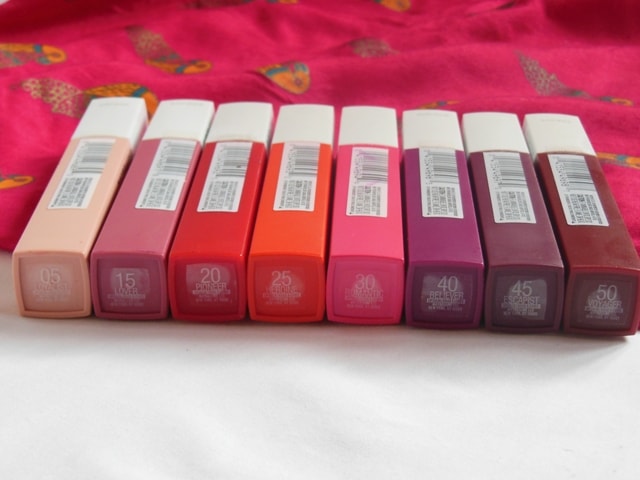 My experience with Maybelline SuperStay 24hr Matte INK Lipsticks:
Maybelline SuperStay Matte INK Lipsticks has thick creamy texture compared to other liquid lipsticks. The unqiue wand applicator however handles it nicely and gives a clean application. I liked how I can shape up my lips with the applicator tip.
The formula freaking awesomely pigmented and in barely one swipe it gives a rich opaque coverage. It takes slightly longer to set like almost 40-50 sec, so be patient. Also, along with the longer wait time it has slight stickiness to it which lasts even after the lipsticks have dried down. This feeling might not be liked by everyone but I am not fuzzy about it. But if it bothers you much pat a bit of compact on top.
The formula dries to a satin matte finish with a hint of shine which is quite unexpected from a liquid lipstick but these liquid lipsticks also doesn't feel drying at all.  And talking about the longevity of these liquid lipsticks, well that's phenomenal. The lipsticks lasts for hours and hours without any flaking, cracking or bobbling up even after a loads of greasy food. They are here to stay and that's whay makes them the Best Liquid Lipsticks in INDIA.
These Maybelline Matte INK lipsticks have launched with 10 stunning shades but are now available in many more shades and I am awaiting their launch in India. But till we get all the shades, here are the swatches of 8 shades from this lipstick collection.
Shade Details:
Loyalist – Light Peachy Nude which works for fairer skin tones, not for warm Indian skin tones
Lover – Beautiful dusty rosy pink shades. Probably one of the Best Pink Nude lipsticks I have tried. Love it!
Pioneer – A medium bright Neutral Red shade. Works for all skin tones.
Heroine – It is a medium bright rosy pink shade, a beautiful pink to try if you are bored of intense blue tones fuchsia pinks.
Romantic – A gorgeous bright Orange with red undertones. Pretty summery shade
Believer – A rich plumy pink which can work as a nude pink for deeper skin tones.
Escapist – A vampy blackened purple shade. Goes a little patchy but best for loud bold lips!
Voyager – A deeper brownish red with warm undertones, perfect if you are not into bright reds but still love to wear a bold lip color.
Recommendation: Overall, these Maybelline Superstay Matte Ink Liquid Lipstick have totally bowled me over with their formula. They have one of the best packaging, and the applicator is just so amazing. The formula is quite different from the regular lipsticks but I am happy with it because it is super comfortable and so long lasting. The sticky texture and the creamy shine might not be loved by everyone though. But the collection is totally worth all the hype and price. Recommended shades are Lover, Pioneer and Romantic.
Rating: 4.5/5
Don't Miss to Checkout:
Have you tried the new Maybelline Superstay Matte Ink Liquid Lipsticks? Which is your favorite shade from the collection?
PS: Products bought by me with my own money! ).