New Maybelline INTI MATTE Nudes Lipstick Collection: Best Nudes for Warm Skintones
Maybelline is on a roll this year and with its an new all NUDE lipstick collection, it is hitting just the right chords in the makeup world. I have recently shared my Maybelline X GIGI Hadid Lipstick Collection review and swatches which created much furore and before it could all settle down, Maybelline dropped another sensational lip colors with the New Maybelline INTI Matte Nudes Lipstick Collection which has a total of 10 shades, specifically made for warm Asian Skin Tones. So, lets see how these Maybelline INTI MATTE Nudes Lipsticks perform on me.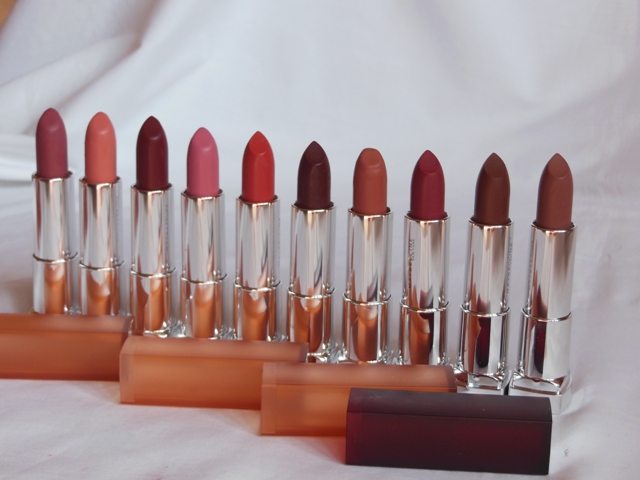 Check the video for live swatches:
Product claims: MAYBELLINE'S CREAMIEST MATTE LIPSTICK IN 10 NUDE SHADES.
WHAT IT IS: Color Sensational® Inti-Matte Nude lipstick features warm, golden pigments that enrich your natural lip color.
BENEFITS: Maybelline's creamiest mattes. Warmer, more sensational nudes for every skin tone. Pucker up to radiant, confident color that highlights one's natural beauty.
How to Use/ Apply:
Step 1: Apply lipstick in the center of your upper lip and follow the contours of your mouth.
Step 2: Glide the lipstick across the entire bottom lip
Price: £5.95/ $7.49/Rs.500-575 each (Buy HERE)
Shades Available:
Powder Mattes
Almond Pink
Toasted Brown
Raw Cocoa
Walnut
Rosewood Red
Honey Cherry
Creamy Mattes
Just a Teaser
Smitten
Chilli Nude
Pretty Please
Packaging: Maybelline INTI MATTE Lipsticks comes in the regular Maybelline Color sensational packaging. They comes in a brownish nude, translucent cap with silver metallic casing and color coded bottom. The dark reds have a deep Red cap. The packaging is nice and sturdy and can be easily carried along
My experience with Maybelline INTI MATTE Nudes Lipsticks:
Maybelline INTI MATTE Nudes Lipsticks is a combination of 2 different finishes i.e. Powder Matte ( 6 shades) and Creamy mattes ( 4 shades). The range as its name says is all about nude lipsticks tailor made for warm Asian Skintones with a beautiful soft matte finish.
The texture is similar to the Maybelline Color sensational Lipsticks for the creamy mattes, very light weight with satin crème finish. However, the powder mattes have a very powdery soft light weight texture with absolutely no shine and a comfortable matte finish. None of the lipsticks feels drying on lips, though creamy mattes feels a little hydrating.
Also, I feel the formula is much more pigmented in the Powder matte as they give intense color in a SINGLE swipe. Both the Maybelline Creamy Mattes and Maybelline Powder Mattes give an even opaque coverage to the lips in a max of 2 Swipes except the shades Smitted and Just a Teaser. The lipsticks give an even application except for Rosewood Red which can apply slightly patchy, so apply it over well exfoliated and nourished lips for a smoother application
Coming to the longevity of the lipsticks, the lipstick stays for around 5-6 hours on the lips after which they will start fading away. As the formula is not transfer proof they might go earlier if you eat and drink. The dark shades leave a little bit of stain which makes the color last longer on lips.
Shade Details:
Powder Mattes
Almond Pink – Soft Mauvey Pink shade and one of the most gorgeous Pinky Nude.
Toasted Brown – Medium Nude Brown and of the best Nude shades for warm skintones
Raw Cocoa – A cool toned medium chocolate brown shade
Walnut: A rich chocolate brown shade with cool undertones.
Rosewood Red: A dark burgundy red with warm brown undertones.
Creamy Mattes
Just a Teaser – A light peachy nude shade. It works best for fairer skintones.
Smitten: A medium bright pink with blue undertones. Also, suitable for fairer skintones
Chilli Nude: A medium orangey brown shade. One of my favorite Orangey Nudes ever.
Pretty Please: A deep wine red shade with rich brown undertones.
Recommendation: Overall, Maybelline INTI MATTE Nudes Lipsticks is one of the Best Nude Matte Lipstick collection with Matte Finish. The formula is comfortable and pigmented with a beautiful range of nudes for warm skintones. The collection is totally worth all the hype and price. Recommended shades for Neutral lip lovers are Toasted Brown, Almond Pink and Chilli Nude!
Rating: 4.5/5
Don't Miss to Checkout:
Have you tried the new Maybelline INTI MATTE Nudes Lipsticks? Which is your favorite shade from the collection?
PS: Products bought by me with my own money!