New Lauches: L'Oreal Paris , Maybelline April 2016
Hey Gorgeous,
It's so hard to resist when there are "New launches" from your favourite drugstores brands and if it has something that you have been waiting for months to be launched… well today's haul post is all about that.
I got to know about these new launches from facebook and the moment I spotted this L'Oreal Paris Silkissime Liner.. My heart skipped a beat.. I have been so desperate to get my hands on these beauties and finally they are here.. <3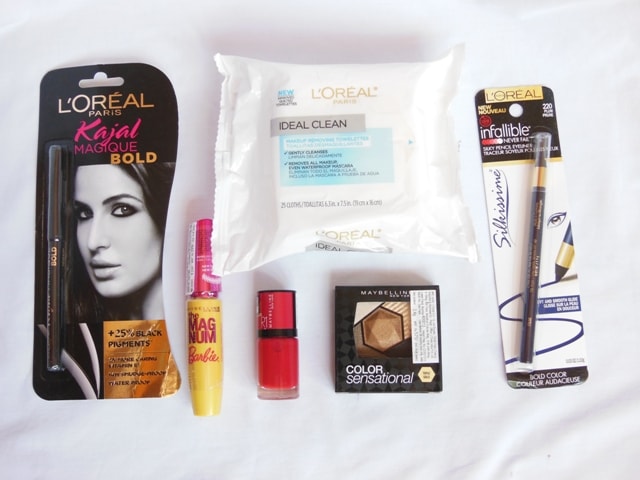 Checkout the Video Review +Demo
I wish I could go to the counters to pick them myself but with a 1year old it is a task so I tried my luck online and "Habbana" did it for me. Habbana.com is the only shopping portal that has these newbies in stock. It was also my first time with Habbana.com so gave it a shot.
Products I Bought:
First Impressions and Mini Reviews:
L'Oreal Paris Kajal Magique Bold : I am pretty excited about this Kajal as it also made in the lab like Maybelline The Colossal Super Black and Plum StuioNatur Kohl. I tried it today and I must say it is super rich, smooth and smudge proof. Definitely one of the Kajal's in a retractable packaging. Review coming up super soon.
L'Oreal Paris Ideal Clean All Skin Types Makeup Removing Towelettes: I always wonder why we don't have facial wipes or Makeup remover facial wipes in India. Thankfully, L'oreal Paris listened to our prayers and introduced one. The wipes are made of super soft cotton fabric that is wet enough to take off makeup easily. Though it needs more swipes and efforts for smudge-proof and water proof products but still a good option for travel.
L'Oreal Paris Infallible Silkissime Eye Liner: Can't tell you how desperate I was to get these Eye liners. These are available in 8 shades which is massive. I got the dark plum shade but I cant wait to get hold on to the Highlighter shade which can be such a great multi tasker. The formula super pigmented and sets in fast to a smudge proof finish.
Maybelline Color Sensational Eye Palette With Dimensional Top Coat: We have more eye shadows palettes from Maybelline. I missed the Maybelline Nudes Eye Shadow palette but I didn't want to miss these new ones. These Eye Palette have an interesting design and contain 5 eye shadows. They come in 4 shades Rose Quartz Pink, Sapphire Blue, Topaz Gold, Tourmaline Purple. Though the quality is just average and they are slightly overpriced at Rs 575.
Maybelline the Magnum Mascara: I have always loved Maybelline Mascaras as they add such a nice volume and length to the lashes. This new launch has quite an attractive packaging and comes with a curved wand
Maybelline Color Show Big Apple Reds Nail Paints: Maybelline Color show are undoubtedly the best affordable nail paints. I have quite a lot of them and love them all. This is the new launch of maroon based reds and have 6 shades to choose from.. perfect reds for brides and those who love deep reds.
L'Oreal Paris has also launched some new lip glosses and Lip liners in the Infallible range but I put them on hold for now
I will try my best to review these as soon as possible, may be in this week only. Let me know which one would you like to see first?
Have you tried any of these New launches from the Brands? Which one are you most excited about?