Maybelline Color Sensational Diamond Eye Shadow Palette Topaz Gold 
Hello Gorgeous,
Maybelline has launched another Eye shadow palette after the Maybelline Nudes and it's the Maybelline Color Sensational Diamond Eye Shadow Palettes. I haven't tried the Maybelline Nudes Eye shadow palette so I was pretty excited to these new palettes from the brand and this time I bought it without any delay. Lets see if I like this, Maybelline Color Sensational Diamond Eye Shadow Palette in Topaz Gold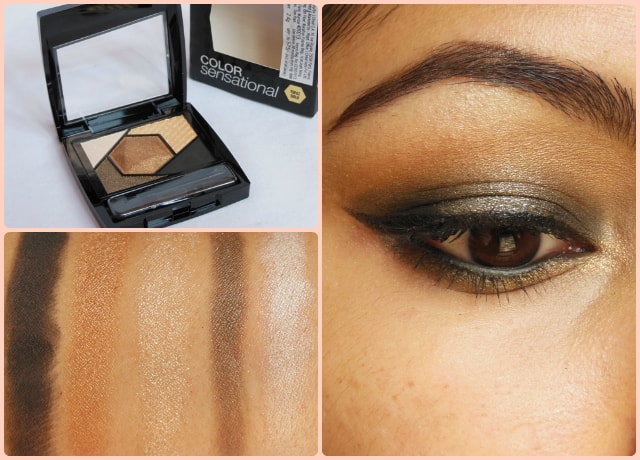 Product Claims: Maybelline New York introduces the first-ever eye palette with a 3-dimensional top coat, the Color Sensational Diamond Eye Shadow Palette
It has amazing texture with three hues of pearl powder, one glitter and one matte powder to exclusively highlight your eyes.
It is perfect to add just the right amount of glitter to make your eyes shine.
 The top coat is made with micro crushed pearls to give that alluring 3D finish.
The eye shadow is available in 4 different palette colors; tourmaline purple, rose quartz pink, sapphire blue and topaz gold.
Here's why you'll love it:
It comes in 4 shades.
Creamy powder texture for super smooth application and blending.
Super soft double ended applicator for smooth blending.
Price: Rs. 575
Shades Available:
Tourmaline Purple
Topaz Gold
Rose Quartz Pink
Sapphire Blue
Packaging: Maybelline Color Sensational Diamond Eye Shadow Palette comes in a thin black box packaging with an embossed diamond pattern all over. It's a small rectangular shaped palette with black body and transparent lid. It contains 5 eye shadows where the one of them is a big diamond shaped in the middle while the rest are geometrically placed around it. It has a tiny sponge tip applicator as well. Overall, the packaging is quite handy and easy to travel with
My Experience with Maybelline Color Sensational Diamond Eye Shadow Palette -Topaz Gold:
Maybelline Color Sensational Diamond Eye Shadow Palettes have 5 eye shadows in each palette arranged in a geometric pattern. The palettes have a good mix of shades and one can do a complete eye look with a single palette. One can do a soft neutral everyday kinda look or go for a glam smokey evening makeup as the palettes have combination of all the shades. They have a dark smokey shade, neutral blending shade, a shimmery highlight, subtle brow bone highlight and one more metallic shimmery medium dark shade.
I got the palette in the shade Topaz Gold and it has a large golden diamond in the centre.
Formula: The formula of each eye shadow is different because they have a different finish. The matte one is slightly stiff and the shimmery one is softer but I love that the shimmers are finely blended and doesn't feel gritty at all. The metallic, pearly shades are the nicest of all as they gets picked up easily. I didn't experienced any fallout during or post application which is good.
Pigmentation: All the eye shadows in the palette have a decent color pay off. They show up very nicely in hand swatches but needs to be built up to show on lids. They work best when used over an eye shadow base.
Longetivity: I am really impressed by these eye shadows as they last 7-8 hours easily on me when used over an eye shadow base without any fading or creasing.I have slightly oily lids but still they held up really well on lids.
Eye Shadows in Maybelline Color Sensational Diamond Eye Palette Topaz Gold:
Metallic Gold: It is the largest eye shadow in palette placed as diamond in centre. It's a beautiful gold shade with soft metallic sheen and smooth blendable texture.
Pearly Beige: It is a peachy cream shade with pearly sheen which makes it perfect brow bone highlight adding a soft definition to the eye look. It isn't richly pigmented so you can even layer it for a strong highlight.
Shimmery Champagne: It is the multi dimensional top coat and has a shimmery finish. It looks like peachy gold in palette but shows only shimmers on application. The texture is very soft and it works best when packed with damp brush on top of a dark shade.
Matte Black: It is the only Matte eye shadow in the palette. The color pay off is ok –ok but the texture is slightly stiff and it needs to be layered for a complete color coverage or use it over a black base. I still like that it blends out easily.
Metallic Olive: It's my another favourite in the palette, a dark olive green shade with soft shimmery metallic finish. It contains gold shimmers which adds a beautiful shine to the shade. The formula is nice and blendable but it doesn't look as rich and vibrant on lids.
Look: I used the Black eye shadow all over the lids and blended it with the metallic gold in the crease. I used that multi-dimensional top coat in the centre of my lids and it just took the look to whole new level.
Recommendation: Maybelline Color Sensational Diamond Eye Palette Topaz Gold has a good mix of shades in varying finishes. The formula of metallic shades is the best but I wish the eye shadows were a little more pigmented so I don't have to pack them on as much. I really like the variety of shades in the palette with which we can create multiple looks from start to end. Compared to Makeup Geek Eye Shadows these Maybelline Eye Shadows are not as good but if you talk about Indian Drugstore Eye Shadow palettes, I can say that it is one of the best as all the eye shadows work well. I like it more over the Maybelline Diamond Quads as they were more on shimmery side. Though the price is slightly on the higher side for Maybelline but you can give it a try if you are looking for an affordable eye shadow palette in India. Recommended!
Rating: 3.5/5
Have you tried these new Maybelline Color Sensational Diamond Eye Shadow Palettes? Which one would you like to pick?