Neutrogena Ultra Sheer Dry Touch Sunblock SPF 50+ (PA+++) Review
I have heard a lot about Neutrogena Sun block which claims to be "Ultra sheer" and "dry touch", I expected it to give almost similar results and finish (matte look) as Lotus  3 in 1 matte sunblock on my skin hence became the next best choice.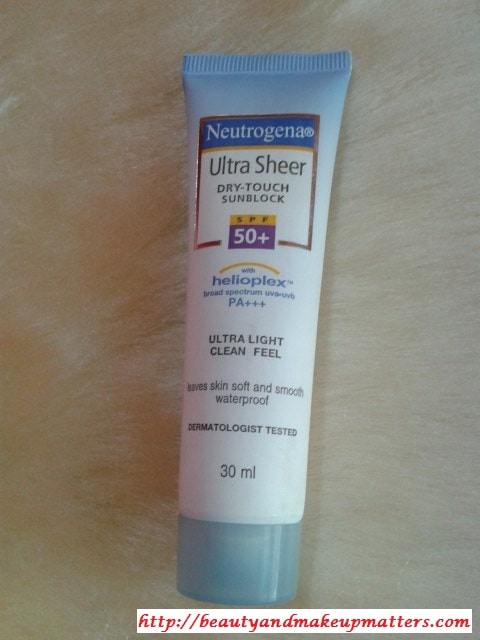 I was satisfied with my Lotus Herbals 3 in 1 matte sun block but after finishing up almost 2 tubes of that I desperately wanted to try a new one.  I felt the need of higher SPF and broad spectrum protection during summers to protect my skin from harmful UV rays especially when I have to spend a day out in the scorching heat.
I tried the Lotus SPF50 spray sun block but due to its sticky formula I used it up as a body sunscreen.
Product Claims:- It is a breakthrough in sun protection, Stabilized with Helioplex, it provides superior balanced broad-spectrum protection against skin-aging, UVA and burning UVB rays, and combines it with dry touch technology for an ultra-light, non shiny finish. This lightweight sun block has a light fresh scent and is gentle enough for even sensitive ski
Water –proof, sweat proof, resists rub-off
Non comedogenic(wont clog pores)
Oil free and PABA  free
Directions for Use:- Apply liberally on face and body 15-30 min before un exposure. For added protection, reapply after swimming, towel drying or extended sun-exposure.
Ingredients:- No mention of ingredients on the tube or on the website 🙁 .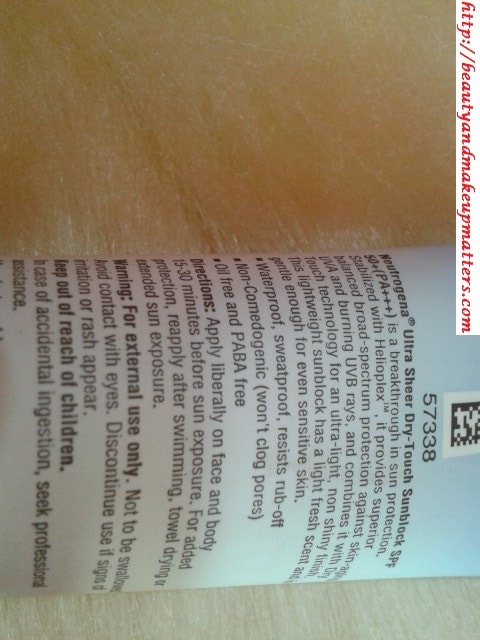 Price:- Rs.150 for 30ml (Also available in bigger version Rs. 450 for 88ml.)
Shelf Life:-  24 months from the Mfg date.
What is HelioPlex? (Neutregena Says):- Avobenzone is one of the best UVA blockers approved by the FDA, but it is highly unstable when exposed to sunlight. Avobenzone was stabilized using Oxybenzone and DEHN, effectively providing better, longer protection from harmful UVA rays. This breakthrough technology was called Helioplex
It is a stabilized sunscreen technology that delivers superior protection from the sun. When you choose a sun block with the name Helioplex®, you can be certain that you are using one that was specifically engineered to deliver superior UV protection that is broad spectrum and photo stable.
Packaging:- The sunscreen comes in small squeeze tube with a screw cap. The opaque plastic tube has a faded light blue shade with a sheer blue plastic screw cap. The sunblock is sealed with a silver foil under the screw cap at the opening which marks it as an unused product.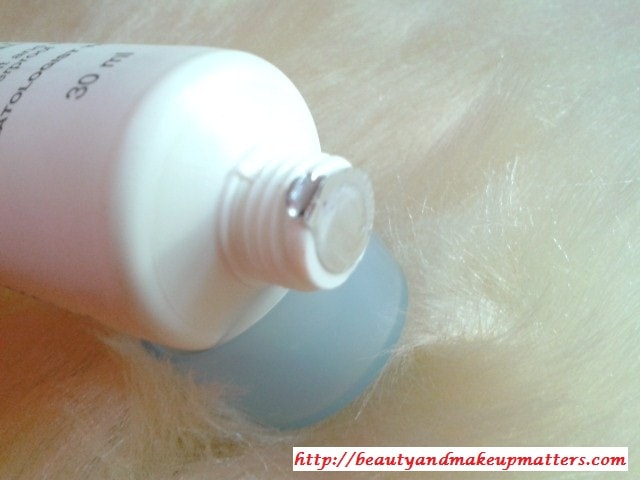 My experience with Neutrogena Ultra Sheer Dry Touch Sunblock SPF 50+:-
The Neutrogena Ultra Sheer Dry Touch Sunblock is white in color and has a thick cream like texture. Only pea sized amount of this is enough to cover neck and face. The texture is not easy to blend and have to rub this hard to get it absorbed completely. Even after rubbing it for 3-4 minutes the sunblock will leave a shiny film on the face. Though, the sun block doesn't leave any whitish cast on my face but it is not at all sheer or dry touch as claimed. I have a dry skin and it felt slightly greasy and heavy on my skin.
It has not so pleasant rubbery smell. The smell is tolerable as it is mild and doesn't linger on for long. When applied directly on facial skin I can't stand the sticky and greasy feel. It made my skin oily and dull few minutes after the application which made it prone to acne. Next time, I tried this sun block over my Dermocalm Lotion which acts as a barrier and doesn't let anything reach my skin.
The Neutrogena sun block gets applied smoothly over the dermocalm layer with minimum effort. It gave smooth and dewy finish to my facial skin. This time I did get that sticky/greasy feel but only slightly and the shiny part can be taken care by patting a bit of compact or loose powder. The sun block doesn't flake or dry out my skin and goes well with Dermocalm compared to Lotus 3 in 1 matte sunscreen which doesn't gel well with dermocalm lotion and gives a patchy application.
Dont Miss to Checkout:
Swatches:-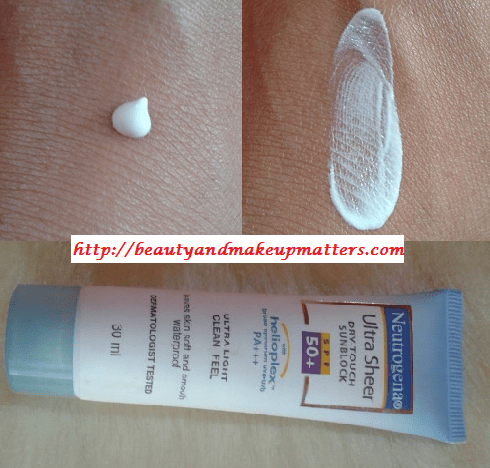 Pros of Neutrogena Ultra Sheer Dry Touch Sunblock SPF 50+:-
Comes in a small tube which can easily fit into handbags and even the clutches,
A little goes a long way as only small amount will cover both face and neck
Has Helioplex Technology and higher SPF which provides superior Sun protection and for longer durations.
Claims to be water-proof and sweat proof. So, provides protection when you are enjoying the pool/beach parties.
Didn't cause any breakouts when used over Dermocalm Lotion.
Doesn't leave any whitish cast on my skin
Gives a smooth finish and dewy look to my dry and flaky skin.
Dermatologist tested
Also available in higher SPF.
Cons of Neutrogena Ultra Sheer Dry Touch Sunblock SPF 50+:-
No mention of ingredients on the tube or on the website.
Thick consistency which might not work well for Oily/Combi skin girls
Make false claims to be "Ultra dry" as it doesn't gave a matte finish
Bit expensive for a drugstore sunscreen but provides better SPF and UV protection.
Has a mild chemical kinds smell.
Recommendation:- I definitely like Neutrogena Ultra Sheer Dry Touch Sunblock SPF 50+ (PA+++) over Lotus Sun blocks due to sweat proof and waterproof formula and advanced Helioplex technology. It is a good sunscreen for summers which provides better protection when it comes to the SPF and UV factor.

I would have preferred it to be a bit light and give a matte finish like Lotus 3 in 1 matte sun block . I don't need anything else other than the Dermocalm and Neutregena sunblock for my skin during summer days.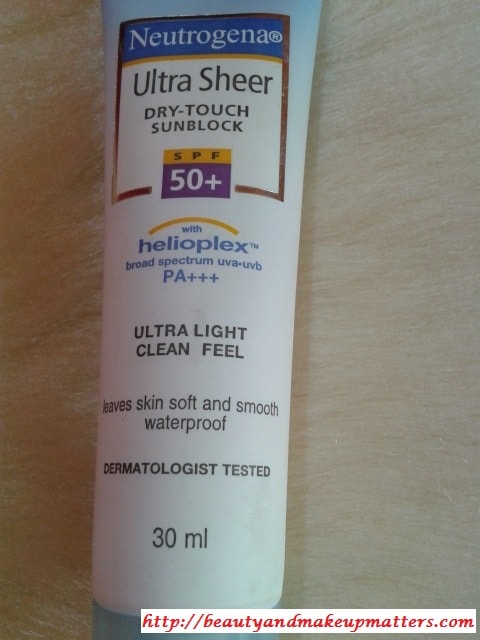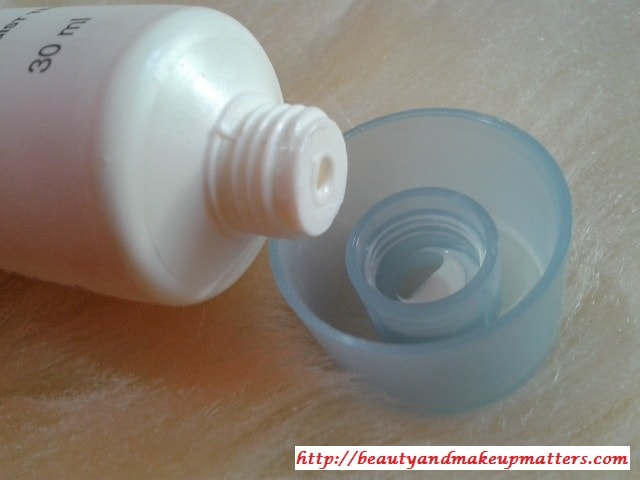 PS:-Don't put this sun block when in hurry or don't step out immediately after putting this on, let it set for 10-15 min else it will make your skin all sweaty and oily
Rating:- 3.7/5
Have you tried Neutrogena Ultra Sheer Dry Touch Sun block SPF 50+ (PA+++)? Did you liked it?