Neutrogena Ultra Sheer Body Mist Sunscreen SPF 30 Review
The only daunting task in Summers is to protect skin from those harmful sun rays but the thought of applying that heavy sunscreen in such hot and humid weather give me jitters.  I always wonder why the sunscreen have to be that clumsy but then a diamond fell into my pocket and I don't have to go back again. So, let's  read on how it changed my life, the body Mist aka Sunscreen from Neutrogena, Neutrogena Ultra Sheer Body Mist Sunscreen SPF 30.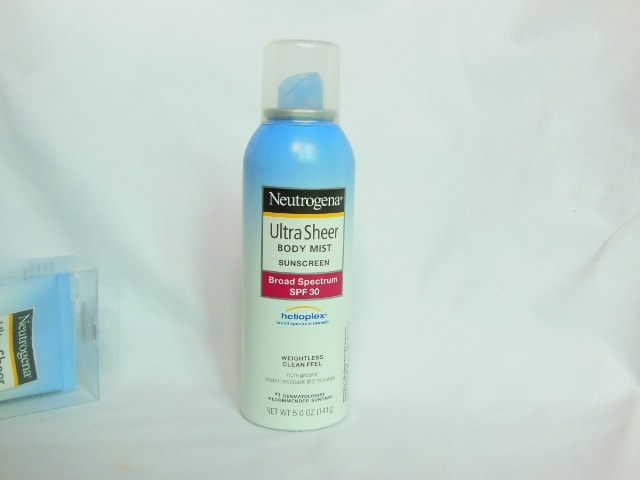 Product Description: Neutrogena® Ultra Sheer® Body Mist Sunscreen provides broad-spectrum UV protection in an ultra light sheer mist.
Stabilized with Helioplex® Technology, it provides superior balanced broad-spectrum protection against UVA-aging and UVB-burning rays in an ultra-light, non-greasy finish. This weightless formula applies easily to even hard-to-reach areas. This one-touch continuous spray works at any angle.
Broad Spectrum UVA/UVB
Water Resistant (80min)
Non-comedogenic (won't clog pores)
Oil-free
Price:  Rs 897 for 141ml (Buy on Amazon)
Packaging: Neutrogena Ultra Sheer Body Mist Sunscreen comes in a can with a spray nozzle on top and a clear blue cap to protect the nozzle from dust. The packaging is sturdy and easy to travel with. The nozzle spray makes it super easy to use and it can reapplied on the go.
My experience with Neutrogena Ultra Sheer Body Mist Sunscreen SPF 30:
Neutrogena Ultra Sheer Body Mist Sunscreen is my favourite sunscreen these days. I have tried one Spray Sunscreen in the past, Lotus Herbals Spray Sunblock SPF 50 and it was a total disappointment but Holy Moly Neutrogena totally converted me to Spray Sunscreens.
Neutrogena Body Mist Sunscreen is the lightest sunscreen I have ever used. It feels like a water spray with absolutely no color when sprayed. Just one touch and it gets absorbed into the skin. It sinks effortlessly into the skin leaving behind no oily or greasy residue but forms a protective layer on skin to prevent sun damage.
I must mention that the spray nozzle is of great quality which presses smoothly and it sprays the product evenly giving an easy application.
Usually with sunscreens, the face looks white and it takes a lot of time to get them absorbed into the skin but this Neutrogena Body Mist Sunscreen is exactly the opposite. Absolutely no white cast or heavy feeling, making it the most comfortable sunscreen for summers.
Why You Should Love Neutrogena Ultra Sheer Body Mist Sunscreen:
Beach Buddy: Neutrogena Body Mist Sunscreen can be your best buddy on a beach where you can apply/reapply it on your own, even at the hard to reach places like upper back and enjoy sun without getting tanned!
Fuss free Application: I feel that's the USP of this Sunscreen. The nozzle spray makes it so convenient to use and carry along
No Chip-Chip: Even if you have super oily skin I am sure you can't help but love this Sunscreen as it is so damn good. The formula is super light and doesn't feel like anything on the skin.
Water-proof: Above all, the formula is water-proof so you can save your skin while swimming with this sunscreen
Things to Keep in Mind:
As it is an aerosol, it does have some fragrance when sprayed but it vanishes as the sunscreen gets absorbed.
I will not recommend it to apply directly on face as it might sting so I will suggest spray it in between your palms and then apply on your face
I am just too lazy to re-apply sunscreens but with this body mist I don't mind the reapplication because it works like a breeze.
Recommendation: Neutrogena Ultra Sheer Body Mist Sunscreen SPF 30 is hands down one of the best sunscreens I have ever used. It is spray sunscreen and comes in a can with a nozzle dispenser which makes it extremely easy to use and apply. Along with that it has an amazing formula which is weightless and feels absolutely non-sticky, non-greasy. It doesn't leave any white cast and gets absorbed within seconds. Also it lasts long and is sweat-proof and water-proof. I couldn't have asked more from a sunscreen… okay may be some more SPF value ;). Highly Recommended!
Rating: 4.8/5
Don't Miss to Checkout:
Have you tried Neutrogena Ultra Sheer Body Mist Sunscreen SPF 30? Which is your favourite Sunscreen/Sunblock?
PS: Product sent by brand for Consideration but honest and unbiased opinion!