Neutrogena Pure Mild Facial Cleanser Review
I was on the look out for a mild facial cleanser as my current cleanser the Dove Beauty Moisture Face Wash was about to hit the bottom. I haven't tried any Neutrogena product yet and this one claimed to be a mild facial cleanser so I thought if giving this a try and bought it for me from an online shopping website. Let's check out how it fared on my skin.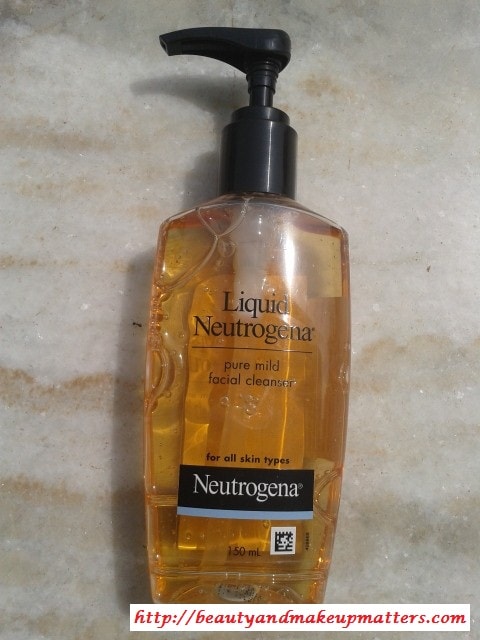 Product Claims:- A pure, clean-rinsing facial cleanser for clean and soft skin. Hypoallergenic formula is dermatologist proven to be mild and leaves no pure-clogging residue.
Directions for Use:-Wet face and neck with lukewarm water. Work cleanser into a rich lather and gently massage onto face. Rinse well.
Ingredients:- Water, Glycerin, Oleic Acid, Coconut Acid, Sodium Hydroxide, Triethanolamine, Cocamidopropyl Betaine, Sodium Chloride, Sodium Trideceth Sulfate, Disodium Cocoamphodiacetate, Sodium Cocoamphoacetate, BHT, Trisodium HEDTA, Blue 1, Red 33, Yellow 5, Caprylyl Glycol, Hexylene Glycol, Phenoxyethanol
Skin Benefits of Glycerin:- Glycerin is used as a moisturizer for dry, rough or scaly skin. It helps in making skin more supple. It prevents and cures acne related skin problems. It also has the ability to reduce or slow down the appearance of wrinkles and fine lines and also guards against bacterial skin infections. The skin will always remain hydrated and look healthy with the use of glycerin
Price:- Rs.270 for 150ml
Shelf Life:- 3 years from the Mfg date.
Packaging:- Neutrogena Pure Mild Facial Cleanser comes in a transparent bottle with pump dispenser. I feel pump dispensers are convenient to use and allow better control on the amount of the product to be dispensed. The see through packaging updates us with the amount of the product left.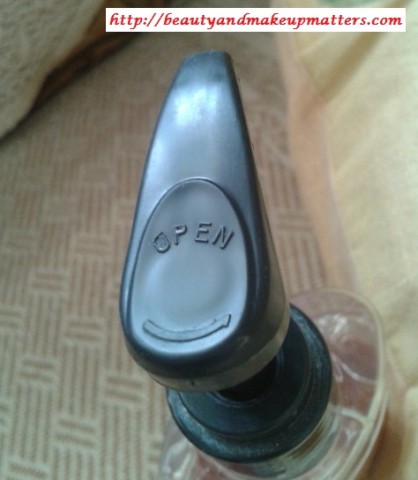 My experience with Neutrogena Pure Mild Facial Cleanser:-
Color/Consistency:- Neutrogena Pure Mild Facial Cleanser has gel like consistency which is not runny and is yellowish-brown in color
Don't Miss to Checkout:
What I liked in Neutrogena Pure Mild Facial Cleanser:-
Spreads easily on the face without slipping off the hands.
Comes with a dispenser which is very convenient to use.
Washes off quickly in few splashes of water without leaving any residue behind.
Gives a clean feel to skin by removing all the traces of oil/dirt.
Doesn't broke me out
The bottle will last long (3-4 months) as only a small amount is required.
See through packaging which gives a good idea on the amount of the product left.
Easily available online (not sure about its availability in stores)
What I didn't liked in Neutrogena Pure Mild Facial Cleanser:-
I was expecting this cleanser to be fragrance free (as it doesn't mention Parfum in its ingredients list) but the moment I applied this on my face it had to smell its terrible fragrance. It has an awful smell similar to washing powder/detergents cake kinds.
It claims to be a mild cleanser so I tried to remove my eye makeup with this but it stung my eyes badly. Since then, I dare not open my eyes while washing my face using this cleanser. I am being extra careful so that it doesn't get anywhere near my eye area.
It claims to be suitable for all skin types but it left my skin feeling a bit dry and stretchy and has to follow with a moisturizer.
The cleanser doesn't lather much
Recommendation:- Neutrogena Pure Mild Facial Cleanser is an average cleanser with awful smell. I won't recommend this to people with dry/normal skin but it might work better on combination and oily skinned girls. It can be given  a try by combination/oily skin girls unless you are not bothered about the cons mentioned above.

I am so eagerly waiting for this cleanser to get over. I am not going to buy this again. (:x)
Rating:- 2.8/5
Have you used Neutrogena Pure Mild Facial Cleanser?