Neutrogena Norwegian Formula Hand Cream Review, Swatches
Product Claims: Neutrogena Norwegian Formula Hand Cream provides instant relief for even seriously dry, chapped hands. Its so concentrated that a small amount instantly leaves dry hands noticeably softer and smoother.
Just a dab relieves dry, chapped hands
Dermatologist Tested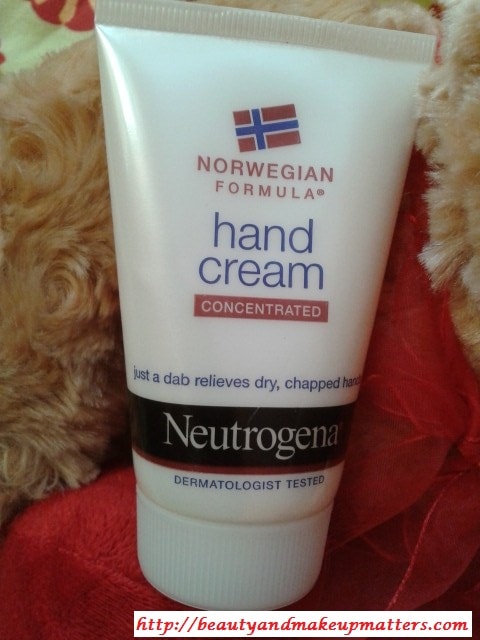 Ingredients:- Purified water, Glycerin, Cetearyl Alcohol and Sodium Cetearyl sulfate and Sodium Sulfate, Methyl Paraben, Propyl Paraben, Stearic Acid, Dilauryl Thiodipropionate, Fragrance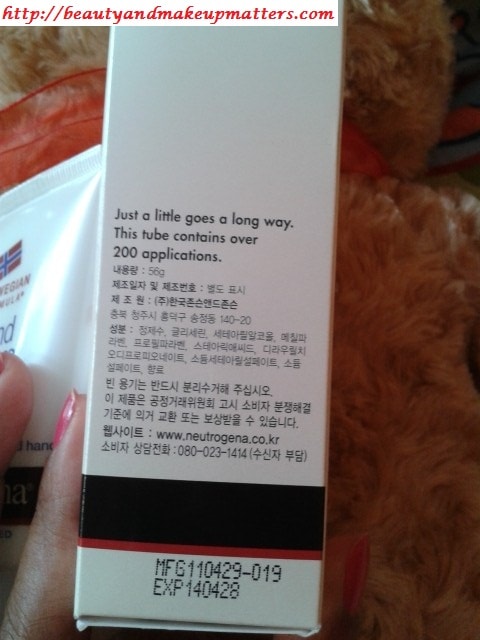 Price:- Rs.240 for 56gm
Shelf Life:- 3 years from the Mfg date.
Packaging:- The hand cream comes in a plastic tube type packaging. The opaque white colored tube has a small nozzle opening which is covered with a large screw cap. The mouth of the tube is sealed with a silver foil. The small tube looks like a dwarf in front of Jergen's Hand and Cuticle Cream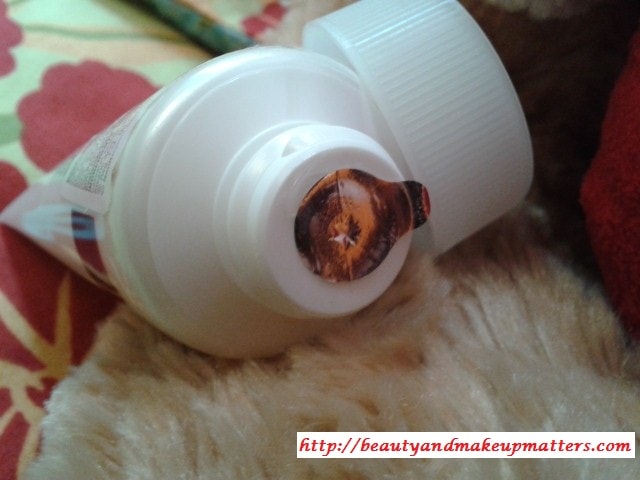 My experience with Neutrogena Norwegian Formula Hand Cream:-
Neutrogena Hand Cream has a translucent balm like texture. Though it has slightly thicker texture but it spreads well and soaks beautifully into the skin. I need only a small pea-sized amount of the rich hand cream. It melts easily on the hands and vanishes without leaving any traces. The cream feels a bit sticky at first but the feeling goes within a minute.
Swatches:-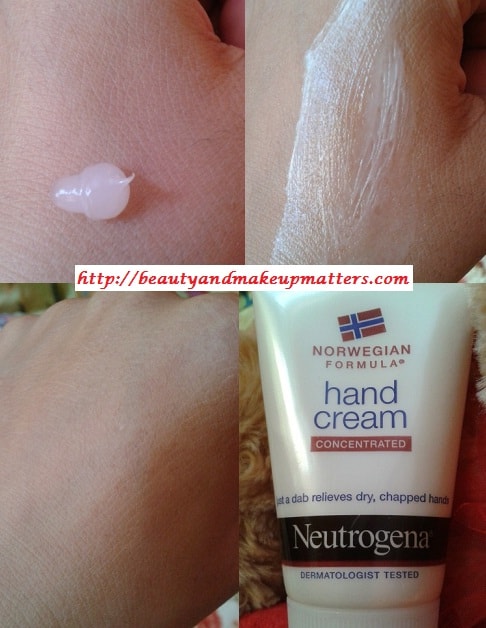 The cream is really effective in smoothening out my rough and dry hands. The cream has a light medicated scent which is not strong or overwhelming. The cream says it is a concentrated formula so squeeze out only a tiny amount for application.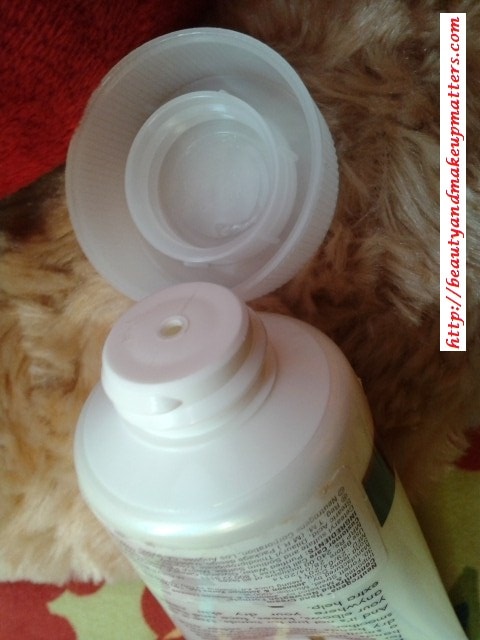 The best of this cream is lasting effect, it stays even after a hand wash. It doesn't completely get washed off leaving hands feeling dry and stretchy unlike Jergen's Hand & cuticle cream.
Other Hand creams, I have used-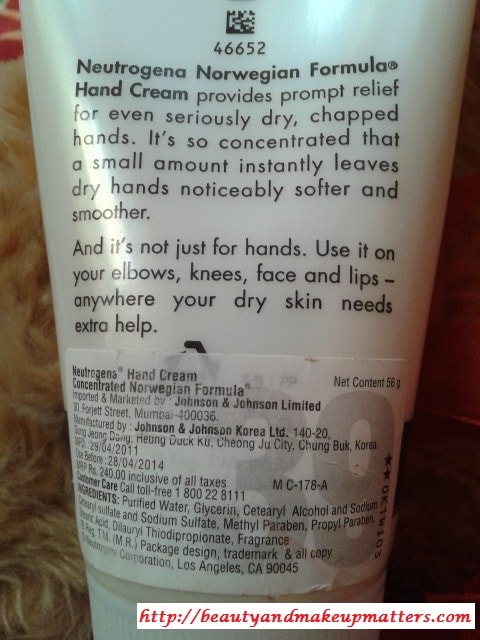 Pros of Neutrogena Norwegian Formula Hand Cream:-
Extremely light in texture which spreads easily
Gets absorbed quickly into the skin.
Doesn't feel oily even if applied excessively
Easy to use, hygienic tube type packaging
Small pea-sized amount is enough for both the hands.
Can also be used for other dry areas like knees, elbows.
Leaves hands soft and smooth instantly
Keeps hands moisturized for long
Doesn't leave hands dry and stretchy even after a hand wash
Cons of Neutrogena Norwegian Formula Hand Cream:-
Slightly expensive
Has a mild medicated smell which might not be liked by everyone.
Not easily available in stores
Contains Parabens.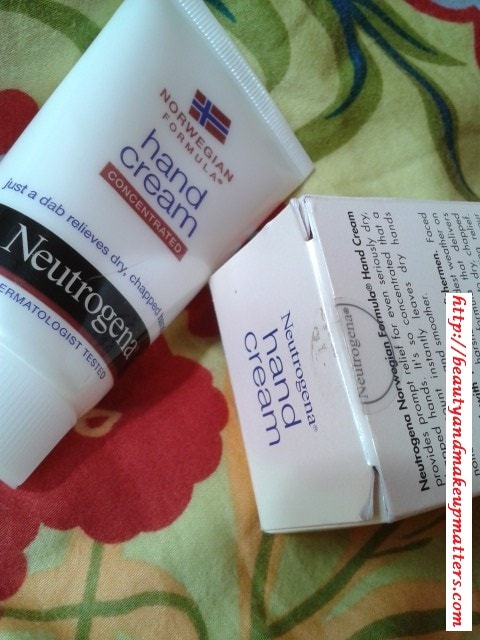 Recommendation:- I am really happy with the results. It has made my hands surprisingly soft and smoother. Neutrogena Norwegian Formula Hand Cream has become my favorite hand cream for summers as well as winters due to its non-greasy texture and highly moisturizing property. The formula of the cream is such that it keeps hands moisturized even after a hand-wash. So, it is a must have for those who have to wash hands frequently

Overall, I love this hand cream and will definitely repurchase it.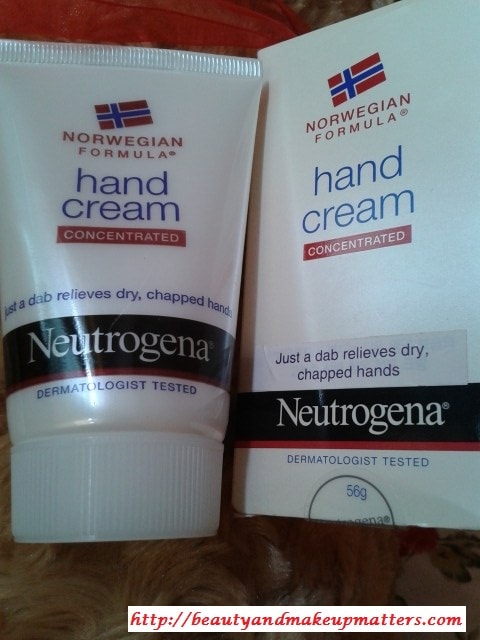 Rating:- 3.8/5
Have you tried Neutrogena Norwegian Formula Hand Cream? Do you use a separate cream for hands?