Neutrogena Fine Fairness Toner Review
Toner has become an essential part of my skin care regime. I really like the firm feeling that it provides and makes me believe that my pores are closed and prevents the entry of pollutants in my skin. I have been fanatic over using only Alcohol-free toners for my dry skin and the latest in my list is Neutrogena Fine Fairness Toner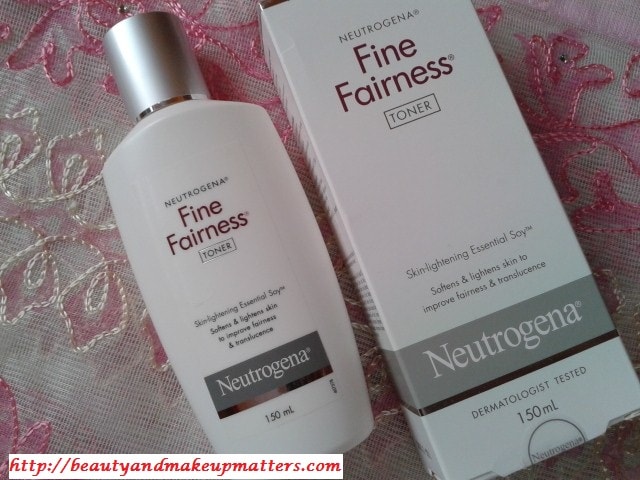 Product Claims:
Special liposome delivery system enhances effectiveness of whitening ingredient to lighten overall complexion
Vitamin C and Essential Soy™, an exclusive soybean extract, help reduce discolouration and promote even-toned skin.
Exclusive combination of natural extracts and skin conditioners replenish moisture
 Leaves skin soft and smooth
Clinically proven to improve overall skin fairness and translucence• Alcohol-free, oil-free, non-comedogenic, allergy-tested
Direction for Use:- Shake well before use. Apply in the morning and at night after cleansing. Moisten cotton pad with toner and smooth over cleansed face and neck with gentle upward strokes.. For all skin types
Ingredients:-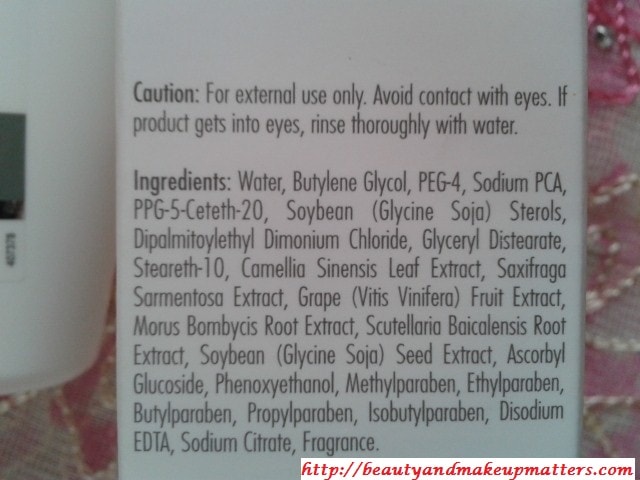 Price:- Rs.299 for 150ml
Shelf Life:- 3 years from the Mfg date.
Packaging:- The toner is contained in a long white plastic bottle with as screw silver cap. There is a nozzle with a big whole at the mouth of the bottle to dispense the liquid. The hole is big enough to dispense amount sufficient for 5 applications. So, the packaging isn't easy to use and slight carelessness leads to lot of wastage of the liquid. I will be transferring it to the empty FabIndia Rose Facial Water bottle with pump dispenser .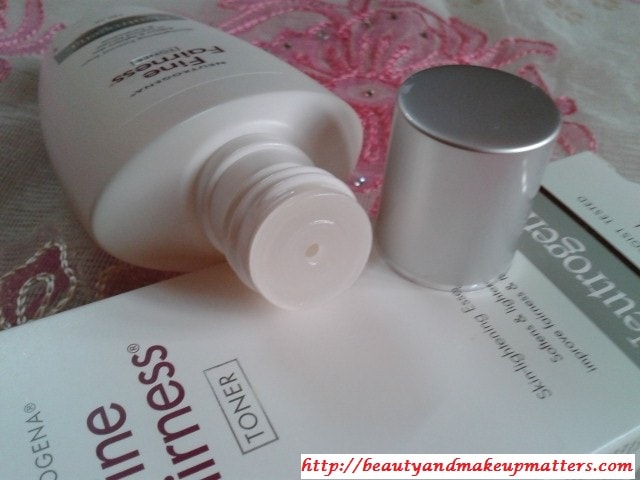 My experience with Neutrogena Fine Fairness Toner:-
I have a dry skin and not all the toners suits me as some leave an oily/sticky layer which instead of protecting my skin leads to break out (Himalaya Refreshing Toner) and I fear Alcohol based toners will leave my skin more dry and stretchy.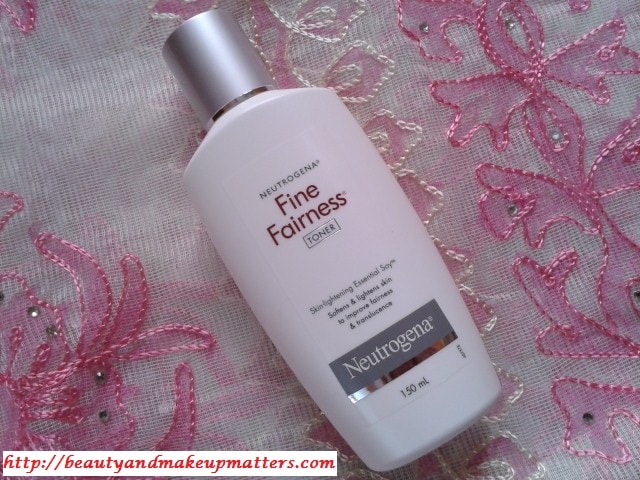 The toner makes fascinating claims of whitening and lightening the skin but I hadn't bought because of these claims and would like it if works on my pores and enhance my skin texture which is the supreme reason behind using a toner
Neutrogena Toner is a white milky liquid in watery consistency with a significant sweet scent which is not fruity and I find it pleasant and soothing to my senses. The fragrance is mild and wouldn't bother sensitive noses. If you are expecting it to give a matte finish then I dread that it isn't the case as it dries down to a dewy finish. Though it doesn't feel sticky or oily but it may not be liked by Oily skinned beauties. Unlike other toners it takes whole lot of time to get absorbed and I have to leave it for at least 10 minutes to let it immerse completely into the skin but I liked its final result. The toner performs really well at its primary job i.e. pore tightening and along with that it was very moisturizing to my skin. It nourished my skin so well that I could easily skip the moisturization step (quite surprising!!). My skin looked healthy and toned but it created a barrier over my skin which makes it hard to blend any cream or moisturizer over it.
Don't Miss to Checkout:
Swatch:-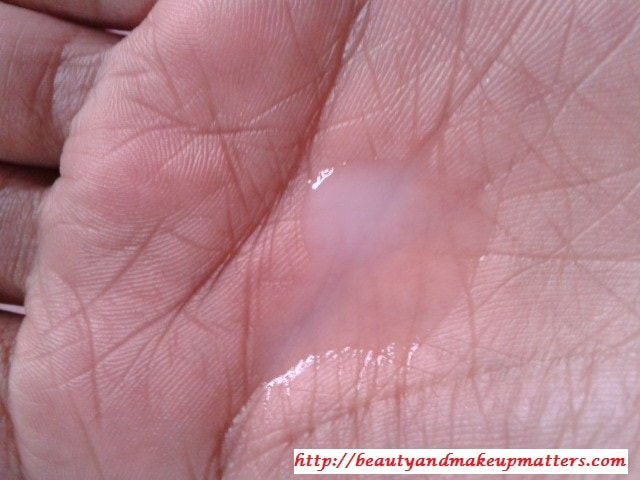 Pros of Neutrogena Fine Fairness Toner:-
Alcohol Free Toner
Pleasant scent
Doesn't dry out skin
Gives a dewy finish though not sticky or oily
Makes skin smooth and a bit firm
No skin irritations or breakouts
Dermatologist Tested
Claims to be Oil-Free and Non-Comedogenic
Cons of Neutrogena Fine Fairness Toner:-
Slightly pricey compared to other drugstore toners
Pump dispenser packaging would have been better
Takes time to get absorbed completely
May not be like by Oily skin
Recommendation:- Neutrogena Fine Fairness Toner comes in a nozzle packaging which leads to wastage so I have transferred it to a fiss – fiss container (pump-dispenser). The milky white liquid takes time to get absorbed but leaves skin firm and a lot hydrated than regular toners. It is a Toner cum moisturizer for me with a pleasant scent. It gives a slight dewy finish but nothing uncomfortable. I liked it as a toner but totally disregard its whitening claims.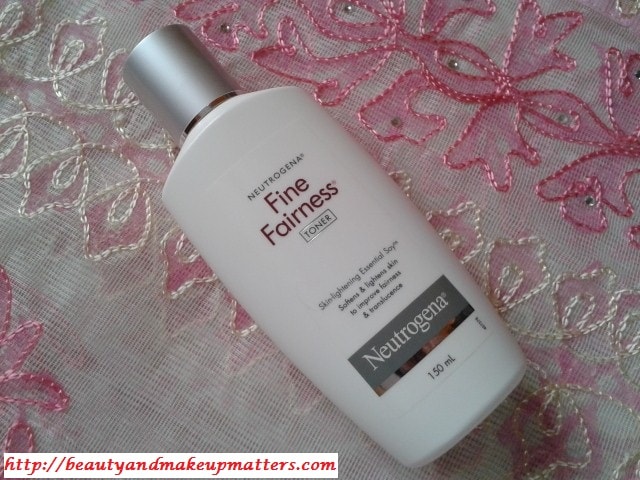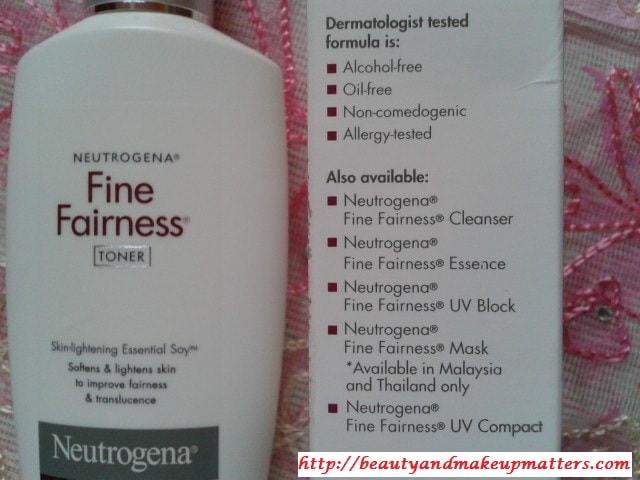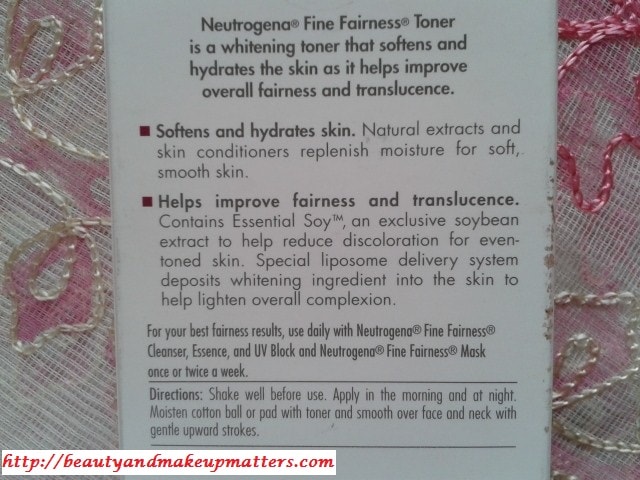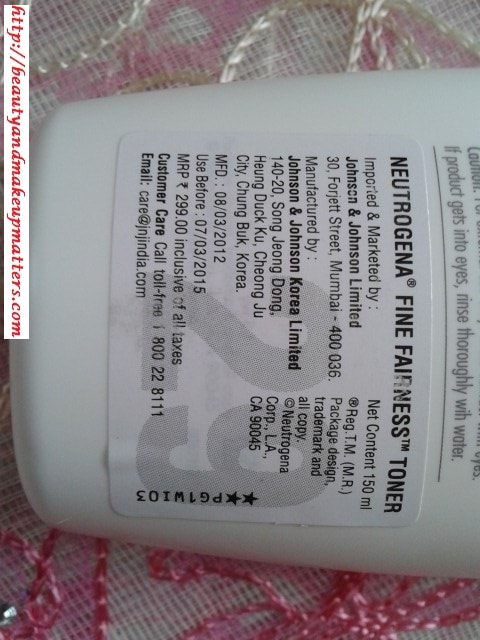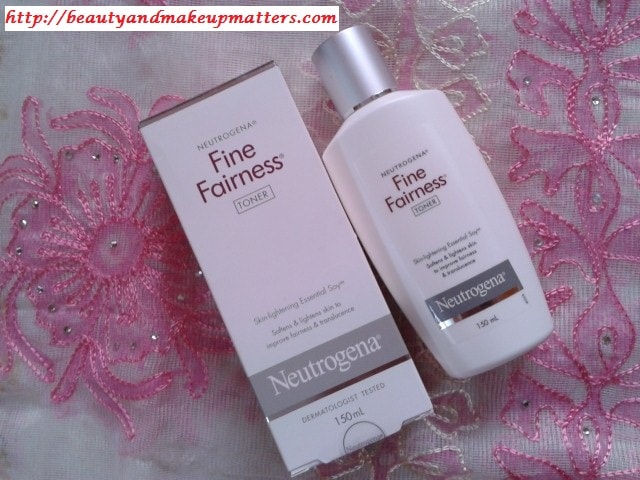 Rating:- 4/5
Have you tried Neutrogena Fine Fairness Toner? Which is your favourite Alcohol Free toner?