The Nature's Co Shower Gel & Face Wash: Refreshing Summer Cocktails
Things I crave in summers is a glass of chilled water, a refreshing shower, and AC after that!  Seriously, it's so damn hot out here that I can't even think of stepping out so I will just enjoy this at the comfort of my home. There is nothing better than pampering skin with natural goodness and that's what I always look for. I recently got a chance to try some refreshing summer skincare products from The Nature's Co. range, The Nature's Co Kiwi Exfoliating Shower Gel and Limoncello Brightening Face Wash. Let's see what I feel about them.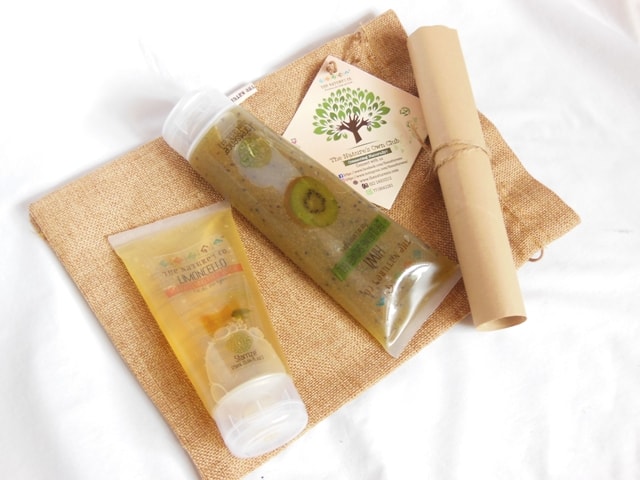 The Nature's Co Kiwi Exfoliating Shower Gel
Product Description: This fleshy tropical fruit is packed with vitamin C and a good amount of Beta Carotene. Kiwi seeds gently exfoliate and cleanse the skin, leaving behind its exotic fragrance.  It's a complete body polishing treatment to eliminate dry, flaky skin and refine the skin's texture. In the shower or bath, spread the scrub over your entire body. Rub it in to exfoliate and then rinse well. It will leave you feeling smooth all over.
Price: Rs.845 for 250ml
Ingredients: Kiwi Extract, Kiwi Seeds, Walnut Grits, Glycerine.
My Experience with The Nature's Co Kiwi Exfoliating Shower Gel:
The Nature's Co Kiwi Exfoliating Shower Gel is from the Foressence range from the Nature's Co. The Shower gel comes in a huge clear plastic tube with a flip cap. I love the sturdy, see-through packaging. It is gel based body wash with fine exfoliating particles. The granules actually feel like the tiny Kiwi seeds only, and it does contain actual Kiwi seeds which are super gentle on skin.
The texture is medium thin and not runny so it applies easily. The shower gel has a very mild Kiwi fruit fragrance which is nice and refreshing.  It gives very mild lather with its gentle exfoliating action. It is more of a body polish than an exfoliator. It doesn't make skin dry but leaves it soft smooth and hydrated.
Overall, perfect for summers for a refreshing shower and gentle exfoliation. It is on the pricier side but If you want to indulge in some self-pampering during summers go for it! It is a matter of personal choice but I don't enjoy the Kiwi scent that much, would have loved a more tangy, citrusy refreshing aroma more :D. But if you love the mild Kiwi fragrance it is a good pick.
Rating: 4/5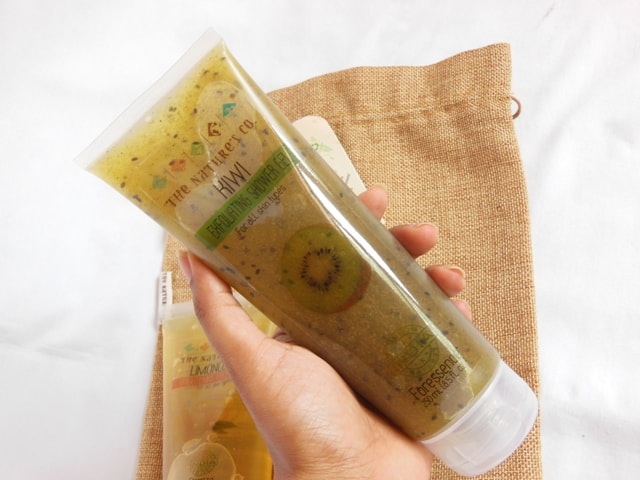 The Nature's Co Limoncello Brightening Face Wash
Product Description: Perk your skin up with the refreshing and energizing smell of Limoncello. This brightening Face Wash balances skin's PH, removes dirt and oil. It's nourishing properties will help to enhance your skin with a brighter complexion, leaving it luminous and smooth with even tone throughout the day. Wet face; squeeze a small amount into palm of the hand. Gently massage into face in circular motions. Rinse off thoroughly with water. Use every day, morning &night.
Ingredients: Citrus limonum ( Lemon ) peel extract, Aloe Barbadensis ( Aloe vera ) plant extract, Vegetable Glycerine.
Price: Rs. 695 for 175 ml
My Experience with The Nature's Co Limoncello Brightening Face Wash
The Nature's Co Limoncello Brightening Face Wash is from the Starrize collection of the brand. The face wash again comes in a see through squeeze tube type packaging. It is pale yellow colored face wash with a gel like texture and slightly runny consistency. It gives decent lather and cleanses thoroughly.
The face wash has a strong lemony. A citrusy fragrance which I quite like as it feels very refreshing and is just perfect for summers. It didn't dry out my skin but I have to use a moisturizer post-wash to keep my skin hydrated. I feel it's best for oily-combination skin for a gentle cleansing action and without any harmful chemicals.
I like this face wash a lot but wish it was a bit more hydrating for my dry skin.
Have you tried The Nature's Co Limoncello Brightening Face Wash? Do you like Fresh Lemony fragrances?
Don't Miss to Checkout:
Disclaimer: Products sent by the brand for consideration, but honest and unbiased opinion as always.