Natural Glamour for your Lashes: Essence Frame4Fame Lashes 
Hello Everyone,
There is only one thing in makeup that gives me jitters and that are "False Eye Lashes" . I totally love how they add glamour and drama to the eyes but I just suck at the application. It is too much of an effort to get it right on the eyes and that is why I normally don't wear false eyelashes. Though this is something I do want to master and that is why I am planning to buy more and more of false lashes. Today, I have a pretty affordable fake eye lashes to share with you, Essence Frame4Fame Lashes in Natural Effect.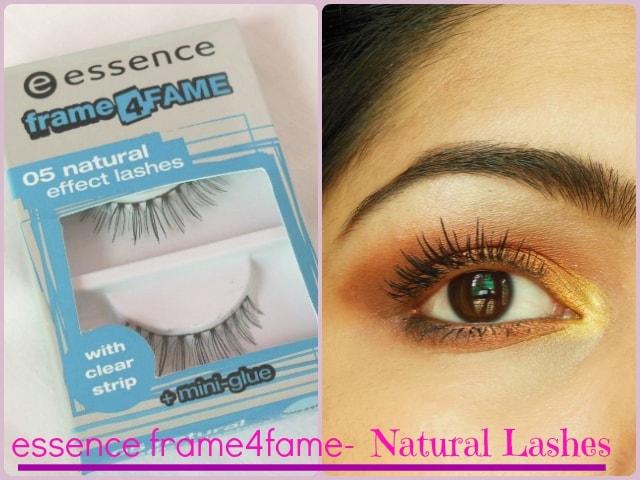 Product Claims: Feel like a star! The false lashes give your eyes the wow-factor they deserve! the false fame lashes are comfortable to wear and have reliable staying power. suitable for multiple use. one set contains either one pair of lashes or 40 individual lashes as well as a tube of eyelash glue.
Direction for Use: False lashes – the ultimate eye-catcher!
Apply a small amount of the enclosed lash glue onto the ends of the lashes and wait approx 30. seconds until sticky. position directly above your natural lashes and press gently.
For removal gently pull lashes off and remove eyelash glue with fingers.
If glue gets into eyes, rinse immediately with cold water.
Ingredients: 2-ETHYLHEXYL ACRYLATE, AQUA (WATER),METHYL METHACRYLATE, ETHYL ACRYLATE,METHACRYLIC ACID.
Price: Rs.299
My experience with Essence Frame4Fame Lashes Natural Effect:
Essence Frame4Fame Lashes Natural Effect comes in a white plastic packaging with a tiny glue tube at the top which is very thoughtful. Though the packaging is a little filmsy but I don't mind for the price paid.
Essence Frame4Fame Lashes in Natural Effect are natural looking lashes and have quite sparsely placed hair with the middle part longer than the rest. Though, I prefer my lashes to be more thick, dramatic and heavier at the outer end than the centre but for natural looking effect this design is pretty good. The band is clear and super thin which has its own pros and cons. I love it's clear band because it blends quite easily with my eye makeup on application but I find it really hard to control the application and shape of the lashes because of that.
Don't Miss to Checkout:
The lashes are super light weight and few minutes post application, I almost forgot that I have false eye lashes own. Once placed the lashes stays put whole day and were quite comfortable on lids but the thing that I disliked is the size of the lashes. I find the lashes are slightly smaller than my eyes so there was a little space left uncovered on the lids. (Not sure if it is common in Natural looking lashes).
Recommendation:- Essence Frame4Fame Lashes in Natural Effect look absolutely natural on lids and you can easily fake naturally thick lashes with these. They are so comfortable on lids that you don't feel you are wearing fake lashes. I really liked the fact that the lashes come with a tiny glue tube for application which comes really handy during travels and you don't have to buy one separately for the lashes. I just wish the lashes were slightly longer than they are, otherwise a great product for the price!
Rating:- 3/5
Have you tried Essence Frame4Fame Lashes Natural Effect? Which are your favorite False Eye lashes?
 PS: Product sent by brand for consideration