Natural Bath and Body Vitamin E Hand and Cuticle Cream Review
Product Claims:- Made with Natural Vitamin E & BeesWax, Our hands and cuticle cream is especially formulated to soften dry hands and cracked cuticles.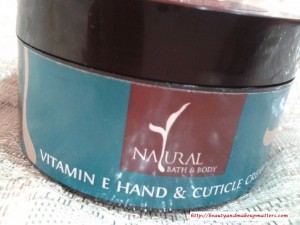 Directions for use:- Wash your hands and Wipe dry. Scoop out to apply on palms and hands. Massage for 2-3 minutes for penetration. Use regularly 2-3 times a day.
Ingredients:- Water, Glcerine, Emulsifying Wax, Cetyl Alcohol, IsoPropyl Palmitate, Lactic Acid, Shea Butter, Vitamin E, Sodium PCA, Allantoin, Potassium Sorbate, Beeswax, Sodium Benzoate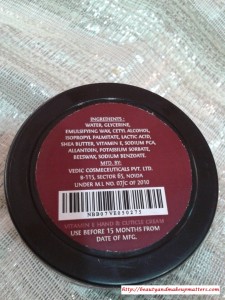 Price:- Rs.275 for 50 ml
Shelf Life:- 15 months from the Mfg date.
Packaging:- The cream comes packed in black plastic wide mouthed tub. It's quite different from the normal cream packaging with glass tubs and colored caps. The cream is covered with a plastic lid but the lid doesn't stay in its place. Sometimes, it gets stuck in the cap otherwise acts as a cover for the cream.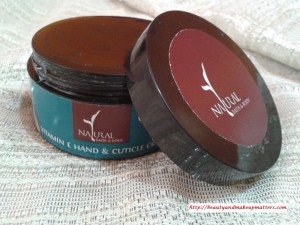 Skin Benefits of Ingredients:
Shea Butter:-Revitalizes, softens & maintains skin moisture. Naturally rich in vitamins A, E and F which are some essential vitamins needed for good skin balance
Vitamin E:-Vitamin E oil prevents the formation of wrinkles by blocking free radical damage. It treats wrinkles by boosting collagen production and supporting new skin cell growth. It provides skin with necessary moisture and effective in treating dry and cracked cuticles.
Beeswax:- Beeswax acts as an emollient and a humectant, drawing moisture to the skin and sealing it in. It offers anti-inflammatory, antibacterial and antiviral benefits. Beeswax also contains vitamin A, which may be beneficial in softening and rehydrating dry skin and in cell reconstruction.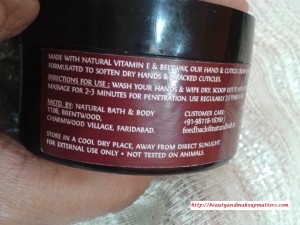 What I liked about Natural Bath and Body Vitamin E Hand and Cuticle Cream :-
The cream is white in color and has a light texture with runny consistency.
Gets absorbed into the skin with a little massage and doesn't leave any greasy residue which I like. It is best to use in summers when most of the hand creams gives a sweaty feel.
Keeps my hands well moisturized and can be used as a daytime handcream.
Leaves my hand super soft and smooth. I love the touch of my buttery soft hands.
Has a mild herbal smell which is not overwhelming.
Contains Glycerin, Shea Butter, Vitamin E, Beeswax which moisturizes and protects skin.
Paraben free
What I disliked about Natural Bath and Body Vitamin E Hand and Cuticle Cream:-
Tub packaging. So, you need to dip fingers to scoop out the product. It is also not travel friendly as the cream has a runny texture and will move all around the tub if not kept properly. I would have preferred a pump dispenser packaging.
Expensive
Availability is an issue. Limited availability on online stores but not sure if it is available in stores.
Don't Miss to Checkout:
Swatches:-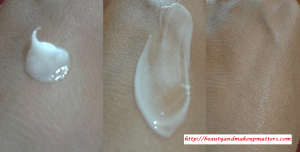 Recommendation:- Natural Bath and Body Vitamin E Hand and Cuticle Cream is a light hand cream which provides moisturisation without making hands greasy. May need reapplication in winters when our hands need more nourishment but it's a decent light-weight summertime hand cream.
Rating:- 3.8/5
Have you tried Natural Bath and Body Vitamin E Hand and Cuticle Cream? Which is your favorite Hand Cream?