Natio Meditate Pink Lotus Hand Cream Review
Hello Everyone,
Today I am going to review a hand cream from the less known brand Natio. I have been missing on hand creams since last year and was using my Bath and Body works body lotions for the purpose but now, I just felt that my needs special care , so i planned to buy a hand cream to pamper my little buddies. I have never heard of this brand but the formula is all herbal and was on sale on Nykaa, so i though why not try this. So, let see how this Natio Meditate Pink Lotus Hand Cream worked for me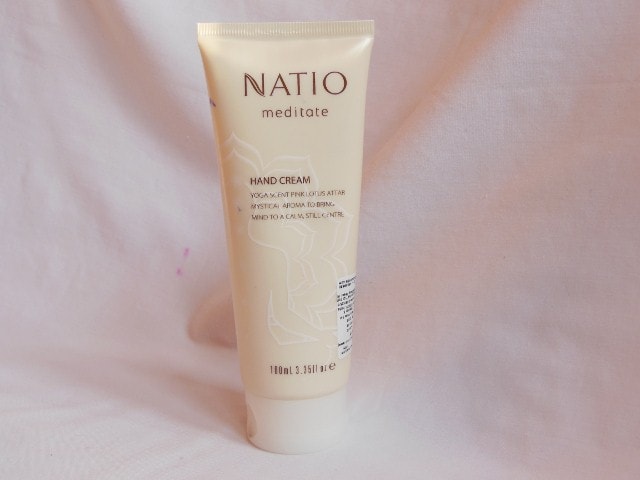 Product Description: Natio presents Meditate Hand Cream which is a great way to treat your hands to an instant, luxurious pampering experience.
Provides Moisture: Formulated using the extracts of aloe and sweet almond combined with the goodness of jojoba, this hand cream provides your hands with intense nourishment and moisturization.
With Pink Lotus Scent: This moisturizing hand cream envelops your hands in a long-lasting, warm scent of pink lotus.
Delights Senses and Awakes Meditation Energy: Imbibed with rich ingredients, this hand cream awakens and calms your senses.
Ingredients: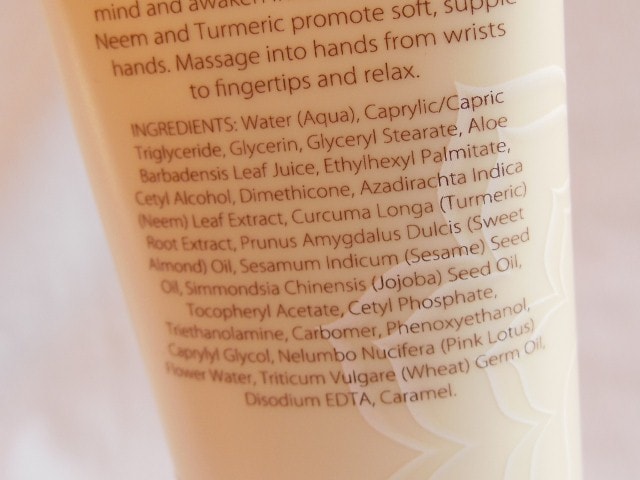 Price: Rs. 595 for 100ml
Packaging: Natio Meditate Pink Lotus Hand Cream comes in a standard squeeze tube packaging with a flip top cap. The cap is sturdy and shuts tightly with a click sound, The tube is quite simple in a pale beige colored tube with nothing bright not even the lotus flower 😛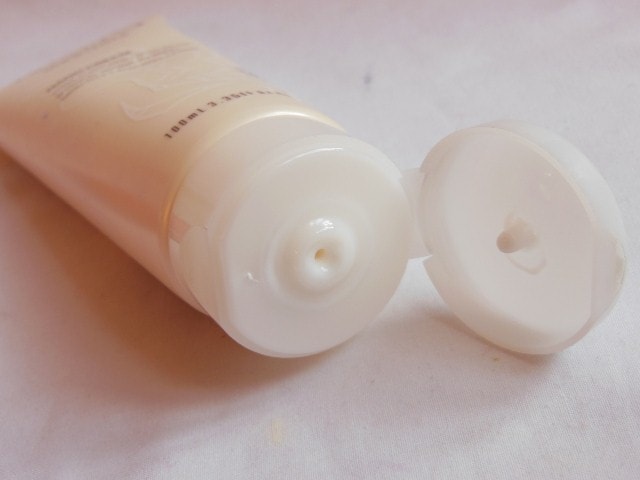 My Experience with Natio Meditate Pink Lotus Hand Cream:
Natio Meditate Pink Lotus Hand Cream is a pale beige colored cream with super runny lotion like texture. It gets absorbed quickly into the skin, unlike any of the hand creams I tried in the past, it is super light and doesn't leave any residue or slippery feeling behind.
The formula contains moisturizing Jojoba Oil and Sesame Oil which are natural moisturizers and leaves hand soft and nourished. It nourishes and moisten hands giving relief from the dryness but it doesn't have any long term effect. If you have super dry chapped hands then you might need a richer cream for the job.
It has a mild herbal fragrance of marigold flower and definitely doesn't have any lotus which disappointed me slightly. I was expecting it to perform better in the fragrance department. The scent however faints within minutes of application so that doesn't bother me but I like my hand creams with a lovely floral scents that lasts long and keep smelling my hand 😉
The light weight formula of the cream makes it perfect for summers. It is great for day time due to its non -sticky, oil free texture.  The cream makes a great daytime application cream but for night I would go for a richer and more intensive treatment for night time. The cream is gone within minutes so don't expect to wake up with super soft hands.
Don't Miss to Checkout:
Pros of Natio Meditate Pink Lotus Hand Cream:
Spreads easily
Light-weight texture
Absorbs quickly
Doesn't feel greasy or oily
Leaves hand soft and smooth
Nourishes Hands beautifully
Small amount is required for each application
Great for summers/day time
Herbal Formulation
Contains Jojoba Oil and Sesame Oil
Cons of Natio Meditate Pink Lotus Hand Cream:
Contains Paraben
Fragrance isn't impressive
Not intensively moisturizing
Requires reapplication after every wash
Not perfect for winter nights
Recommendation: Natio Meditate Pink Lotus Hand Cream is a light-weight cream with lotion like texture that absorbs quickly into the skin without leaving any residue behind. It works wonderfully as a day cream and I can see myself using it easily in summers but for winters I need a heavy formula! I won't be repurchasing this hand cream as I prefer creams with beautiful scents and this one surely didn't caught my fancy. If you have normal skin and want to pick as an easy on the go hand cream this is a good pick
Rating: 3.5 /5
Have you tried Natio Meditate Pink Lotus Hand Cream? Which is your current favourite Hand cream?