My Winter Skin Care Routine
I have a super dry skin and full day centralized heating(blowers) along with harsh winter winds which only worsens the situation and juices out all the moisture leaving my skin rough and dry. So, as the season starts getting drier I have to ramp up my skin care regime with more moisturising and nourishing products. Here, I am sharing my Winter skin Care Routine which saved my skin this season and kept it soft, smooth and moisturised all through winters.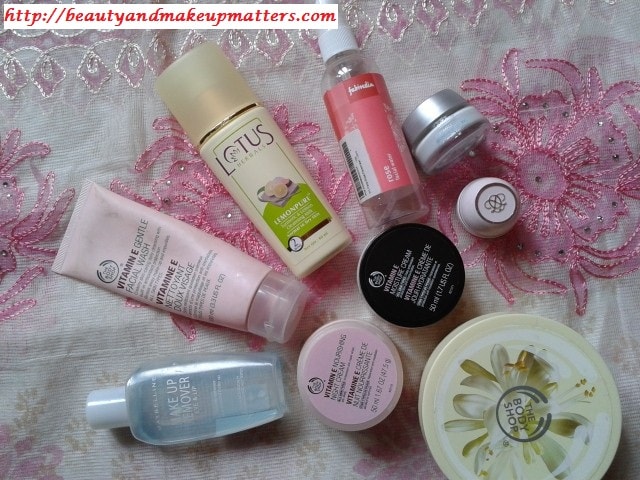 Winter Skin Care Regime
I have included the three products from The Body Shop Vitamin E Range in my skin care this winters and I must say each of them performed really well at keep my skin soft and supple.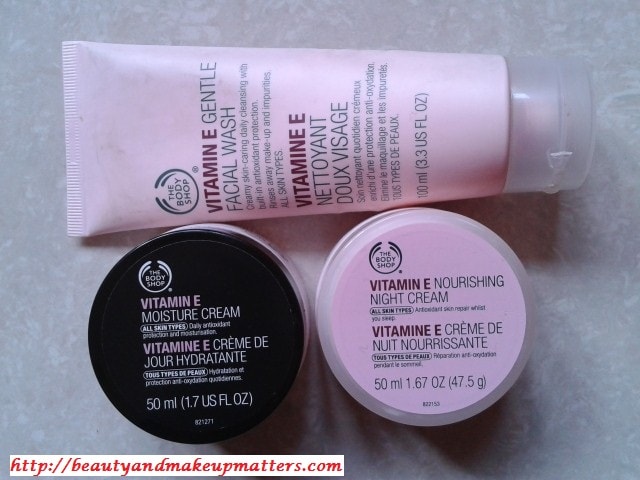 Coming to the Skin care Essentials, routine and the products involved
Day-Time skin care (Dry Skin):-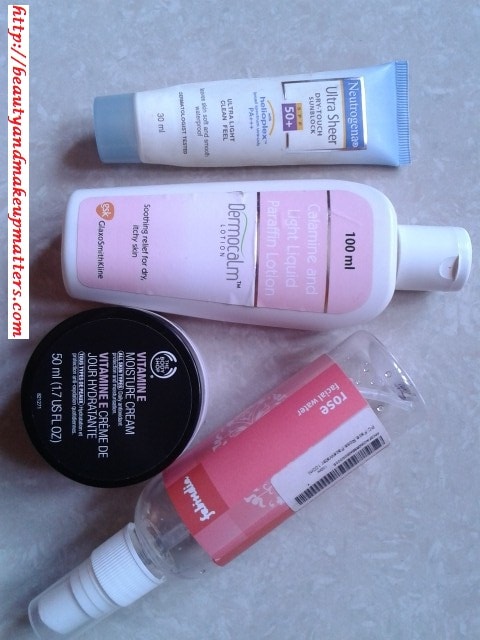 I used

FabIndia Rose Facial Water

as a toner and spray a few pumps over my face and let it get absorbed by the skin. It doesn't leave any oily/sticky layer and prepares skin for the nest step towards moisturization

The Body Shop Vitamin E Moisture Cream

is a light weight moisturising cream. It takes time to get absorbed but doesn't leave any traces behind which make it an awesome day cream.

Dermocalm Lotion

I used it ocassionally, not regularly as it also requires time to get absorbed. So, whenever I had time I followed up with this or some times skipped

The Body Shop Vitamin E Moisture Cream

and directly applied

dermocalm

if I don't require heavy moisturisation.

Neutrogena Sunscreen SPF 50

is slightly heavy and sticky but worked well over Dermocalm and doesn't made me feel uncomfortable in winters. Though I couldn't stand this in summers due to its sticky feel but it works great in winters.
Makeup Removal/Cleansing Routine:-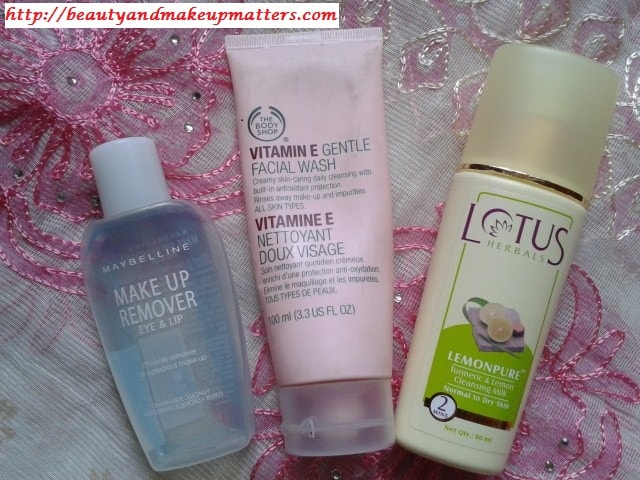 M

aybelline Makeup Remover

does a good job at removing make up 

and takes off even water-proof make up without much fuss but for that I need to a generous amount of this remover. It is great at removing eye makeup as it doesn't sting my eyes at all.

The Body Shop Vitamin E Gentle Face Wash

is a rich creamy face wash which doesn't lather much but removes all the impurities from the skin without ripping it off moisture.

 

Lotus Herbals Lemon Pure Cleanser

when 

I go for Water-proof mascara and heavily kohled eyes. I could see their traces on under eye area which starts appearing after face wash. So take off the residue, this is the final step for my cleaning routine. Just a small amount of this creamy cleanser to remove the last traces of makeup.
Night-time Skin Care (Dry Skin)-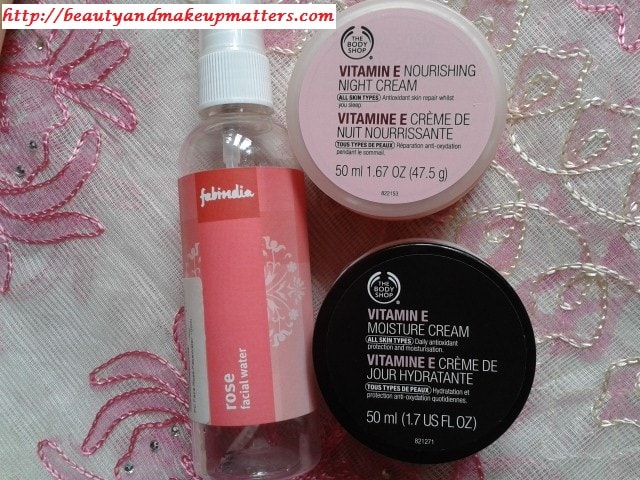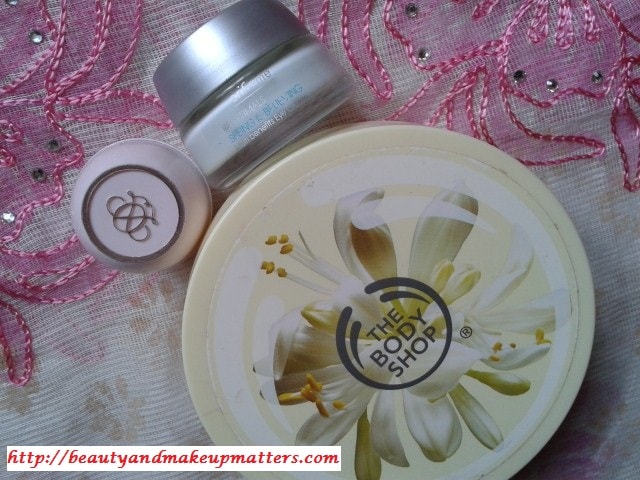 I start night skin care with toning my skin using

FabIndia Rose Facial Water.

Toning is followed up with a heavily moisturizing

The Body Shop Vitamin E Nourishing Night Cream which deeply nourishes my skin. It may feel a little greasy but as it doesn't break me out, I am okay with it. I sometimes alternated it with The Body Shop Vitamin E Moisture Cream.
Oriflame Seeing is believing Multi-Benefits under Eye Cream

completes my facial skin care by providing nourishment to my under eye area. It gets absorbed quickly and doesn't leave any oily layer behind. It isn't a miraculous products but does a decent job at keeping my under eye area healthy.

Oriflame Honey & Bees Wax – Color less lip balm

takes care of my lips during night. It is a colorless lip balm which claims to contains Honey & Bees wax for tender and soft lips.

I have finished up my

 Natural Bath and Body Vitamin E Hand cream last month and for the time being using The Body Shop Moringa Body Butter.

It moisturises both hands and feet well making them soft and smooth. I enjoy its lovely flowery scent too.
So, this is my skin care routine for winters which helped me in ditching rough and dry skin. It brought back the softness and retained nourished and healthy looking skin.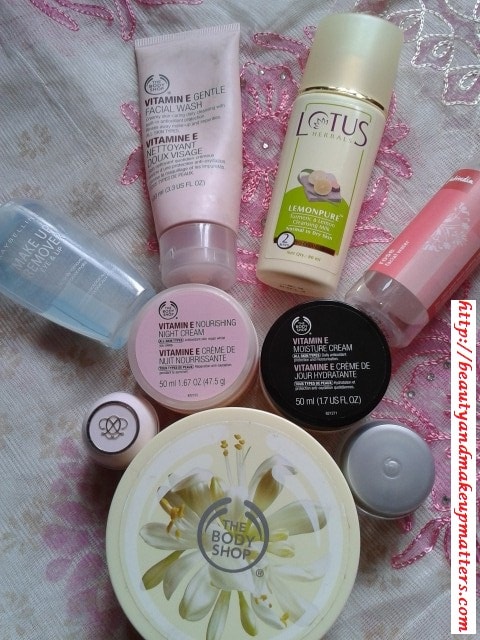 What is your Winter Skin care Routine? Which products are helping you on bringing back the rosy glow to your cheeks? Share your thoughts through comments!