My Make Up Brush Set Fast Hair Straightening Brush
I have to admit that I am the laziest person when it comes to styling hair. I just don't have the patience to spend hours to curl or straighten up my tresses. And even If I want to I just don't have any time left to style my hair. But if styling hair is as easy as combing I am game for it. My Make Up Brush Set Fast Hair Straightening Brush claims to straighten hair while you brush your hair.. lets test it out and see if it does work!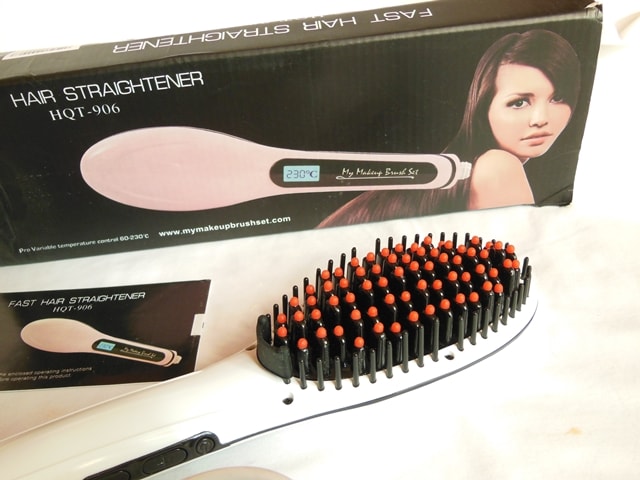 Product Claims: This revolutionary Hair Brush Comb will have your hair straight, silky and soft within minutes.  Designed to drastically reduce static and protect against burns, this straightening brush will reach temperatures up to 230°C, keeping the heat exactly where it needs to be, leaving you with salon-quality results in no time! 
It uses advanced technology to ensure an effortless and tangle-free styling experience, making it simpler and quicker to straighten your compared to traditional flat irons or blow-dryers.  Equipped with a digital LCD temperature display screen, and customized settings which allow you to adjust the temperature for quicker straightening or added volume!
 Best results when used on hair that has already been washed and dried.
Features:
Ready to straighten in just 30-60 seconds
Brushes & straightens hair 
Easy to read LCD display
2 in 1 – Brush and Straightener
Faster straightening time
Leaves hair just as straight
Provides volume to your hair
Never have burned hair
Power: 60W-100W
Power Source: Electric
Diameter of thermal conductor: Less than 15 mm
Applicable hair: Dry
Thermostat Adjustment Segments: 10
Certification: CCC
Dimensions Of Heating Plate: 90x24mm 
Voltage: 100-240v (Dual voltage)
temperature:120 °C
Temperature Controller: Thermostatic
temperature: 230°C
Material of thermal plate/bar: Tourmaline ceramic
Power Cord Tail Assembly Mode: 360° Rotatable
Price: $39.99 ( Buy here – Code – DISCOUNT10%OFF)
Available in 2 colors
My experience with My Make Up Brush Set Fast Hair Straightening Brush
My Make Up Brush Set Fast Hair Straightening Brush is like big hair brush with wide bristles in the middle and an electric cord. Unlike regular hair brushes, the bristles of this Straightening brush are thick and wide as they will get heat up and will work on straightening out the hair strands as it runs through them.
For a hair brush, this hair straightening brush is quite big and a little bulky to handle but its manageable. It has 3 control buttons which are placed on the edges of the handle and sometimes they get pressed accidentally. The temperature display is at the back of the handle of this hair straightening brush which is fine.
I like that the bristles have thick rubber tips which are very gentle on scalp and actually feels like I am massaging my scalp. Ho
Results:
Coming to the actually efficacy of this Hair Straightener brush. I used it on clean tangle free hair and it runs through with a little effort. I feel the broad bristles makes it slightly difficult to get an easy swipe but it is still pretty much smooth.
How to use Hair Straightener:
The best way to use this brush is to comb hair in advance and while you are doing so, just plugin the hair straightener so that it becomes hot and ready to use.  The brush starts working out on straightening the hair with first few combs but to get decent results I have to go through a particular section of hair multiple times. It takes almost a total of 20-30 minutes to get every strand of hair covered and the results are pretty impressive. With this I can straight hair at home easily
The hair straightener is great option for novices like me who can't deal with flat irons and might end up burning herself. Getting straightened hair is as easy as coming the hair. If you are still not sure how to straighten hair at home try this!
Hair Straightening Tips:
Brush your hair with a regular brush/comb so that they are tangle-free and it will be easy to use the straightening brush.
While you remove tangles from your hair, plugin the straightening brush so that the bristles gets heat up and you can start using it.
Also, apply a good leave in hair serum/ heat protectant on your hair so as to reduce the heat damage.
Recommendation: My Make Up Brush Set Fast Hair Straightening Brush is a great option to get straight hair by just running the brush through your hair. The brush is quite easy to use but you need to follow some rules for effective results and better experience. Like, combing hair beforehand and getting it heat up in advance. The results aren't as spectacular as flat Irons but It pretty much tame the frizz and give a smoother, shinier look to the tresses. If you are planning to try your hands at Straightening your hair without hurting yourself, it is a safe option.
Don't Miss to Checkout:
Have you tried any such Hair Straightening brush? Which tool do you use to style your hair?
PS: Product sent by brand for consideration but honest and unbiased opinion