My Latest Crush: Burst of Happyness Rose Crush Deodorant Cream
Hello Everyone,
I will admit something today – I have seen girls going gaga over Deodrants and using cans of them everymonth and almost getting a shower in the spray if they are going out .. ( All this happened in my Hostel) but frankly spreaking I have never been into Deodrants… I seriously wanted to get addicted to them and tried a few like Nike, Eva, Spinz and all that blahh.. Liked them for somedays but then found them were lying in drawers unused for months.
Firstly, I never liked applying Deo's directly onto skin because I have heard that they can be a cause of CANCER.. and I was like .. noo.!!! They are too dangerous to be put on directly. Also, I have seen cases of irritation and allergy.. isshh damn scary you know
Secondly, most of the deodrants smelled similar to me.. ( I haven't tried many though) and the Staying power is just too bad so I see no point of going gaga over some. I guess few of them were there for minutes after which the scent goes undetected while some still performed well and lasted an hour .. but that wasn't enough for me!
For the mention I haven't been a fan of Roll-ons as well.. they were better than spray ones but the CANCER thingie was just too scary to use them on my arm pits 😛
So much of rant in the beginning of the post.. eeeehhh!! Well, all of this because I am going to change my perception and give deodorants a second chance but this time it is going to be all natural.. yesss .. you read it right a natural deodorant made with only good ingredients and no alcohol or other such chemicals that always put me off.  Well, it is none other than the newly lauched Deodrant cream by Shreya from Burst of Happyness in collaboration with Ankita from Corallista.com ( My favvv.. blogger <3 ). Lets check out this unusual stuff, Burst of Happyness Rose Crush Deodrant Cream.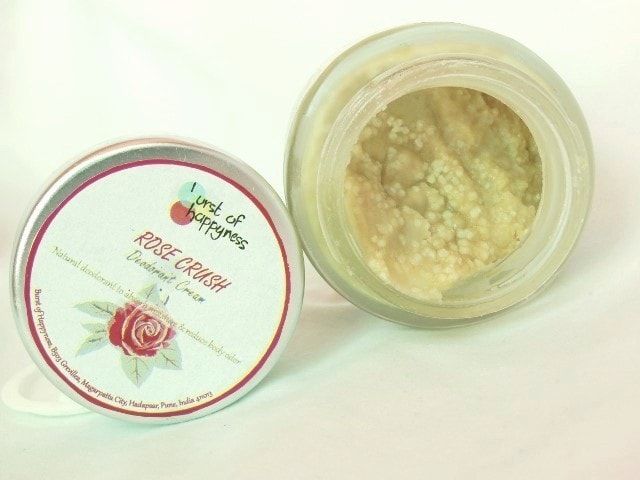 Product Claims: A potent natural deodorant cream in a super dry formula which helps to eliminate body odour and inhibit bacterial growth. The long lasting lingering fragrance of fresh roses is an experience. The scent has been designed by Ankita from Corallista.
"There is something so beautiful, feminine and classic about the rose scent. And patchouli lends a lovely warmth and earthiness to its floral element. The herbaceous note of the patchouli tempers down the heavy sweetness of the rose but doesn't take away from its delicate nature. The combination of the two is magical to me and this deodorant has now become a staple in my daily routine!"
Baking Soda has natural deodorizing qualities
Arrow Root Flour helps to absorb moisture.
Cocoa Butter is rich in vit E and offers great moisturizing benefits
Kokam Butter has anti-oxidizing properties and keeps skin soft.
Sunflower oil is a light oil which is easily absorbed and it offers anti inflammatory properties
Essential oils make sure that your pits smell good all day long!
This deodorant cream contains no water, therefore doesn't need ANY chemicals to preserve, emulsify, thicken, etc. . It is all natural and free from aggressive chemicals like parabens, aluminium compounds, which are linked to various health issues.
PS: This product is palm free, vegan, not tested on animals, truly natural and free from any chemicals or preservatives. It has been made from scratch using simple ingredients with extraordinary benefits. Due to the handmade nature of my product, every piece is unique and varies slightly in shape, colour and weight.
Direction for Use: Scoop a little with your finger and gently massage into your underarm till it is completely absorbed. Some separation is normal, stir well before use.
This product is not anti perisperant so it does not prevent you from sweating.
Note: Some people may be sensitive to Baking Soda especially after waxing/shaving. In that case we suggest that you refrain from using this deodorant cream. It is normal for the body to take a few days to adjust to a natural deodorant. In some cases, people may experience mild irritation. Please perform a patch test before use.
Ingredients: Sodium BiCarbonate (baking soda), Arrow Root Powder, Kaolin Clay, Sunflower oil, Veg  Glycerin, Cocoa Butter, Kokam Butter, Essential oils (Rose and Patchouli)
Price: Rs.480 for 50gms
Shelf Life: 6 months from the Mfg date.
Packaging: Burst of Happyness Rose Crush Deodorant Cream is packaged in a thick glass jar with a silver metallic screw lid and a rose image on the top <3. I liked that there is another plastic lid to protect the formula from spilling over the cap but it a bit loose to do the job but anyways.. the cream is almost in a thick buttery form which wouldn't move until scraped so its okay! I really liked the packaging for its lovely feel with heavy glass jar though you got to be safe with it but I prefer glass over plastic so yayy!!
My experience with Burst of Happyness Rose Crush Deodorant Cream:
Burst of Happyness Rose Crush Deodorant Cream is not like the usual cream or solid perfumes you might have seen rather has a solid texture almost like a frozen butter with with grains which is due to baking soda and needs to be scraped out of the jar but just rub it into the skin and it melts completely. I can actually feel the grains during application which is not the nicest thing but its just all natural (nothing bad) so I am good with it.
If you think it is going to be greasy or oily due to the presence of oils in it.. then you are wrong baby because it doesn't feel that way gives slight hydration to the applied area but it does leave some residue which I guess must be baking soda which doesnt get absorbed into skin.
I was super excited when I got this package in my mail and in a hush-hush I started tearing out the packaging just to get hold on to this cream and then came the moment when I unscrewed the lid and I smelled nothing but roses!! For a moment I forgot I am holding this Rose Crush Deodorant cream and was wondering who came in with such a mesmerizing scent :P.
This Rose Crush Deodorant cream smells heavenly with the best ever combination of Roses and Patchouli ( Great work by Ankita on the scent <3). The fragrance is on the stronger side and I just love it for that, though it lightens up in few minutes and doesn't feel overwhelming at all. I feel so rosey and fresh with this.. sometimes when I don't want to use it as a Deo I just rub it on my hands or arms just to be surrounded by its gorgeous scent.  If you love roses you will love this Rose Crush Deodorant cream!
I don't have a major Body Odour issue but I feel it can very well control that by its strong rosey scent. Now, coming to the most important part of the Deodorant "Staying Power" and I am so happy to say that it does last long.. yeah longer than any of the usual deos I have tried in past :P. It lasts for 3-4 hours if you are perspiring profusely like in a gym or shopping on streets ( though I think it is not a scent that should be worn to gym.. so lets just say Shopping 😉 ). It lasts even longer if you are indoors.. I put it on before hitting the bed and I could smell it next morning.. wooww!! Super –Impressed 😀
I keep reaching out to this Rose Crush Deodorant cream whenever I am bored and wanna smell roses! 😀 I have already said a lot about fragrance and all but trust me I can keep going on and on. :P.
Other good things about this Deodorant Cream ( mentioned above as well) is that its all Natural, Vegan and handmade and no animals are harmed in the process.  Though if you have sensitive skin or you are allergic to any of the ingredients do a patch test before application.
Recommendation: Burst of Happyness Rose Crush Deodorant Cream has the best ever rose fragrance mixed with patchouli for a calming effect on senses. The thicker cream texture needs to be scraped but it melts quickly leaving behind that amazing scent with powdery residue. If the texture had been smoother ( those baking soda granules though :P) I would have loved it even more but I am used to it now and I am just OBSESSEDDDD with its scent. Strong intitally but long lasting.. my types only 🙂 .

Do I need to say more.. Go Grab this baby 😀 Highly Recommended!!
Rating:- 4.5/5 ( -0.5 just for the grainy texture and residue which is inevitable though :P)
Have you tried Burst of Happyness Rose Crush Deodorant Cream? Would you like to replace your Deodorant with the natural formula?
 PS: Product sent by brand for consideration