My First Trip to INA Market and Dilli Haat!!
Last week, we covered another part of Delhi in the search of some mysterious food stuff like "Cream of Tarter" doesn't it sounds like a secluded historic place. Any how, we took the most trusted (read safe) transport system of Delhi the Delhi Metro and got down at the INA station. After walking though the lobby showcasing art forms from various states of India and stepped into the market which is just outside the exit gate.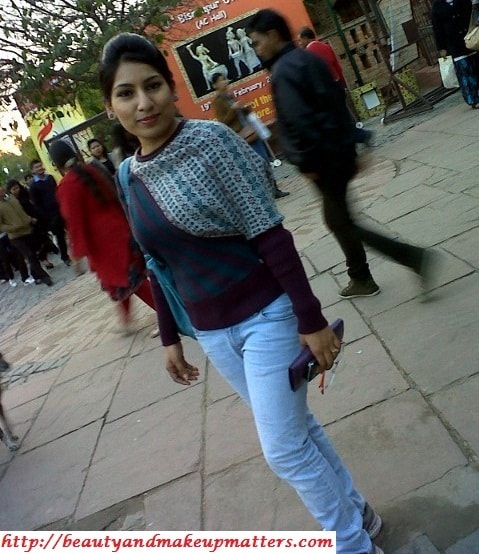 The market is huggeee and I swear I have never seen so much food stuff all at one place. No matter how huge the shop is but everything is well displayed that you just need to roll your eyes to catch up with the one you want. I am not much into food and live on khas-fhoos (vegetarian) and home made stuff to put a tab on my weight always but I will be a dream land for Non-vegetarians. One can get all sort of imported food stuff there including Canned food, imported chocolates, and tons of others.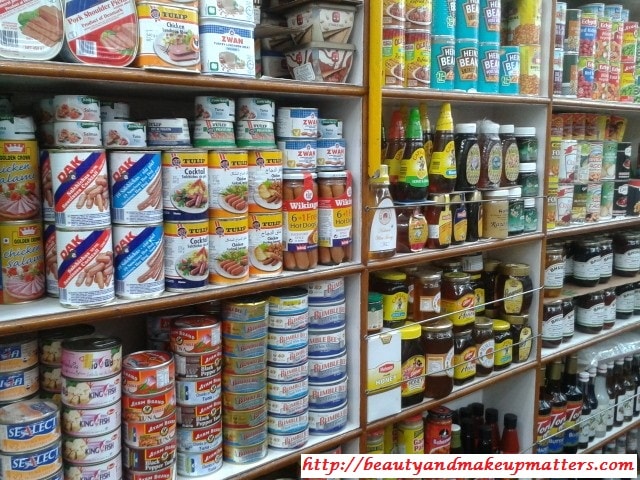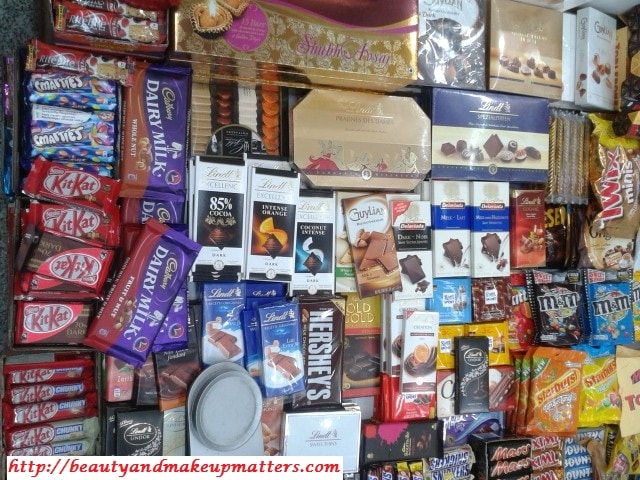 There are lot of options for vegetarians also but all I could see in there s "FAT" but thanks to my lovely sister now I know where to go if I want some alien/unknown food material. Also, I could spot imported skin care items (Shampoos, Body Washes and lots of others) in those well-arranged shops but wasn't tempted enough to buy something.
It was a Bad Nose day for me as there was a stinking fish smell. It is so fishhyy ohh goddd…my nose sucked big timmee…
Shopping in incomplete without roadside food so had a plate of Momos and I must say they were the tastiest one's I have ever had. They were almost double the size what I normally had with lots of stuffing and so spicy that it made me cry, may be for the first time due to "Mirchi". But I just lobbeeddd them. I was feeling full just after 2…wanted to drink gallons of water but had no space left !!
Bought some studs from a road side stall and headed to Dilli Haatt..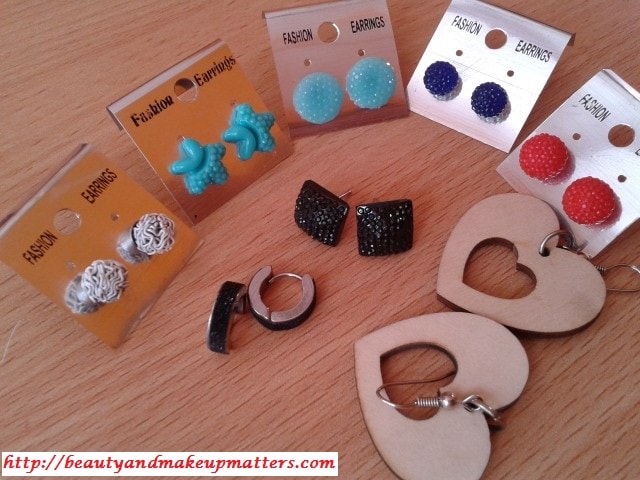 I have been in delhi or around for almost 7-8 years now but never got a chance to visit this place, but today though we were short on time and had only few minutes in hand I didn't want to miss this chance and made my first visit to "Dilli Haat". To reach that place just enter back into the metro station and exit from Dilli haat exit gate. It was just 2 minutes (or may be 1 ) walk towards the Petrol pump.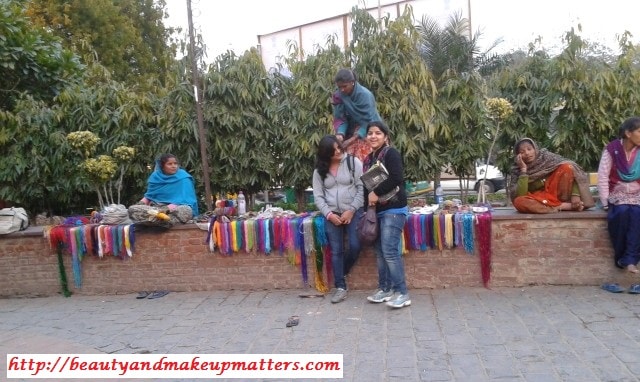 In the campus there were number of aunties doing hair beading but as we both didn't had the head washed so gave that a miss but will be getting it done next time for sure. The entry ticket was just Rs20 (just FYI :P). The only shops that interest me there were Junk Jewellary.. Checked out a few and got these for myself.
1) I am LEO so this Sun is meant for me only..2) Loved how it looked on me!!

But other than that you can find lots of decoration stuff and Idols made of metal.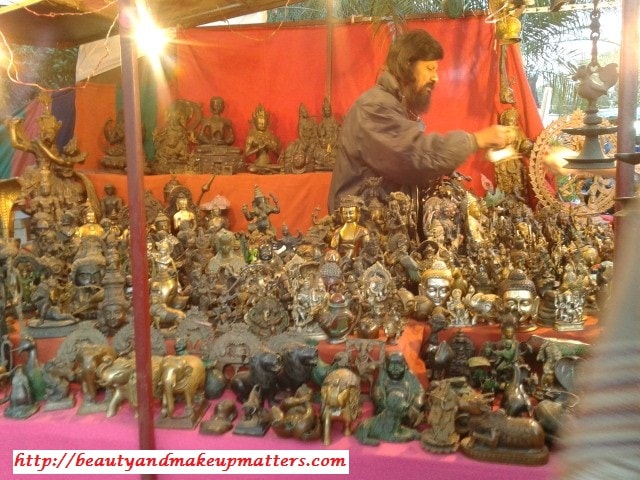 There was Man drawing live sketches…it was an absolute delight to watch him. I would have loved to get myself painted but there was a waiting so added it for my next visit must try list!!
Other interesting stuff that we found were Hand made Leather note books and hand painted wall clocks.
The pleasant weather added to the beauty of that place.. loved my first visit there but next time it is going to be a full day outing.. 😛 and definitely with head washed so that I can get that hair weaving done.
This is what all I got from that place!!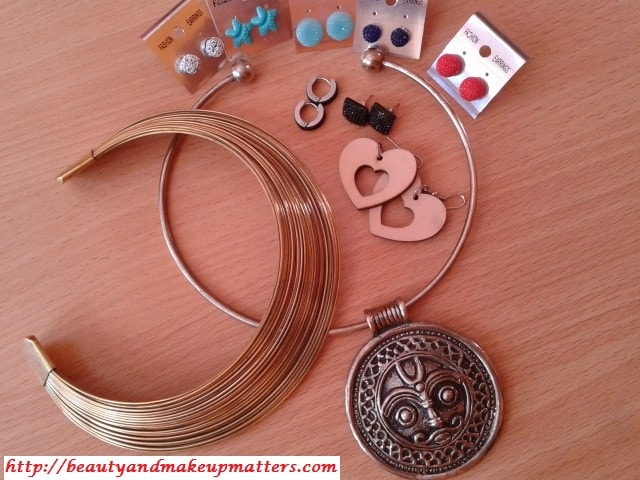 Me and my cousin!!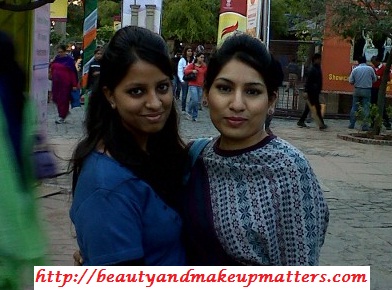 Till then bye  byee "Dilli Haat" 🙂
Don't Miss to Checkout:
Have you been to Dilli haaat or INA? Do share your experience through comments!! 🙂