My Envy Box March 201
Hello Everyone,
Today I will be sharing another beauty box with you, "My Envy Box" March edition which is a pretty mint green colored box this time. I fell in love with the color of the box instantly. 😉 . Like always, all the contents of the bag are packaged in a hot pink Satin Pouch. So, let checkout what all I got in My Envy Box March 2015.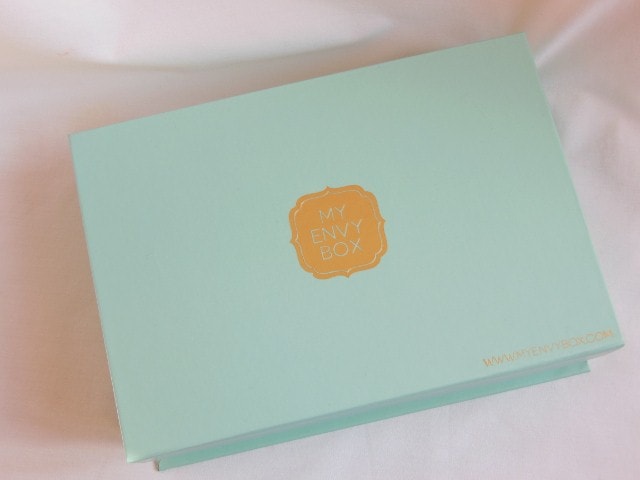 Price: Rs. 850 per month
Contents of My Envy Box: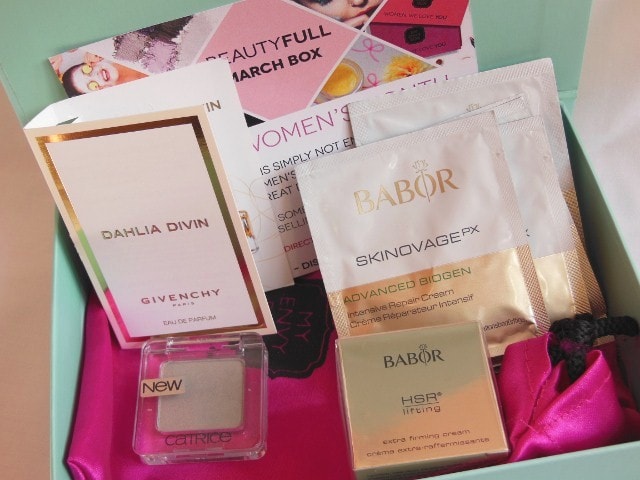 Givenchy Dahlia Divin Eau De Parfum: (Rs 6775/50 ml) – I love perfume vials as they give me a chance to test the fragrance before investing in full bottle and they can be great companion during travels where you can't carry a full sized one. Givenchy Dahlia Divin Eau De Parfum has a soft warm wooden scent with slight spiciness that doesn't feel overwhelming. I like such wooden oriental scents over sweet-floral so this one just smells perfect to me.
Catrice Absolute Eye Colour- Dorain's Gray: (Rs 445 2gms) – The only full sized makeup product in the box. I got the eye shadow in a muted gray shade with almost matte finish. I like the sturdy and see through packaging of the eye shadow.
Babor Extra-Firming Cream: (Rs 11999/50ml) – Babor Extra-Firming Cream would be the most expensive cream I would have ever had in my skin care stash. The full szed product has such a beautiful packaging but the price just gave me a mild heart attack. It is an anti-ageing product which claims to improve skin's elasticity and prevent fine lines and wrinkles making the skin look firm and youthful.
Babor Intensive Repair Cream: (Rs 4900/50ml) – Another Babor product in the box, I got three tiny satchels of this cream. It is a daily moisturising cream that will help in skin renewal leaving skin smooth, supple and even-toned.
Babor Daily Calming Cream (Rs 4900/50ml) – Yet another Babor product with three tiny satchels of this cream as well. This cream is suitable for sensitive skin and helps in calming down any redness or irritation.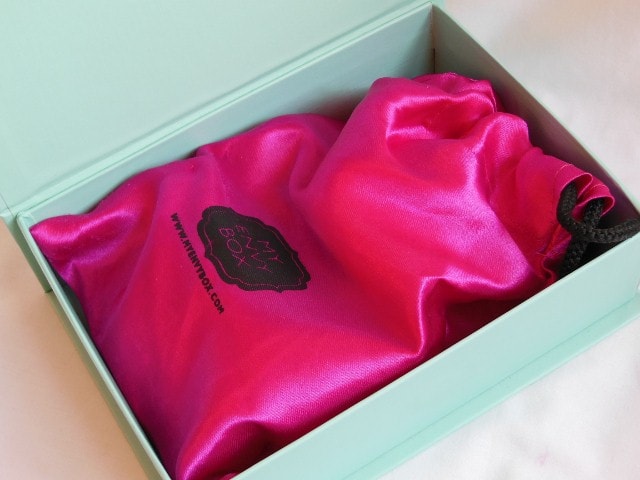 Also, a 15% off code on any full sized product, 'ENVYWOMAN' accompany the box So, that's all I got in my March My Envy Box. This box is again more of a skincare box like last month's My Envy Box with 3 skin care products and all from the same brand "Babor".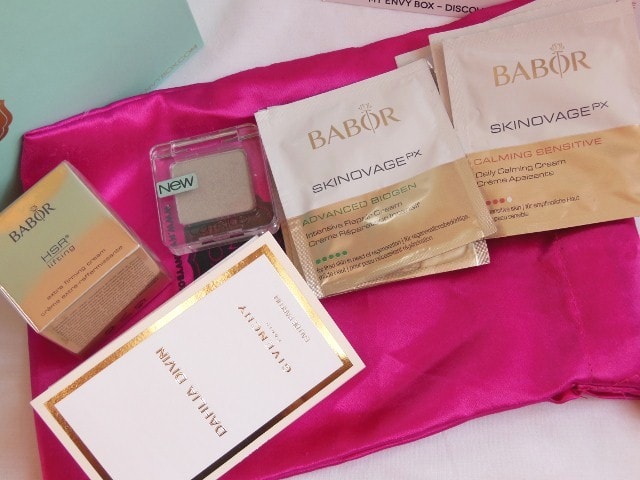 I loved the inclusion of luxury brand "Babor" in it but would have liked it better if I got tiny tubs instead of those satchels. Also, I liked that pretty Catrice eye shadow in the box but would love to see more makeup than skincare in the box.
How do you liked My Envy Box March products? Which is your favorite Beauty Box service?
PS:Bag sent by brand for consideration