My Diwali Outfit, Poses, Lights and more..
Hello Everyone,
Hope you all had a wonderful "DIWALI".. 🙂
I told you about my Lehenga hunt few months back, well the search has came to an end. It has been an exhausting experience, as I hunted down almost every shop in Chandni Chowk, South-ex but couldn't find a single piece matching my expectations. It's only a single Lehenga that caught my eyes in Dalmia, Chandni Chowk but I hated the Blouse and Dupatta combo.
I was all set to get one stitched, but again that was quite risky as I couldn't be sure if it will turn up any good but thanks to Mother-in-Law who made this tough task easy for me. She is like an God sent angel.. 🙂 🙂
She knew what kind of Lehenga I have been looking for and when she went to Mount Abu, Rajasthan for a family outing last month there she saw this beautiful Lehenga fabric on a local shop. She shared the Lehenga pictures through wats'app and I immediately agreed. Actually that shop is a small scale manufacturers of Lehengas like this not the Bridal or heavy ones. (If any of you want to know the details about that shop, let me know will share the details).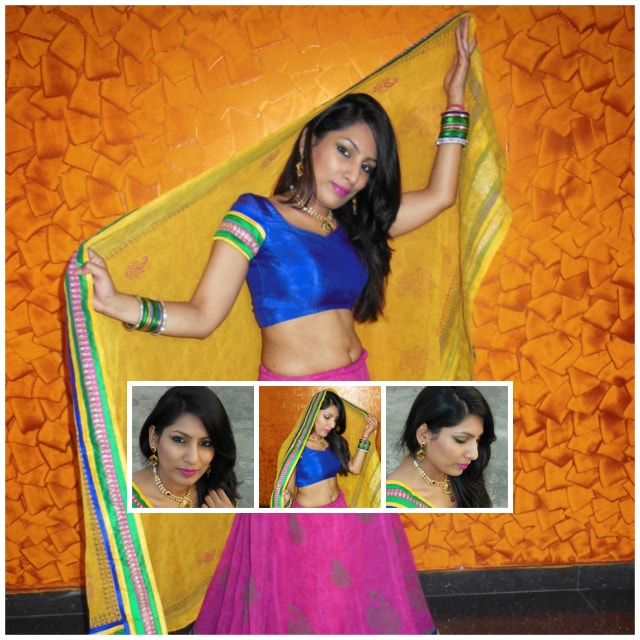 I loved it to the core, Fuchsia pink bottom, Navy Blue top and that bright yellow Dupatta with a beautiful border. I couldnt have asked for more and girls if I tell you the price you will be surprised.. its just Rs.4000.. Isnt it amaing!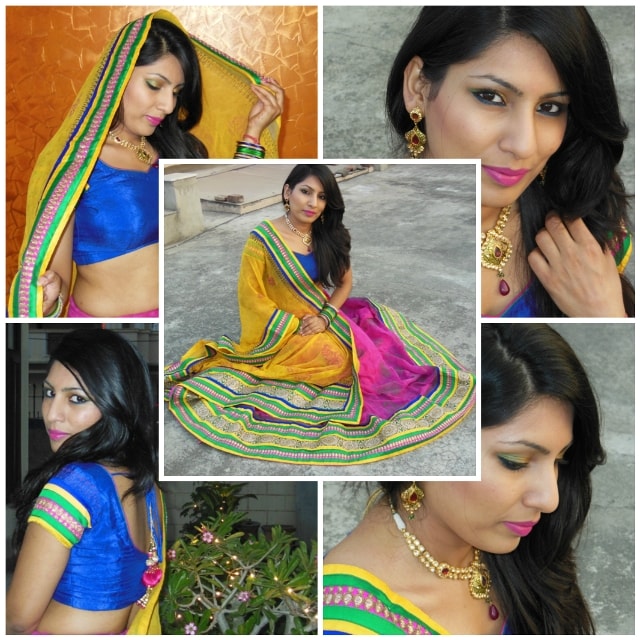 I got it stitched from my nearby tailor and it turned out to be the lehenga of my dreams. Next task was to get the tussles for the blouse and Lehenga, searched a lot but couldn't get exactly the one's I was looking for. I wanted something similar to pink one's in navy blue for Lehenga for a complimenting look but no success so painted the golden ball blue with my favorite  L'Oreal Nail Paint – Rebel Blue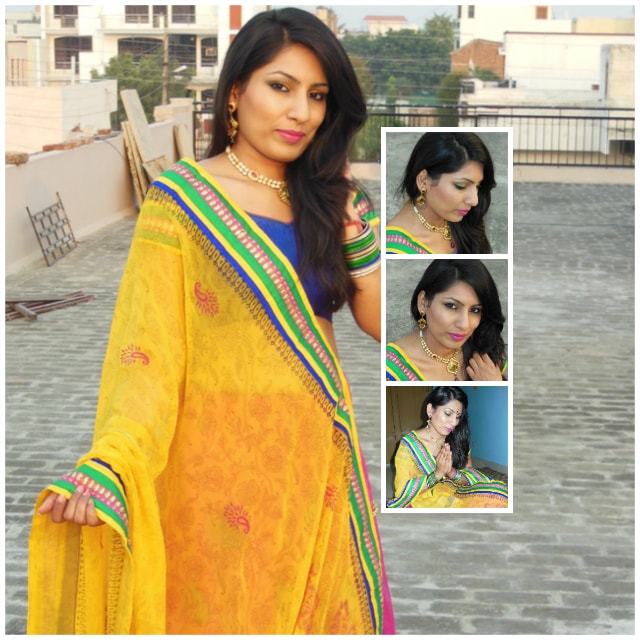 After an exhausting day, I started to get ready but didnt knew what to do with dupatta so let it loose. ;). I didnt have much of the close shots as he just refused to click more …. errgghh!! 😛 😛 
Hair weren't doing me any favor, the roots were oily and couldn't do my signature puff style so let them free as well. For eye makeup it is again the same Golden-Green eyes I shared the Eye Makeup tutorial on Karvachauth , just added a Navy blue liner on the lower lash line to go with my lehenga. On lips it is Neon Pink Lipstick shade from INGLOT Freedom System Lipstick Refills #53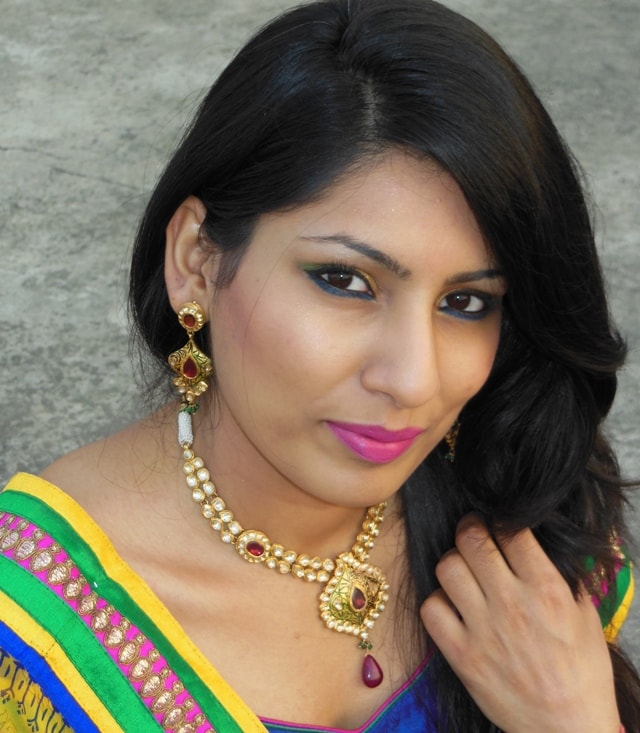 For cheeks, its the  Colorbar Peachy Rose Blush, topped with NYX Illuminator in Chaotic. The makeup base is Lakme CC Cream
Few more shots.. 🙂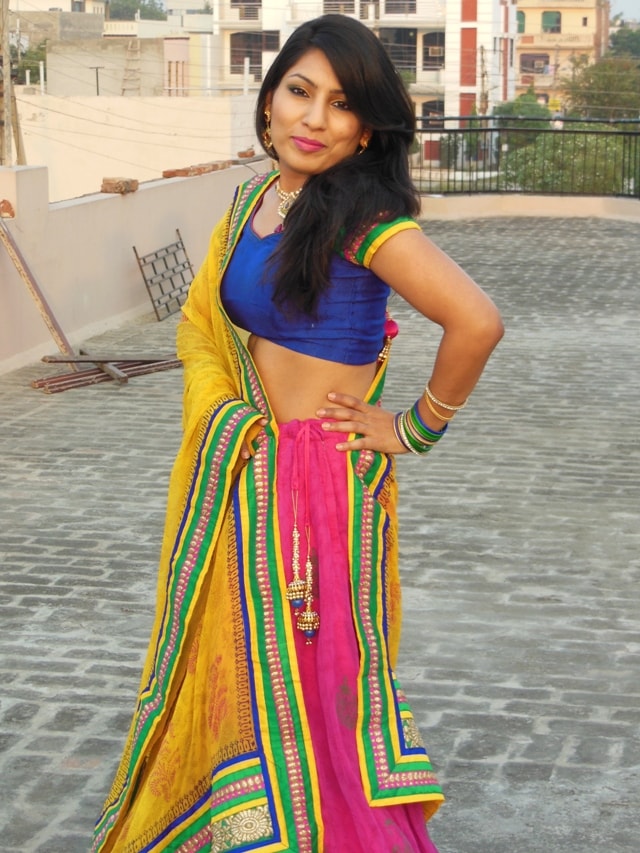 Ignore my tummy flab here.. 😛 😛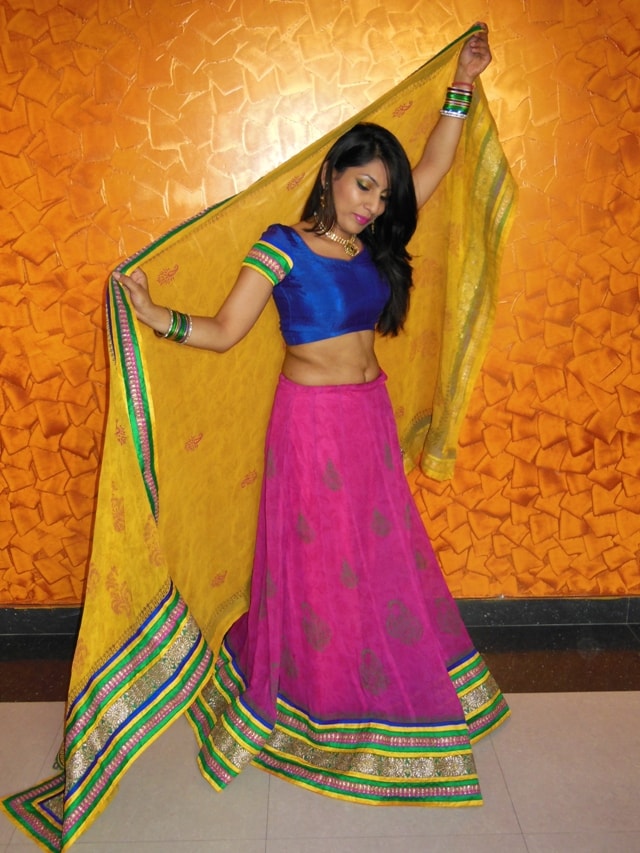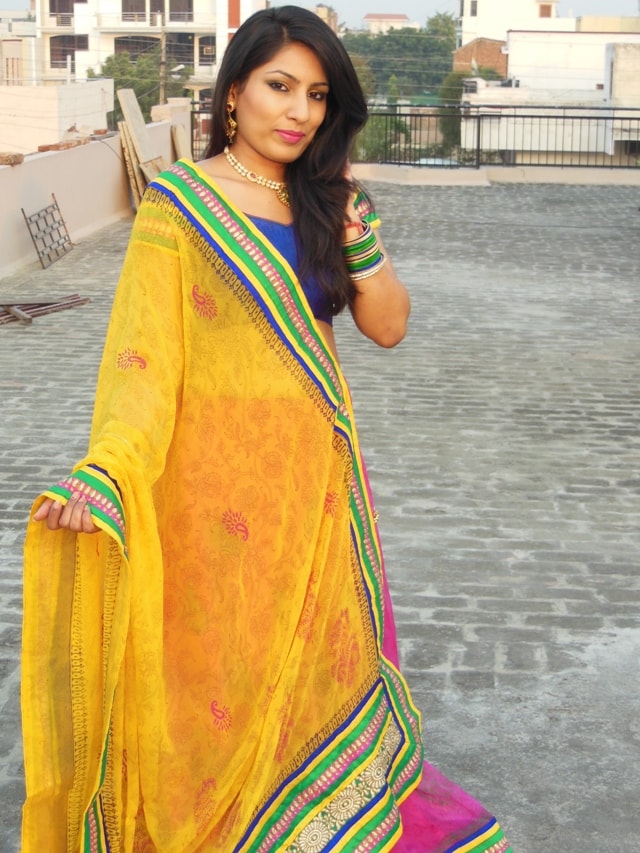 Me and the lightss.. 🙂 Forgot the Bindi earlier.. 🙁 🙁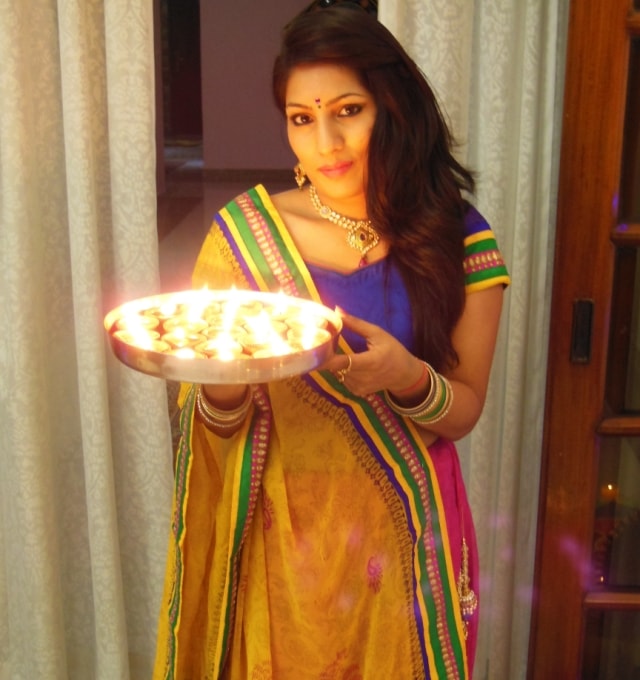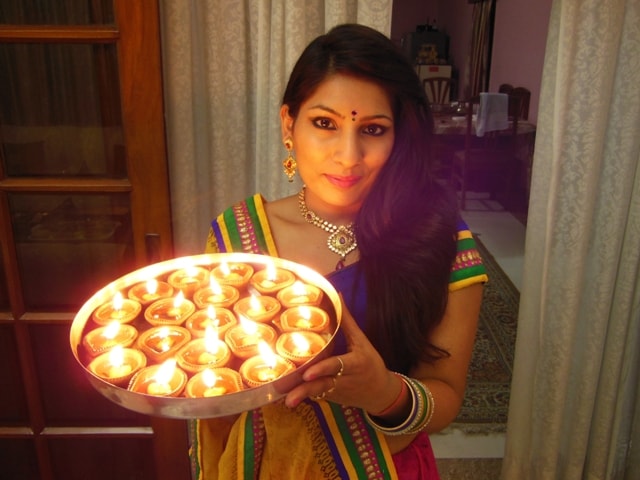 This is the lehenga that I will be donning on my cousin's wedding next week, so this was sort of trial. I want to get a waist belt for this one as well but not sure where could I find one! Any suggestions for the design or the place to get ?
Don't Miss to Checkout:
Sorry for making this post picture heavy but hope you liked it! 🙂 .