Monthly Makeup Favourites โ€" March 2015
Hello Everyone,
Itโ€™s time to bid good bye to March and gear up for yet another exciting month. The best thing about April is it starts on such a funny noteโ€ฆ yeah โ€œApril Fools dayโ€. ย I used to be super excited for this day and try my best to fool as many people as I can. I keep thinking of new dramas and tantrums to make things work.. ;). Have you ever celebrated April foolโ€™s day ?? Any special plans to fool your loved ones tomorrow?
Before we kick off for April, letโ€™s wrap up March and have a look at the products that I loved this Month: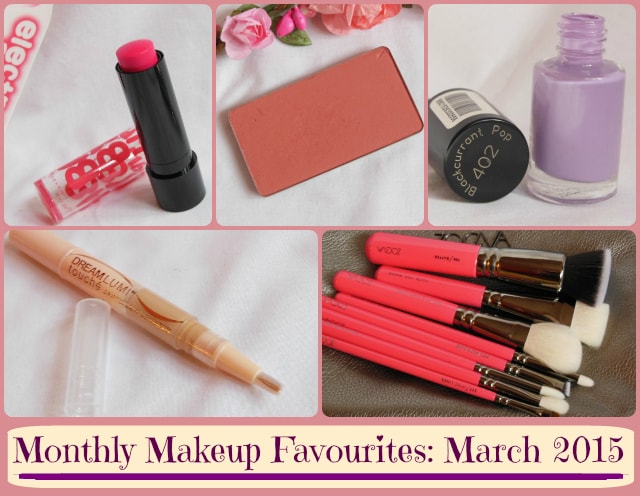 March 2015 Makeup Favourites:
Maybelline Baby Lips Lip Balm Pink Shock: A bright fuchsia pink tinted lip balm with buildable color coverage that gives lovely pink color on my pigmented lips. The formula is smooth, hydrating and non-sticky which doesnโ€™t look gooey or patchy even after multiple applications. The Lip balm has surprisingly replaced most of my pink lipsticks and has become my go to lip color these days.
INGLOT Freedom System Powder Blush #27: A beautiful peachy pink blush with finely milled formula. It has a satiny smooth feel which applies and blends easily on the cheeks. It is intensely pigmented but blends quickly to give soft natural pinkish-tint to the cheeks. I love that it doesnโ€™t have flat matte finish but a satiny sheen that looks a lot better.
Maybelline Color show Nail Paint Blackcurrant Pop– A soft pastel purple /lilac shade in a crรจme glossy finish. The polish applies smoothly and gives an even application. It shows a bit sheer in a single stroke but with 2 it builds to an almost opaque finish and gives a smoother and richer application. BlackCurrant Pop is a perfect summer shade.
Maybelline Dream Touch Lumi Highlighting Concealer Honey: A light coverage under eye concealer that doubles up as skin highlighter. It can be used over your regular under eye concealer for a brightening effect. The thin texture and easily blend-able formula makes it great option for layering over the products. It contains subtle pearly shimmers, barely detectable on skin but adds a lovely natural glow. I love the way it brightens up my under eye area.
Zoeva Pink Elements Brush Set: An amazing brush set with 8 brushes, a combination of face and eye makeup brushes. It makes a great beginners brush kit with high quality that are extremely soft and doesn't shed much. Zoeva brushes are extremely soft and work wonderfully. Overall, great quality brushes at affordable prices.
Donโ€™t Miss to Checkout:
What are your favorite Makeup products this month? Have you tried any of the products from my favorites list?
PS: Looking forward for some amazing tips to fool people tomorrow ;). Do share your best trick or experience being fooled on 1st April ๐Ÿ˜€