Monthly Makeup Favorites @ March 2014
This month I tried to skip this post and sneak through in April without sharing my favorites of the month but thanks to Deeptima for tagging me in March favorites post. So here is the list of my love for the months.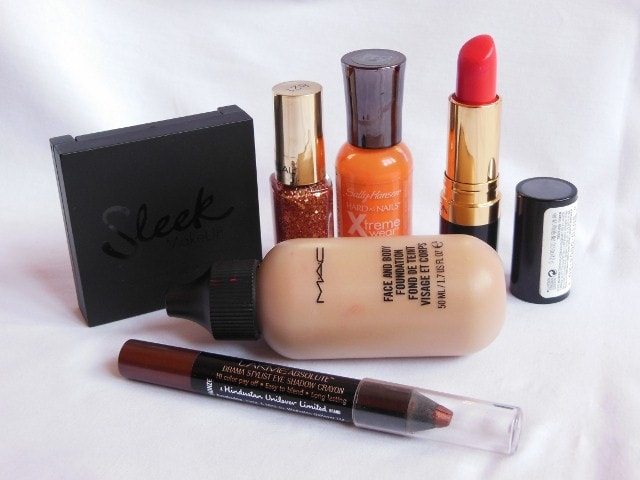 MAC Face and Body Foundation – My first MAC Foundation and I am super-duper happy with it. The foundation is light and blends like a dream. I don't need any illuminator with this as it instantly makes my skin glow like I just had a facial spa. I don't need to worry about skin looking dull or lifeless on bad skin days, flawless blending as it takes care of everything
Sleek Makeup Brow Kit – Extra Dark: A fully functional brow kit with all the essentials and a perfect match for my brow hair. The dark brown gel and powder appear soft against my skin and gives a naturally groomed look to my brows. Tiny brushes for application with a mirror comes packed in classy black packaging. So convenient to use and define my brows
L'Oreal Color Riche Nail Paint – Copper Cuff: It is super gorgeous Glittery Orangey-copper color with hexagonal holos and shimmers suspended in clear liquid. It applies smoothly and looks best when used with an orange base as pop color on tips and single nail.
Sally Hansen Hard As Nails Xtreme Wear Nail Paint – Sunkissed: My love for Orange is undisputed and this bright orange nail paint is no doubt is one of my favorite. I used it along with L'Oreal Copper Cuff and it looked like made for the same. Copper cuff iwth this orange base adds the glamour and shine to my dull days and nails.
Lakme Absolute Eye Shadow Crayon- Bronze: I usually stick to bright shades on eyes other than black (Eye liner) especially when it comes to eye shadows but breaking the norms I added this metallic bronze eye shadow crayon in my makeup stash. I have been using it along with black eye liner for creating Dual- liner effect on eyes. Its smudge-proof formula makes it last whole day on lids without any fading or creasing and it stays pretty much intact on lower lash line. Now, I might add more such eye shadow crayons in my must have list
Revlon Super Lustrous Fire & Ice Lipstick: Revlon Fire & Ice is a bright Coral Red shade but when applied directly on lips it transformed to darker Red which isn't my favorite but I started pairing it with a pink base to counter the lip pigmentation and finally I got the finish and color similar to the tube. It is a gorgeous shade and will brighten up the complexion and mood.. 😉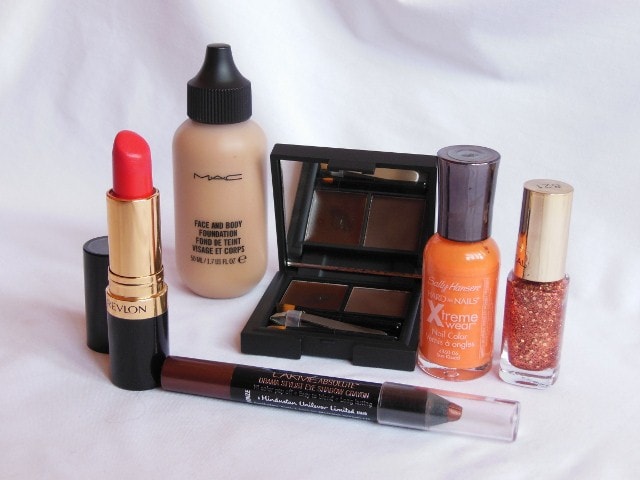 I have been on a break to try new skin care stuff so nothing new there. Trying to figure out whether I should make myself a Guinea pig and keep on testing new products or stick to my favorites that have always worked for me or resort to home made recipes. I think I need few more days to decide. But there is one Bath and Body product that needs a mention here.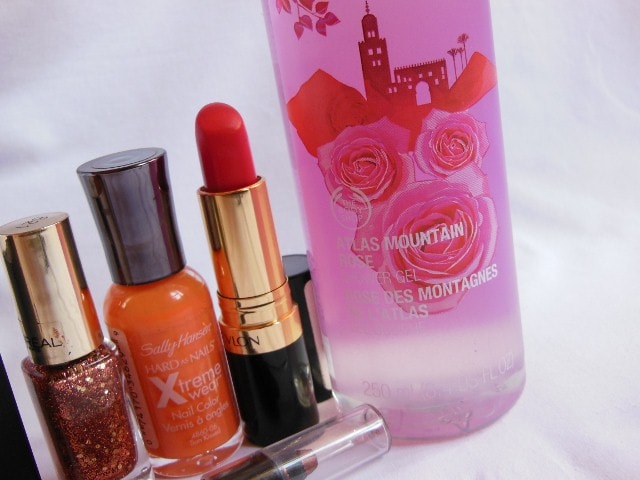 The Body Shop Mountain Atlas Rose Shower Gel- Hands down this is one of the best floral fragrances I have come across. The shower gel does the job of cleansing quite well but its exotic feminine rosy fragrance makes bathing a beautiful experience.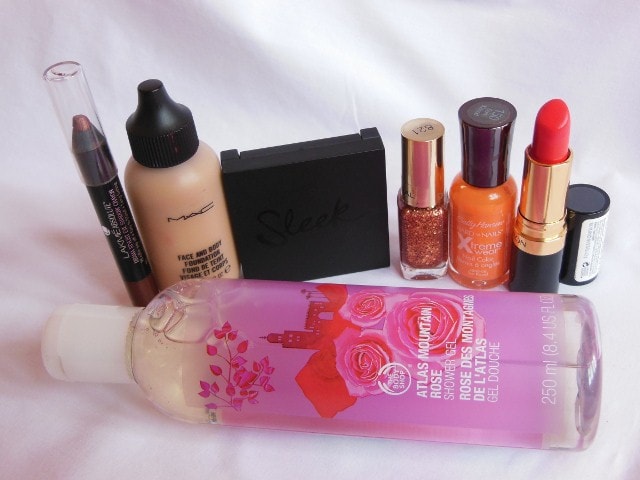 This is all from my side.. Time to share yours!
What are your favorite Makeup products this month? Have you tried any of the products from my favorites list?