Monthly Makeup Favorites @ August 2013
After the list of empties it time to jump to my favorite products this month. It is a mix of everything this month brushes, eye shadows, glosses and makeup base.  Few thing that I purchased this month like the Lakme CC cream and the L'Oreal Concealer (Oohh Myy I fiorgot to show you something!! .. 😛 ) and the rest were the one I started using after a long break like Revlon Lip glosses and Chambor Eye Shadow. Lets look at the list and read in details there. 🙂
SIGMA EYE Makeup Brushes E25 Blending Brush (Review coming upp!)
Chambor Eye Shadow Trio-Dazzling  Sphinx:Gold Eye Shadow (Review Here)
SIGMA EYE Makeup Brushes E 65 Eye Shading Brush ( Yet to be Reviewed)
INGLOT Freedom System Eye Shadow 372 Matte (Teal Blue) (Review Here)
Revlon Colorburst Lip Gloss Papaya (Review Here)
Revlon Colorburst Lip Gloss Sienna (Review Here)
Lakme CC Complexion Care Cream – Bronze (Review Here)
L'Oreal Paris True Match Concealer – Medium (Yet to be reviewed)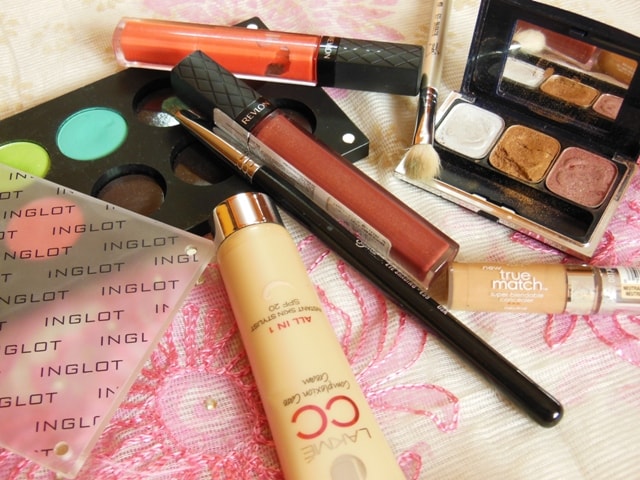 1) SIGMA EYE Makeup Brushes E25 Blending Brush – I used this brush with almost every makeup for the crease work and has become my favorite blending brush. The white colored bristles gets stained easily but it looks pretty post-wash, with a as good as new look. The bristles are super-smooth and blend in the colors magically on the crease.
2) Chambor Eye Shadow Trio-Dazzling  Sphinx –Gold Eye Shadow is my most used eye shadow from the palette. It has that beautiful pearly finish that jazz up any look, with a super pigmented formula and absolutely no fallout.  The broken eye shadow was a result accidental dropping (yesss again!! 🙁 🙁 ).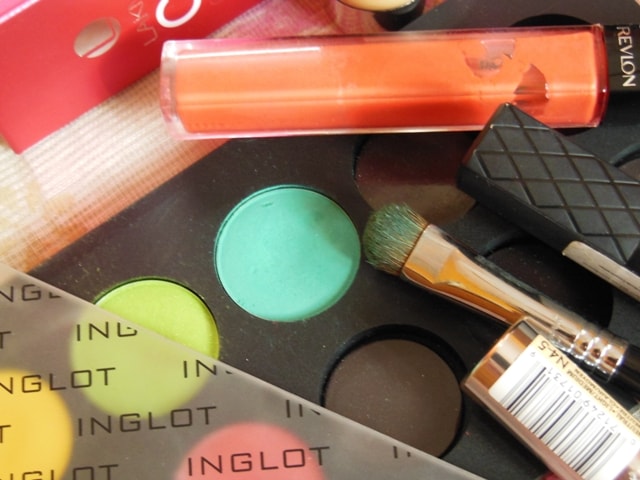 2) SIGMA EYE Makeup Brushes E 65 Eye Shading Brush – I started using it recently and was amazed at its performance. The dome shaped well-packed bristles pick up the color and set it nicely on the lids. I haven't used it with cream eye shadows yet but will be putting it to test soon. Till date I used the flat side of the Faces blending brush and sometime Maybelline Eye shadow brush but they were not exactly made for shading purpose. I am highly impressed with the results of SIGMA one, my first official shading brush.  I can achieve really intense color pay off on the lids with my eye shadows.
3) INGLOT Freedom System Eye Shadow 372 Matte – I love colored eye shadows and this one tops the list. It is a light teal blue colored eye shadow in matte finish. The texture is silky smooth and isn't chalky or powdery unlike regular matte eye shadows. The colors comes out really well on well primed lids and stays round the clock without fading or creasing.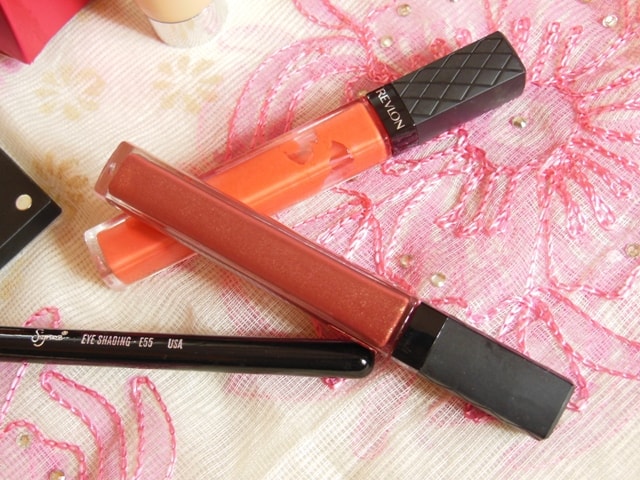 4) Revlon Colorburst Lip Gloss Papaya and Revlon Colorburst Lip Gloss Sienna – I am not much into glosses but I love topping them on lipsticks. The papaya gives a lovely ornage-tinted glossy look while sienna adds the much needed brown. Sienna has shimmers but they are barely visible. The formula is great too as it doesn't feel sticky, heavy on lips and goes on smoothly with the sponge tip applicator.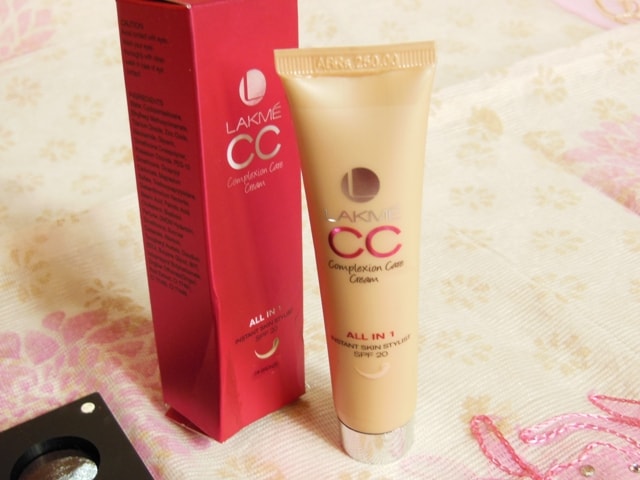 6) Lakme CC Complexion Care Cream – Bronze: Lakme CC cream has been talk of the town these days and is selling like hot cake. The CC Cream term is just there to make it grab all the attention and is more of a tinted-coverage cream to be precise. The texture is thick but goes smoothly just like mousse cream giving a matte finish. It needs to be set with powder but I love the coverage and finish it provides, much better than the BB creams that I have tried. It has become my favorite go to foundation for everyday!
7) L'Oreal Paris True Match Concealer – Medium–  This is one of my latest purchase from L'Oreal. I was using Garnier tinted roll-on for eyes but it was tad lighter and looked ashy so I decided to replace it with a better one. I used it 4-5 time and quite like it. The formula is smooth, creamy, not too thick which blend in quickly, giving a smooth skin and also acts as a base for my eye shadows.
What you liked from my list of favorites? What were your makeup favorites this month?