Mitchell USA Age-less Skincare Range: Anti – Aging Secret
"30".. The number gets scary when it is your Age! Trust me I am in my 30s and I can totally relate to the aging fears of you and how we are worried about developing wrinkles and fine lines on our skin and looking older. Well, aging is inevitable and changes in the skin too but with the best care and a good skincare routine we can retain the glow, youthfulness and the smoother look of our skin. So, Today I am going to introduce you to a new skincare brand in India "Mitchell USA" launched this month. The brand has developed this new skincare range of products with "Sacred Lotus" flower seeds named Mitchell USA Age-less Skincare Range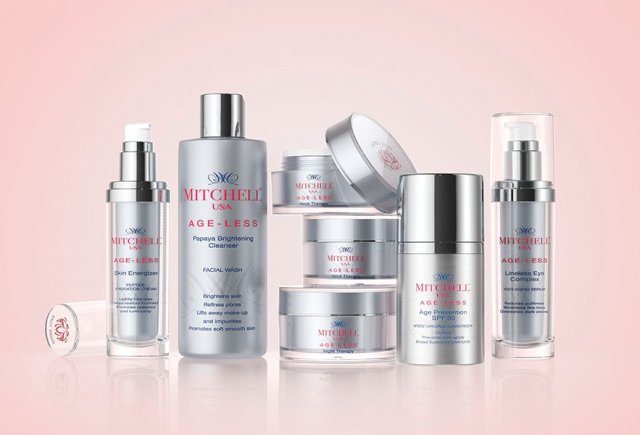 About The Brand:
'Mitchell' clan of the Scotland highlands have long been the masters of dermatology way before the commercialization or coinage of the word. Mitchell Group pride's themselves in formulating skin care products with high potency formulas that address specific skincare concerns providing consumers with the best skincare solutions to achieve flawless and age-less skin, at any age. Mitchell Group has its laboratories in Switzerland, United States and France where they keep on doing researches and developing new formulations
The Indian Connection of the BRAND: "Mitchell USA" is the first-of- its-kind beauty brand that combines the needs of Indian skincare with the American Laboratories expertise. During on of their quest they made a Unique discovery of the use of Lotus Seed extract which is 1800 years, to reduce the process of aging which made it the best ingredient for  The Lotus Quest, a must have for Anti Aging Cream. Their voyage to India is helmed by Sunita Ramnathkar, a veteran and visionary with a unique talent to spot 'must-have' products in every woman's powder room.
Mitchell USA Age-Less Skin Care Range Details:
Lineless Eye Complex Anti Aging Serum – Rs 1280 for 30ml
Neck Therapy Refining Cream- Rs 1550 for 50 gms
Night Therapy Anti-wrinkle Cream- Rs 1550 for 50 gms
LIFT & FIRM – Tightening Serum – Rs 1280 for 30ml
PAPAYA BRIGHTENING CLEANSER Facial Wash – Rs 550 for 200ml
SKIN ENERGIZER – Peptide Hydration Cream – Rs 1130 for 30ml
SKIN POLISH – Insta Brite Exfoliating Cream – Rs 1440 for 50gm
My Experience with the Mitchell USA Age-less Skincare:
The target users of this Mitchell USA Age-less skincare range is late 20's and 30's where one actually starts noticing fine lines, wrinkles, Pigmentation and Discolouration. These are nothing but signs or you can say an ALARM to tell you that the skin has started aging and its high time you start taking care of it.
Mitchell USA got inspired from the fact that 1,288 year-old Sacred Lotus Seeds sprouted into Lotuses within four days of being planted. This Mitchell USA skin care range is enriched with a similar Lotus Bio-Repair Formula which has powerful anti-aging properties. It has a powerful enzyme called MethylTransferase (MT) along with other antioxidants which kept the ancient Sacred Lotus seeds alive by repairing and renewing the proteins within. Not only this it also contains peptides, amino acids, anti-inflammatory botanicals, antioxidants and algae extracts. The best part is this skin care range is especially designed for Indian Skin type and has taken into consideration the damage done to the skin due to pollution, stress and lack of sleep
Lotus and Lotus Seed Extracts have been used in skin care since ancient times and shows a major difference with improved texture, firmer, lifted and healthy looking skin.
You can also check the whole collection of Mitchell Skin care products!
Would you like to give it a TRY? Are you facing Skin-aging issues?