Mini Drugstore Makeup Haul: Maybelline, Revlon Colorbar
Hello Everyone,
For a change I am going to share a tiny makeup haul with you today. I have put myself on a makeup ban since last 2 months and it has been going pretty smooth this time without much of cravings and distractions.. May be because I have lots of unused makeup (untouched – unclicked – unswatched) stuff lying with me for months and I just feel lazy to put it to use, so i killed all my temptation to buy new makeup :P.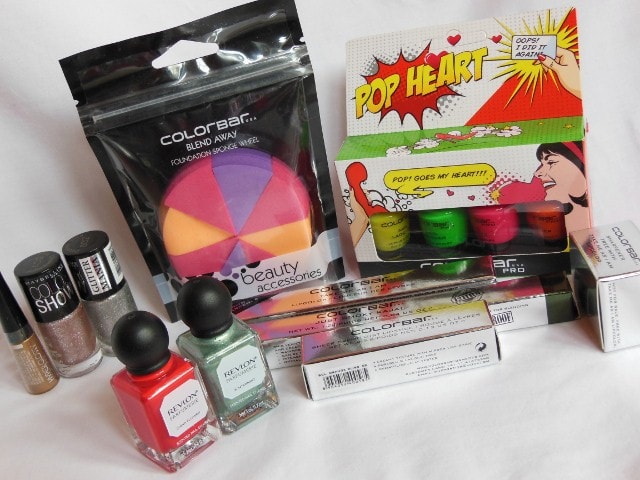 Not all the stuff here I bought, some of them are PR samples and the rest bought with my own money!
Revlon Parfumerie Nail Paints: It is purely a random purchase though I wanted to have these cute bottles in my stash since I saw them over blogosphere but never made any sincere effort to purchase them. There were so many beautiful shades and it has really hard to pick just two. i went for the basic tomato Red and this glittery Minty Green one!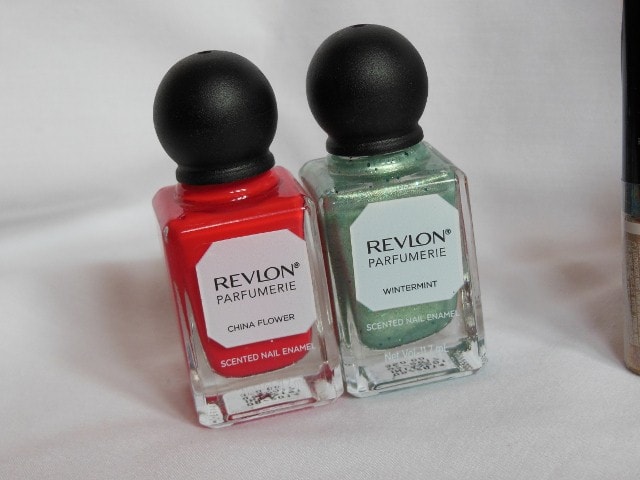 Maybelline Haul: I love glitter nail paints and I have been eyeing these Colorshow Glitter mania nail polishes and when I saw them under offer on Nykaa, I put them in my cart and added this golden beauty from newly launched hyperglossy liner family.  I placed my order 2 weeks before diwali in the hope that I will have all my glitzy things delivered to me on time but it took more than 3-4 weeks for the order to reach and all my diwali plans were ruined.Nykaa disappointment me completely and I am afraid to place my next order with them.. the worst part was their Customer Care because you dont get actually talk to their representatives and they never call back either.. So order at your own risk at Nykaa :P.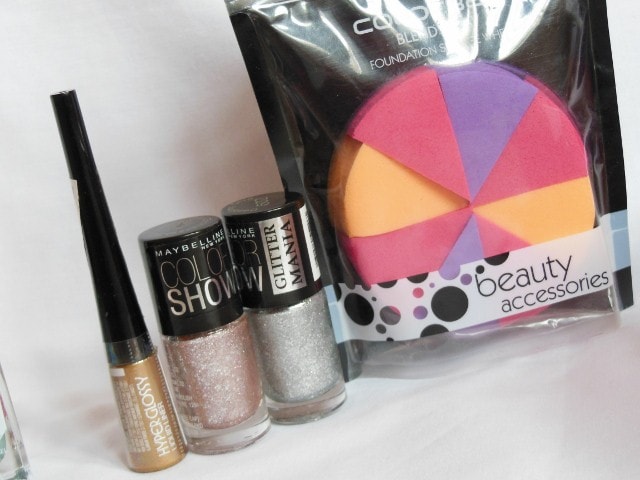 Colorbar Makeup Haul: I have been invited by beautiful Colorbar people for a makeover session at their Khan market Store. I have shared that event details here with you. We have been provided with some of the Colorbar cosmetics to test and try which includes their newly launched Smokey eye pencils, Colorbar Take me As I am Lip Color shade and Colorbar sheer touch lipsticks. I have used Colorbar Single Eye Shadows, Colorbar Powder Blushes and Colorbar Illuminator in the past and I am excited to try these newbies in my makeup stash.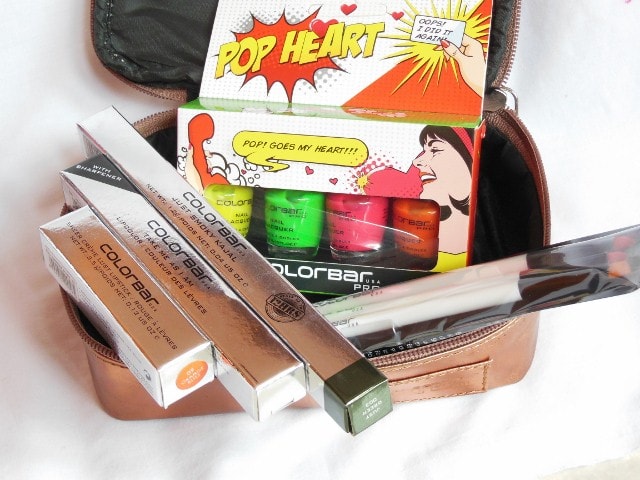 PS: I am planning to invest in cutie makeup items from now on ..yes may be some Etude house on the cards but I need to check my wallet 😉 and my must have makeup list that is still pending 😀
What are you hoarding/buying these days? Have you switched to Drugstore or high-end makeup stuff?
Have a Great Week ahead! .. 🙂