Metallica Me: Sedona Lace The Babe Collection Eye Shadow Palettes
Hello Dolls,
I have already tried some of the amazing Makeup brush sets from Sedona Lace and just loved them, they are so soft, smooth and versatile. Next, I was awestruck their awesome Eye shadow primer which made my eye shadows pop and last whole day. Today, I am sharing one of my favorite thing in Makeup – Eye Shadow palettes from Sedona Lace, Sedona Lace The Babe Collection Eye Shadow Palettes.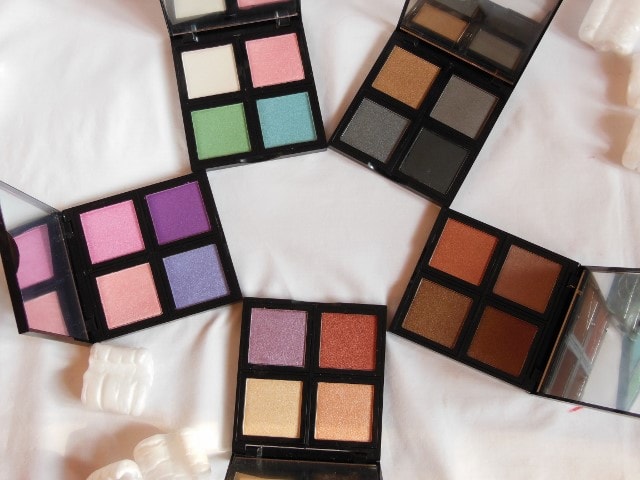 Product Claims: Introducing -The Babe Collection
Our 5 new favorite travel compact palettes 
Each has 4 removable/interchangeable shimmer shadows that can be applied wet or dry to create a fun and fierce look! 
Find a BABE you love or get two or more to create YOUR very own BABE! 
Ingredients: Talc, Mica, Magnesium Stearate, Kaolin, Paraffinum Liquidum, Dimethicone, Ethylhexyl Palmitate, Propylparaben, Methylparaben, Perfume
Price: $49.95 for 5 / $14.95 each, now $24.98 for 5/ $7.48 each Use "beautyandmakeup" for $4 Off
Meet the BABES
DANA is Fun and Flirty-A walk in the park, a picnic with your Lover? This shimmer palette is just perfect for you! Colors include; snow white, blush, green mist and cadet blue
ADRIENNE is Smokey and Seductive-Got a hot date? Feeling like a dramatic look? This shimmer palette will get you there! Colors include; dark gold, steel grey, pewter and triple black
BRIDGETTE is Creating Magic-This shimmer palette is perfect for a day at the beach! Or on any sun kissed face! Colors include; sunstone, sandy quartz, copper and amethyst
DANIELA is Soft and Feminine-Embrace the power of femininity and have your heart's desire eating out of your hand. This shimmer palette is sweet and simply gorgeous! Colors include; carnation, pink rose, orchid and violet
SUZANNE is Sugar and Spice-Perfect for a day at the office but can also be amped up for a sexy night out on the town! This shimmer palette colors include; nutmeg, cinnamon, ginger and brown sugar
Packaging: Sedona Lace The Babe Collection Eye Shadow Palettes comes in a square glossy black colored plastic packaging with a big mirror on the inside of the lid. Each palettes consists of 4 Square eye shadow pans which can be pulled out and replaced with another pan from any other palette. I loved this concept of replacing eye shadows in palettes and creating your own customized palette. The palettes are house in a plain black thin cardboard box which carries some details and the palette name. I love the packaging but the only downside is that the palette doesn't have their names imprinted on them and there is no way I can identify which palette is which one until I open them
My experience with Sedona Lace The Babe Collection Eye Shadow Palettes:
Sedona Lace The Babe Collection Eye Shadow Palettes comes in 5 shades with a mix of bright fun colors and wearable warm shades. Most of the Eye shadows in the palettes are metallic and shimmery ones. The colors in the palettes work together nicely but I do feel the need to pull some matte shades from other palettes to blend the colors in crease but that is just personal preference. I you want to do an all out shimmery/metallic eyes you are good with these.
Formula: I had my own set of apprehensions when testing these eye shadows because usually they turn out stiff/chalky but these Eye shadows are definitely one of the best formulas out there. These are powder eye shadows but they are extremely smooth and creamy to touch, buttery smooth I swear. They blend effortlessly on lids and doesn't look patchy or blotchy at all. Also, I loved that not even a single flake will fall on the under eye area with these eye shadows.. Yes absolutely no fallout whatsoever!!
Pigmentation: These eye shadows are a bomb when it comes to color payoff ( except a few). Just a light swirl of finger on the pan and I get a rich color payoff. I don't need to do much of packing as with just 1-2 swipes I get the color true to the pan on lids. The eye shadows pans are full of high quality pigments which show up quick on application.
Longevity: I am super excited to tell you these eye shadows don't move even a bit. Being so creamy I expected them to crease but girl… No!! They will stay put throughout the day with showing any signs of creasing or fading.
Lets checkout the shades Palette by Palette
DANA : It is one of the most colorful Eye shadow palettes and I like to call it a Mermaids palettes because it has such a lovely mix of shades.

Snow White: A frosted white with beautiful lavender undertones, looks  like a duochrome eye shadow on application
Blush: Frosted metallic peachy coral shade which goes light peach on lids.
Green Mist: A metallic light green eye shadow with golden undertones.

 ADRIENNE: This looks like a perfect smokey palette and also has matte eye shadows but this one disappointed me slightly because some of the shades were hard and not as pigmented as others.

Dark gold: It is a dark bronzy gold shade in metallic finish
Steel grey: It is a light gray shade in matte finish but it has a hard texture and was difficult to swatch
Pewter: This is my favorite shade from the palette a beautiful metallic Gray with buttery smooth formula

BRIDGETTE: It looked like pretty much a neutral palette but then there is that gorgeous lavender shade to change the game.

Sunstone: It is a shimmery metallic peach with silver sheen. It loosk peach when packed but diffuses to more of a peachy sheen if blended.
Sandy quartz: It is slightly yellow toned creamy highlighter shade with frosted shine, perfect for browbone and inner corners.
Copper: It is bright Copper shade with super metallic shine. It makes a great lid color.

DANIELA: This is a purple party and has every shade you will need to that stunning purple eyes.

Carnation: Soft Orangey Coral shade with silver shimmers and a frosted metallic finish
Pink rose: A medium pink with slight plum undertones in metallic finsih
Orchid: A beautiful blue toned lavender shade in shimery metallic finish.

SUZANNE: I have kept the best for the last, perfect eye shadow palette for all those who love golds and bronze.. A gold mine!
Nutmeg : A light Taupe bronze shade in pearly metallic finish.
Cinnamon : A warm bronzy brown shade in satin metallic finish
Ginger : A burnt orangey copper brown in satin metallic finish
Recommendation: Sedona Lace The Babe Collection Eye Shadow Palettes comes in 5 combinations each with a unique combination of 4 eye shadows which can be removed and the palettes can be customized as per liking. The formula is buttery smooth and almost feels like cream eye shadows. The shimmers are finely milled giving a supreme metallic shine to the shades. The pigmentation is super stunning and just one swipe packs the color full on. They gets applied effortless on lids and blends like magic. There is absolutely no fallout or whatsoever and these eye shadows don't budge throughout the day. Just the 2 matte eye shadows are hard in texture and have pigmentation issue while the rest are super amazing. If you just wanna pick one to see the quality, I will suggest go with SUZANNE and you will know!

I am super impressed with Sedona Lace by the quality eye shadows they have come up with and provided such a huge quantity for the price point. I love these to the moon and back.. HighlyRecommended!
Rating: 4.8/5
Have you tried Sedona Lace The Babe Collection Eye Shadow Palettes? Which is your favorite palette from the collection?
PS: Products sent by Brand for consideration