Medimix Ayurvedic Face Wash Review: The Power of 6
Hey Gorgeous, few days back I tried Medimix Intimate wash and now I have their Face wash, Medimix Ayurvedic Face Wash to test. I always get excited to see these Ayurvedic face washes and I am sure you do not want to miss on this one. This face wash totally surprised me with its performance. Read on if I liked or disliked this Medimix Ayurvedic Face Wash.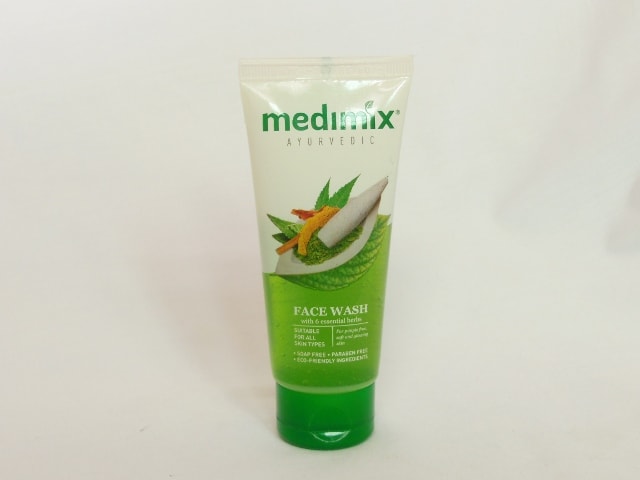 Product Descriprion: Medimix Ayurvedic Face Wash gives your skin the deep natural it deserves.
Helps your skin battle with environmental toxins all day.
The unique blend of Neem, aloe vera and turmeric gently cleanses and rejuvenates skin, keeping it clean and pimple free.
The divine herb lodhra reduces skin inflammation and improves complexion and manjishtha enhances skin texture.
A drop of green to keep your face healthy and clean
Helps your skin battle with environmental toxins all day.
Price:Rs 56 for 50 ml ( Buy on Amazon)   / Rs 95 for 100 ml( Buy on Amazon)
Packaging: Medimix Ayurvedic Face Wash comes in a simple small squeeze tube type packaging with a flip cap. The tube is transparent so I can how much product is left inside. Also, all the details regarding the product are printed on the tube itself. The packaging is convenient to use and travel with.
My experience with Medimix Ayurvedic Face Wash
Medimix Ayurvedic Face Wash has a medium thick gel like texture which gets dispensed easily from the tube and doesn't gush out of the tube.
It is green colored gel which goes with the "Ayurvedic" theme of the face wash. I absolutely love the refreshing herbal fragrance of the face wash which smells like a mix of neem and lemon.. so enticing!
Medimix face wash doesn't lather much but it still cleanses away all the dirt and grime from the skin gently. It leaves skin absolutely clean and fresh.
The Power of 6:
Face washes are known to have one key ingredient – either aloe vera or turmeric or neem. But with Medimix Face Wash with 6 Essential Herbs, you have not just one but 6 essential herbs keeping your skin vibrant, healthy and young.
Results:
I love how smooth and and supple and skin feels post wash… just like silk <3. I have extremely dry skin and usually face washes leave it dry and stretchy. But this Medimix Face wash is a Game Changer. It never made my skin dry or rough but left it so smooth and hydrated like I have applied a light moisturizer. It also imparts a nice glow to my skin. I am so happy with the results.It is a staple in my beauty regime from now on!
Benefits of these 6 herbs:
Manjishta: It is an Anti-oxidant, anti-inflammatory and anti-microbial. It helps removes toxins from the skin
Haridra: It is a natural detoxifier and anti-allergic. It helps in enhancing skin tone and complexion
Lodhra: It nourishes the skin and helps in preventing acne and wrinkles
Nimba: Aka Neem has anti-bacterial properties. It alleviates contamination of skin and reduces acne
Amaya: Aka Amla is rich in vitamin C and antioxidants. It brightens up the complexion and prevent wrinkles
Kumari: Aka Aloe Vera is a natural moisturizer and helps treat acne and fights aging
Medimix Ayurvedic Face Wash is an Ayurvedic Face Wash which is suitable for all skin type. The formula has "The Power of 6" as it contains 6 herbal and eco-friendly ingredients like Manjishta, Haridra, Lodhra and many more. It is also Soap free, Paraben free and doesn't contain any Animal Fat. The brand shared full ingredients list on the tube so there is no secret ingredient here.
Recommendation: Medimix Ayurvedic Face Wash is a green colored gel made with natural herbs to cleanse skin gently. The formula doesn't lather much but removes impurities from the skin effectively. Also, I enjoy it lovely refreshing scent which feels pleasant to my senses. The face wash is also free from harmful chemicals like Soaps (SLS/SLES) and Parabens. The face wash is gentle on skin and will work for all skin types. It actually pampers the skin while taking away the dirt and grime leaving it silky smooth to touch with a radiant glow. It also claims to prevent pimples. It has totally surpassed my expectations. It's definitely a great product at affordable price. Medimix also has a Anti-Tan variant i.e  Medimix Ayurvedic Anti Tan Face Wash with Tanaka. One of the best face washes I have ever tried. Highly Recommended!
Rating: 4.8/5
Don't Miss to Checkout:
Have you tried Medimix Ayurvedic Face Wash? Which is your favourite Face Wash?
PS: Product sent by brand for consideration but honest and unbiased Opinion!