Maybelline V Face Range- Duo Stick and Duo Powder Review
Maybelline is back with yet another exciting range of products and this time it's a "Contour Collection". I have been waiting for so long for some good contouring products from an Indian Drugstore brand. Because when I can't lose weight through yoga or exercise, contouring is an instant remedy to shed weight from face. And like always "Maybelline" came to our rescue with their new V face range. Maybelline V Face Makeup Range is mainly contouring and highlighting collection. I always have to contour my big face and nose when doing full face of makeup to look slimmer in pictures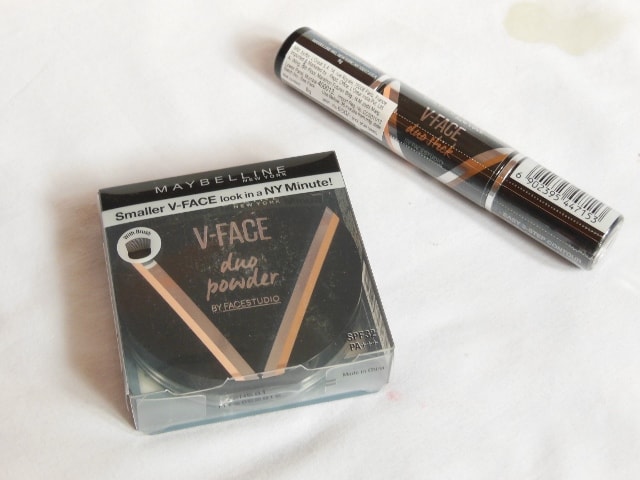 Maybelline V Face Contouring Range has 3 products:
V Face Duo Stick
V Face Duo Powder
V Face Blush Contour
Maybelline V Face Contouring Duo Stick Review, Swatches
Price: Rs. 650 for 8.5 gm Can be bought online at Nykaa & Amazon
Packaging:  Maybelline V Face Duo Stick comes in a dual ended retractable packaging and is quite similar to NYX Contour Stick. On one side it contains the contouring bullet while the other end has the highlighting bullet. The caps shut tightly and have a clear glass on top so I can check the shade before opening. I really like this sleek and convenient to use packaging. I just need this 2 in 1 duo to define my face ..  and shed kilos!
My experience with Maybelline V Face Contouring Duo Stick
Shade : This new Maybelline V Face Contouring Duo Stick is available in 2 shades:
I got the Dark variant and I feel it will work easily for the medium warm Indian Skintones. The stick has a beautiful beige highlighter with pearly sheen and warm mid toned brown shade for contouring. The contouring shade works well for me though it feels a little warmer than my liking but still works beautifully at contouring my cheeks. The shade however wont work for dark olive skintones especially something above NC 42 in MAC. Though, I am in love with the gorgeous highlighter it has.
Texture Maybelline V Face Contouring Duo Stick has a beautiful creamy texture which glides on smoothly. Not super creamy or buttery that feels cakey on skin. This affordable contour duo stick in India sets to a semi matte finish and blends beautifully. The formula is perfect for combination and oily skin as well. I use my RT Expert face brush or PAC Beauty Sponge to blend it out. It can be blended with finger but I just find it too messy to deal with.
Pigmentation: This affordable contouring duo stick is beautifully pigmented and gives a good enough color on application. I can sheer it out by blending it a bit more or reapply and blend less for a sharp contour. The color buildable formula makes it more versatile and easy to use for makeup beginners who aren't very well versed on How to Apply Makeup. I feel the highlighter blends in much more easily then the contouring counterpart.
Staying Power: I am absolutely amazed by the formula of this Maybelline V Face Contouring Duo Stick. It blends easily and give a very natural matte finish. The formula on its own lasts for good 4-5 hours after which it starts loosing its power. But the staying power can be enhanced by setting it up with a contour powder on top.
Recommendation: Maybelline V Face Contour Duo Stick is definitely one of the best affordable contouring and highlighting products in India especially for beginners as it has a buildable color pay off. The stick applies the color evenly and blends quickly gives a natural looking soft matte finish. One can achieve a soft contour or a sharp contour by building up the color with multiple swipes. I just wish Maybelline comes with a better shade range covering our dusky beauties too. Overall, I am in love with this Contour duo stick. Yes, I find it better than my NYX wonder stick.

Maybelline V-Face Duo Powder Review, Swatches India
Price: Rs. 550 for 4 gm Can be bought online on Nykaa & Amazon
Packaging: Maybelline V-Face Duo Powder comes in a black colored round plastic case with a 2 tier packaging. . It contains highlighter and contouring powder in a single round pan. The powders are cut in a V in the middle where the smaller portion is the highlighter and the rest is contouring powder. There is a big mirror under the pan and a tiny brush for emergencies. Overall, the packaging is pretty good but I find a bit hard to pick the product with precision.
My Experience with Maybelline V-Face Duo Powder:
Shades: Maybelline V-Face Duo Powder is available in 2 shades:
Light/Medium and
Medium/Dark.
I got it in the shade Medium/ Dark which is the darkest shade in the range. The contouring powder is a medium light brown which just impart a touch of shade on the contours of cheeks. This contouring shade is quite light to be a contouring powder for medium Indian skin tones. It barely shows up on me even after multiple swipes. I feel it will work for light fair skintones only. The highlighting shade seems to have tiny shimmers in the pan but it doesn't transfer on application which is a good thing as I don't prefer shimmery highlighters. However, again this highlighting shade is not as light and bright to work as a highlighter. It just brightens up the area on application. It can work as a under eye brightening compact but not as a Highlighter.
Texture:  Maybelline V-Face Duo Powder has a smooth, finely milled texture. It applies easily and blends well on the face. I really like the formula of the Duo powder at the price. It doesn't feel chalky or look powdery on skin. It does it's job of defining the facial features beautifully. The formula of the contour powder is perfect, however the highlighting powder could have been a bit softer.
Pigmentation : Maybelline V-Face Duo Powder is decently pigmented and gives a good color payoff. The color however is close to my skin tone so they doesn't show up much. But I can definitely feel the difference it makes on application. Both the shades swirled together makes a nice compact for medium Indian skin tone in the shade range of NC 40 MAC.
Longevity: This affordable face contouring product doesn't last very long as the coverage is pretty light and sheer. I get a wear time of about 3-4 hours which is ok for the price.
Recommendation Maybelline V-Face Duo Powder is a decent face contour kit for beginners. The formula is silky smooth and provides an even application. The pigmentation is average but buildable. However, I would have loved it more if the shades had been more appropriate for medium Indian skintones. I need multiple swipes to get desired results and its difficult to pick the product precisely because of its shape.
Overall:
The Maybelline V Face range by Facestudio is a nice way to start with contouring and highlighting in your makeup routine. Start with the Maybelline Contour duo stick to define your cheeks and the set it with the Maybelline V-Face Duo Powder for a natural looking finish. The range also consists of a Blush Contour Duo Powder which completes the look by adding a flush of color to the cheeks. The price is slightly on the higher side for Maybelline but the quality is good. I just wish they come up with a better shade range suitable for warm Indian skin tones.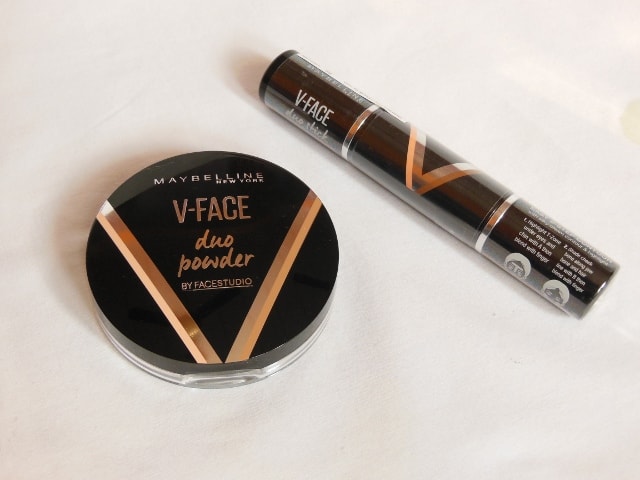 Rating: 3.5/5
You can try out this contouring tool http://amzn.to/2dYmIHF to see how you can contour. My chubby face #CallsForContouring everyday!
Don't Miss to Checkout:
Have you tried anything from Maybelline V Face Range? Which one is your favorite?
PS: Product sent by brand for consideration but honest and unbiased opinion