!!!!Its Haul Time!!!! – Maybelline Shopping Haul
I haven't done any major haul for quite some time and buying tiny miny stuff every now and then doesn't satisfy my hunger for makeup. So, I planned to do a Haul and decided to start with Maybelline. I have made a list of items that I would like to buy just to have a rough idea about how much I would have to convince my dear husband to loose this time. Actually, making a list of items helps me to buy the ones I need at the first place without getting confused by SA suggestions and then I can splurge on some of new items that I got introduced at the counters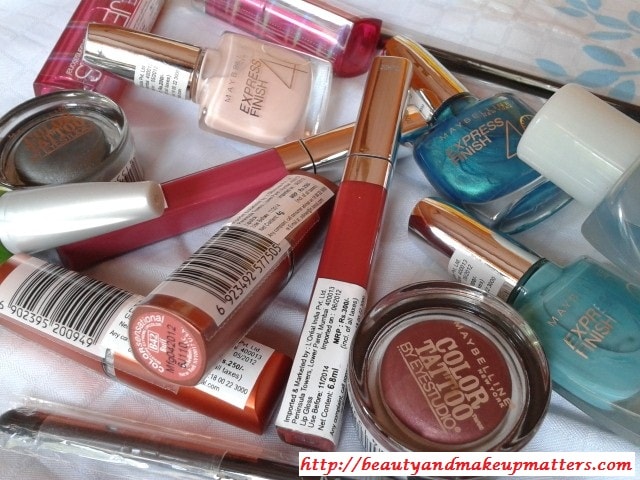 In my last visit to Maybelline, I got 3 moisture Extreme lipsticks as they were running an offer of buy 2 get 1 free and to my surprise the offer was still there, buy any 2 Maybelline lipsticks from any collection (Moisture Extreme, Color Sensational, Color Sensational Jewels) and get a Moisture Extreme free free free !!!
I started off with lipsticks and got the newly launched Maybelline Jewels lipsticks.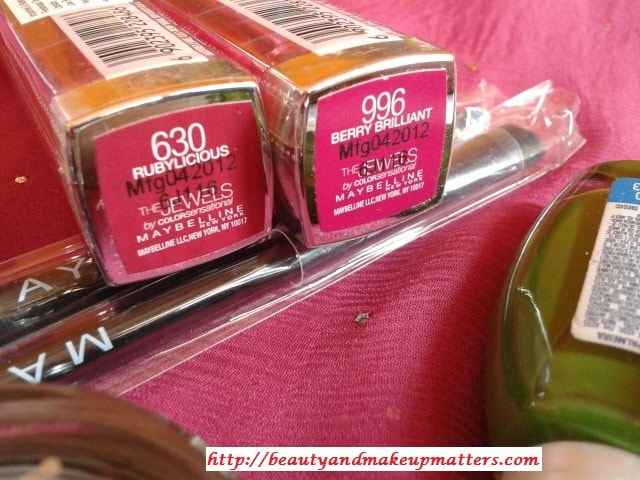 For the free gift I wanted to have Moisture Extreme Buff  Lipstick but it wasn't under offered shade of free lipsticks and hence got Bronze Orange instead. But Buff was such a beautiful shade that I couldn't ignore and had to buy it as well.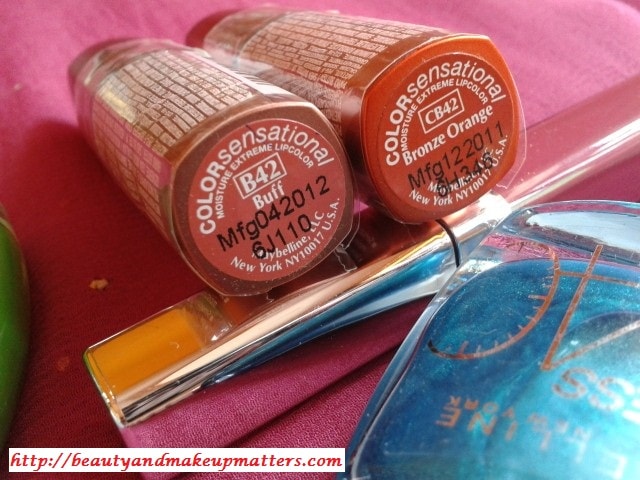 Next were the much raved about lip glosses from Maybelline the Maybelline Color Sensational Lip glosses.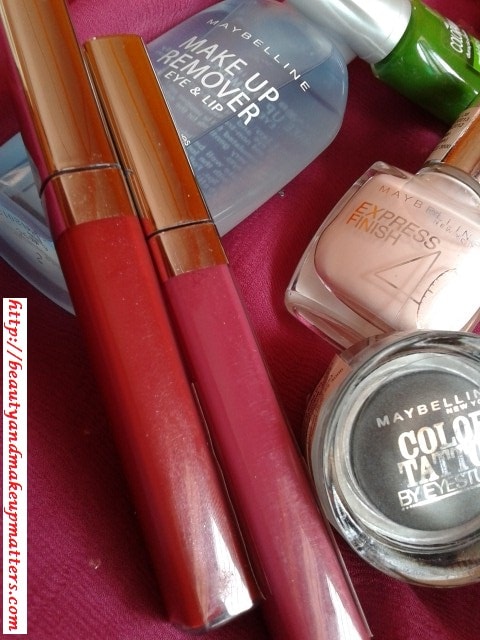 Now its turn for Express Finish Nail Paints. I have got the Maybelline Express Finish Nail Paints in Khakhi Green in my Tiny Birthday Haul and was highly impressed with the formula and hence trying few more shades is kind of mandatory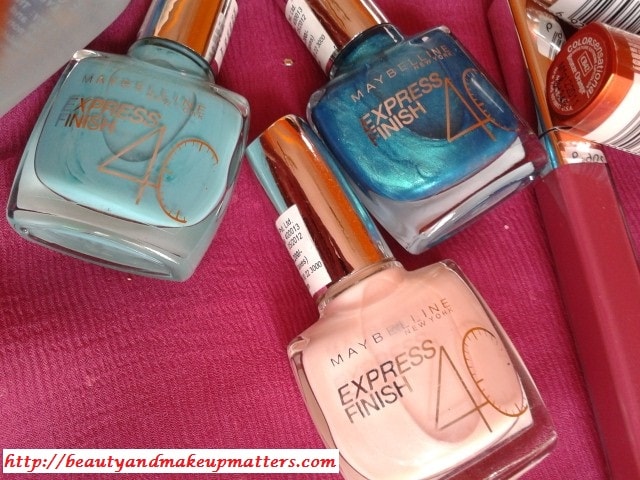 I felt good when got to know that they had an offer of Buy 3 get 1 on Nail Paints too and were offering Maybelline Colorma Nail Paints as free gifts.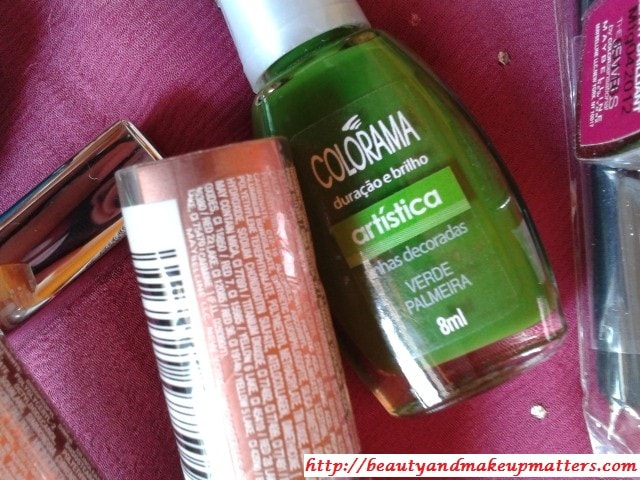 Last Item from my list was the Makeup Remover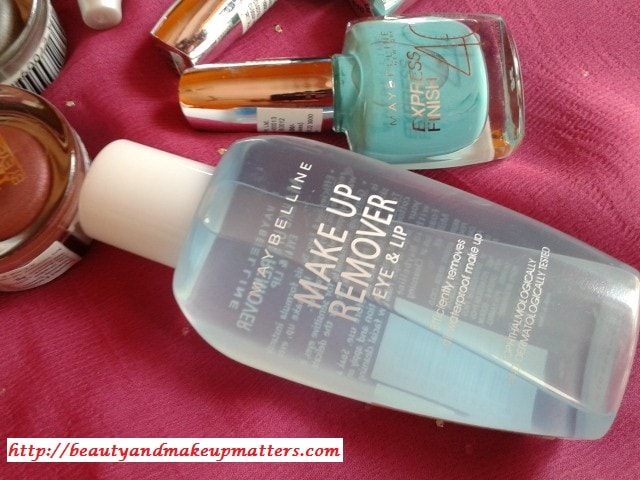 I was set to leave the counter as my estimated shopping was over and the budget too but only then I saw some cute small pots on the counter and they were the Maybelline Color Tattoo Eye Shadows. They were available in so many beautiful shades like Orange, Blue and many more that I wanted to have them all but just at the same time he(My Dear Husband 😛 )  gave me good bad stare, intimating that your budget is over. Puppy faces helped me only with two of these Tattoo Eye Shadows I promised rest of them that will be coming back soon to take them home 🙂 . Also, they cutie pies came with a free Eye shadow brush. So many freebies .. I'm lovin it..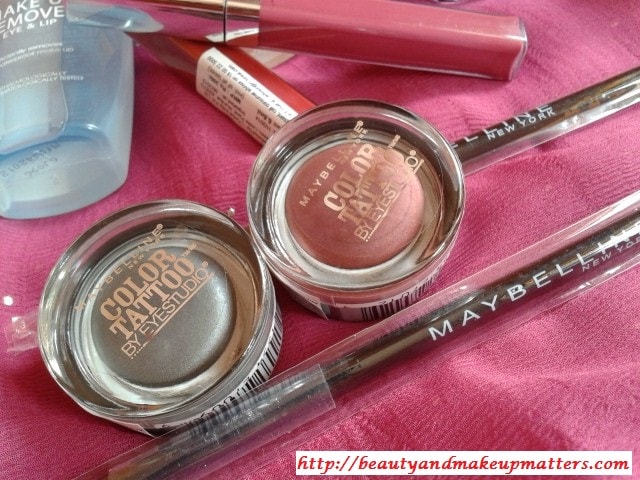 PS:- The price for Color Sensational Lip glosses has been hiked and now they come for Rs 300 instead of Rs.250
Maybelline offers lipsticks in wide range in colors and with the latest launch of Jewels Collection, it has added the oomph factor to conventional lipcolors. Not to forget with their latest additions of Tattoo Eye Shadows and Express Finish Nail Paints Maybelline has become the best budget friendly makeup brand. May be its… Maybelline.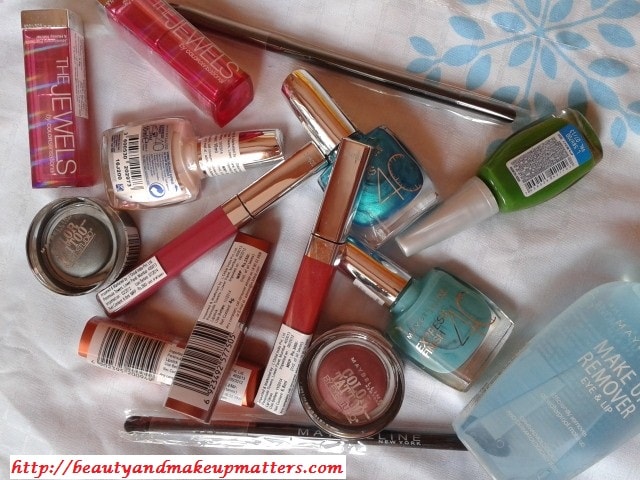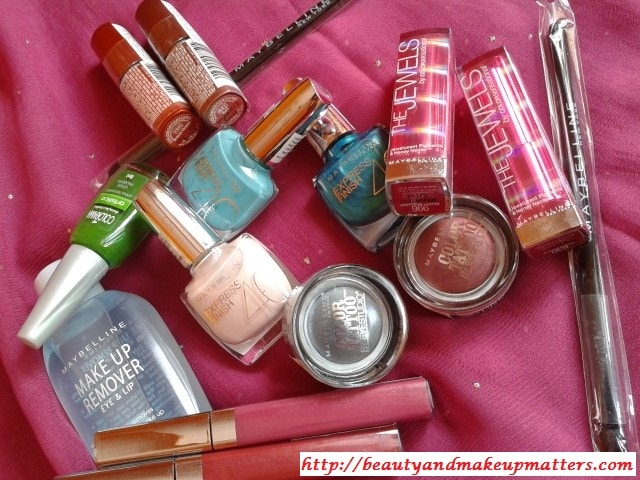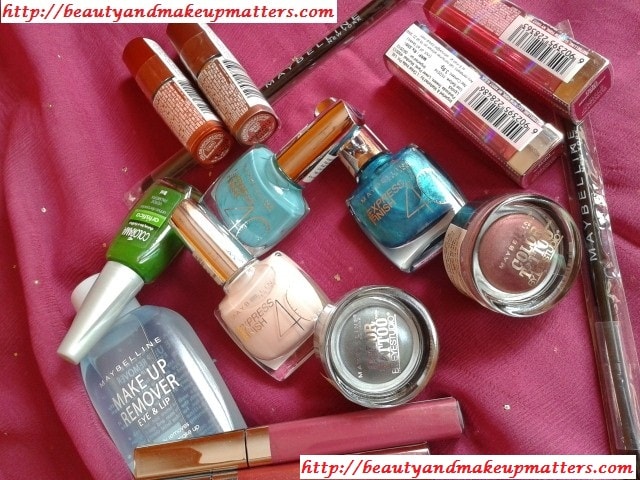 Which is your favorite Maybelline product?