Maybelline lip Smooth color in Bloom Review
After having a wonderful experience with Maybelline colorsenational lipsticks, I wanted to explore Maybelline more.
I was thinking of getting a new lip balm as I was bored of my Nivea Lip balms and was about to buy LipIce lip balm but then I saw Maybelline and got this Maybelline lip Smooth color in Bloom lip balms instead.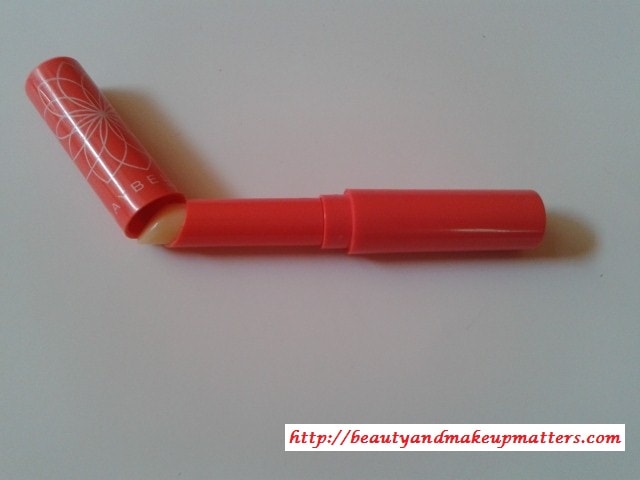 Product Claims:- Discover creamy white balm that blossoms on contact with lips to create your own made to measure sensationally sheer pink color. Lips look instantly revived, fresh and so healthy! Enriched with pro-vitamin E, known as natural anti-oxidant and Jojoba oil, lips are continuously nourished making them so soft, smooth and naturally gorgeous.
Ingredients:- Plybutene, octyldodecanol, isopropyl myristate, ethylhexyl, Methoxycinnamate, Ozokerite, Petrolatum, Diisostearyl, Malate, Trimethylolpropane Trisosterate, Polyethylene, Ceresin, Esters, Polygyceryl-2, Trisosterate, BHT, Bisabolol, Ethylhelxyl , Palmitate, Dipalmitoy Hydroxyproline, Carthamus, tinctorios oil, safflower seed oil, Hydrated Silica, Aluminium Hydrooxide, Irivingia gabonensis kernel. Butter, Tribehenin, Vaccinium Angustifolium (blutberry) fruit extract,sorbitan isosterarate, Palmitoyl, Oligopeptide, Parfum/Fragrance.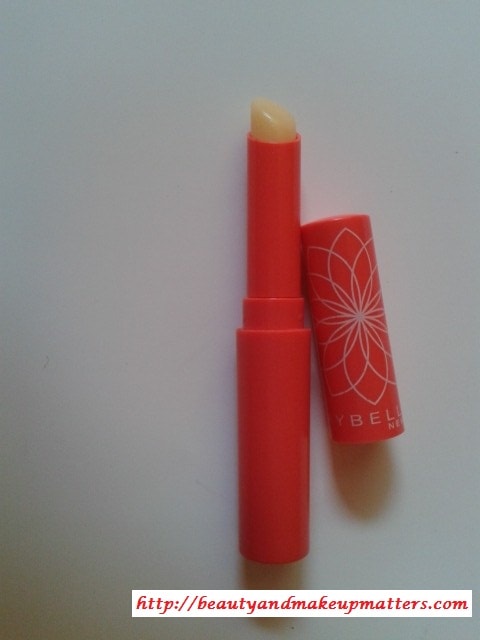 Price:- Rs.99 for 1.7gm
Shelf Life:- 3 years from the Mfg date.
Available in 2 shades:- Peach blossom and Pink blossom and
Packaging – Lip balm comes in pretty pink easy to use retractable tube packaging. The tube is sleek and looks very girlish. The tube is slimmer compared to Nivea Lip balms. I love to carry this balm with me everywhere.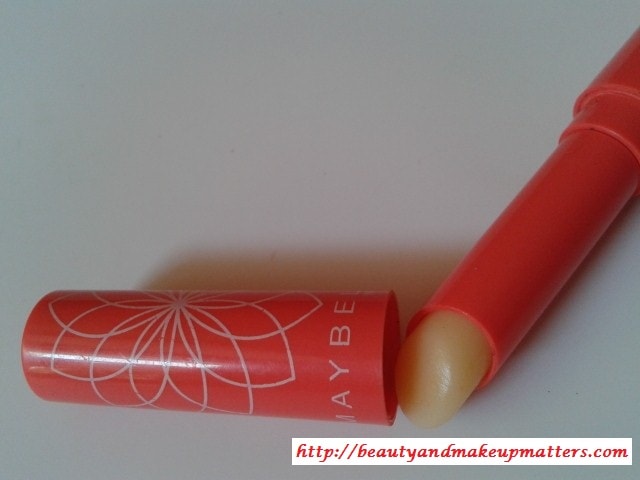 My experience with Maybelline lip Smooth color in Bloom:-
Maybelline lip Smooth color in Bloom appears clear, translucent cream color in the bullet. It glides smoothly on the lips and gives a watery shine to the lips. The lip balm feels super light on the lips and won't give any greasy waxy feel to the lips even if swiped 4-5 times.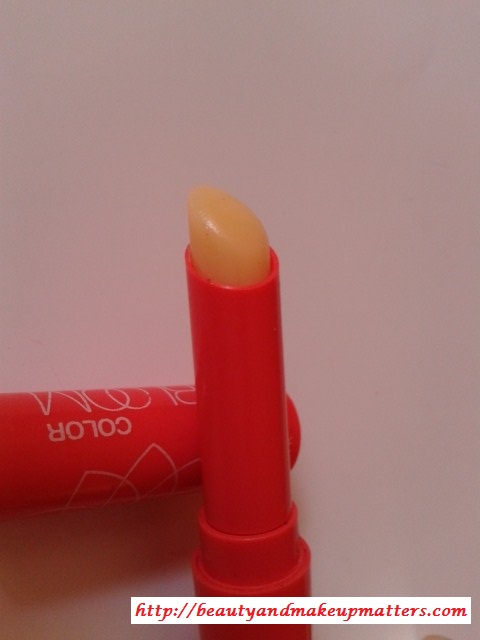 It changes to a peachy-pinkish tint with in few seconds. The tint becomes more pinky after some time. The tint can be darkened by swiping the balm more (4-5 times) on the lips. The tint may vary based on the pigmentation of the lips. I have slightly pigmented lips and it imparts a sheer peachy –pink color which transforms into pink tint after some time. It might give a better color (tint) on people with fairer skin tone and light pigmented lips.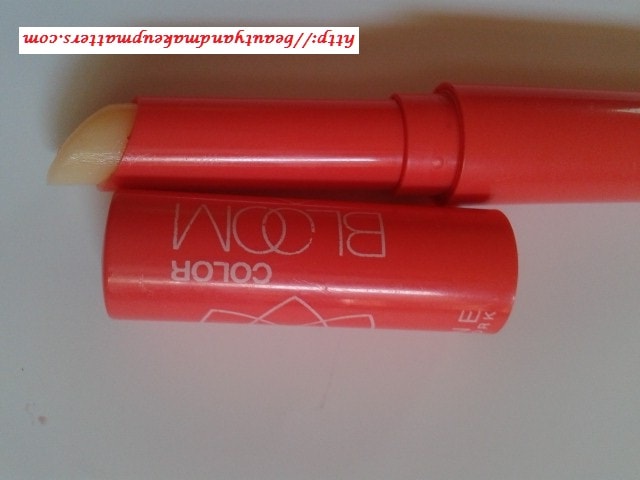 I love to apply this over my lipsticks especially when my lips start feeling dry after few hours of lipstick application. Instead of going for lipstick touch-up I prefer to swipe this balm on lips. The lip balm also has a mild sweet-fruity fragrance.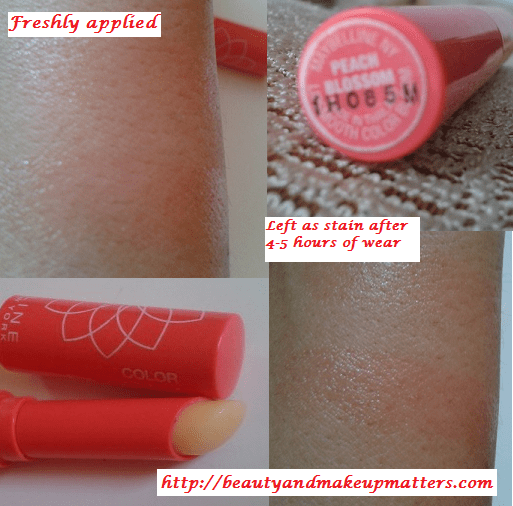 Pros of Maybelline lip Smooth color in Bloom:-
It doesn't feel heavy on lips. Even if it is swiped 3-4 times it doesn't give any waxy/greasy feel to the lips.
Moisturizes lips pretty well and leave them soft and smooth
It goes transparent on lips but changes to a sheer peachy-pink color after some time.
The glossy finish barely stays for 1-2 hr but the tint remains on the lips for good 5-6 hours and also survives the meals /snacks.
It has a sweet fruity smell but no taste. (Licked my lips to check :P).
Enriched with Jojoba Oil and Vitamin E.
Pocket friendly at just Rs.99.
Cons of Maybelline lip Smooth color in Bloom:-
Staying power is poor as it stays only for 1-2 hour and dry lips may need to reapply it more frequently. But I love reapplying it. So, the staying power is not an issue for me.
The bullet is smaller and slimmer compared to Nivea Lip Balms. So they may get finished soon.
Recommendation:– Maybelline lip Smooth color in Bloom gives a natural looking color to the lips. The lips look super glossy and absolutely delicious just after the application. On moisturization part this is an average lip balm but scores good on rest of the points.(see the pros list).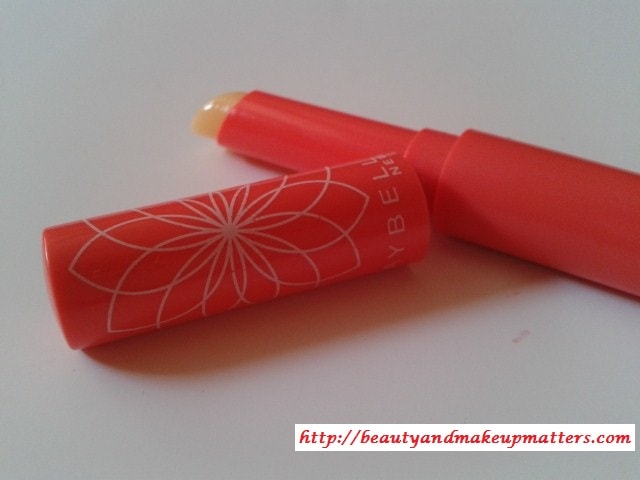 Rating:- 3.8/5
Have you used Maybelline Lip balms? Which is your favorite Lip balm?